Dawkes Music - Specialists in Woodwind and Brass
View Larger Map
50 years ago, Dawkes Music was founded by Jack Dawkes, a professional Musician.
Jack played with the big names of the Day, such as Don Lusher, George Chisholm and Ted Heath.
As a result of his War Service, his hearing deteriorated and he was forced to seek another way to earn a living.
Jack was taught the craft of Instrument Repair from genius Instrument Repairer and friend, Edward Planas and soon set up a home Workshop. The word spread and instruments began to arrive, as did the teachers, who asked if Jack could supply Instruments. A shop was opened in Uxbridge, and after many years of successful trading, a larger shop was bought to also accommodate Windcraft, the Instrument Repair Materials and Tool supply business.
Dawkes Music today
Dawkes Music operates from a 6800 square foot Warehouse in Maidenhead, Berkshire, known as the Woodwind and Brass Warehouse. The shop carries over four thousand accessory lines and over 4000 Instruments. It has a dedicated Saxophone Suite with all the best Saxophones on show, ready for you to blow.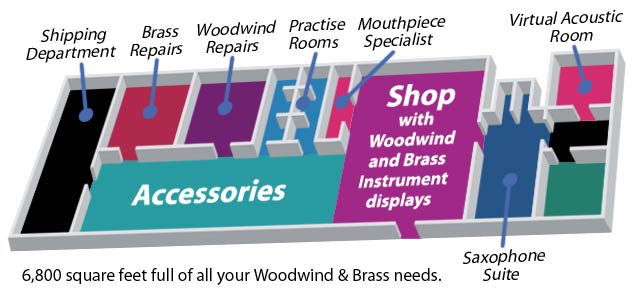 Why shop at Dawkes Music?
The staff are dedicated players with a real passion for Music.
Many of our staff play in local bands and receive training so they understand the different Instruments better than anyone.
Our Workshop is the foundation of our business.
We currently employ six full time Repairers; more repairers than any other Workshop in the UK.
We work on both Woodwind and Brass Instruments and tackle anything from small adjustments to major Overhauls. All repair work is guaranteed for 3 months unless otherwise stated.
Our store holds large numbers of Instruments.
When you're buying an Instrument, it's important that you've got enough choice to make the right decision.
Our 'superstore' is packed with Instruments and Accessories.
Buying an Instrument
We offer a seven day approval on Instrument purchases.
We want you and your teacher to be happy with your Instrument, so we give you 7 days to try it out.
Friendly help throughout the Sales process.
No pressure, friendly help throughout the Sales process.
All instruments are checked rigorously before being sent out.
Instruments don't always blow straight out the box and need to be 'set-up'.
During this process, transit corks are removed, and the instrument is inspected for any dents, chips or scratches. Work is carried out by our technicians to ensure that every instrument assembles correctly. After the instrument has been examined and setup, it is blown and carefully checked for tuning, free blowing and fuzzy notes. This is especially important with student instruments as most professionals can play a badly set up instrument, a beginner cannot.
Instrument archive
During our years as a Woodwind and Brass specialist, we have sold many different Instruments. We have created an archive of discontinued Instruments. Please select from the following Instruments: