Gonzalez Hand Selected Clarinet & Saxophone Reeds
Gonzalez reeds are produced in the worlds largest cane plantation in Argentina. The reeds are grown and cultivated naturally using only organic fertilisers and the rich soil at the foot of the Andes. Gonzalez now generate 7 million reeds per year and have players all over the world. Gonzalez take pride in their tradition and pay particular attention to the consistency of grade and tone in their reeds.
Gonzalez Products
A selection of reeds from Gonzalez.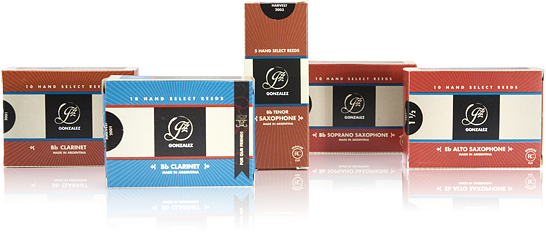 Not sure what Strength?
Email us your setup (reeds, mouthpiece) and style of music played.
One of our reed consultants will contact and inform you what strength reed you need.
RC Reeds for Clarinet & Saxes
The classic cut provides the reeds with a clarity of tone and softness in the lower register.
The RC reeds have a brighter tone than the FOF suiting a broad range of styles including Jazz, Commercial and Concert Band.
Due to their ease of play the RC are also popular for students and respond well on all major brands of mouthpieces.

Here are the Gonzalez RC reeds range:
Gonzalez Artists
Gonzalez Saxophone Artist Lara James Says: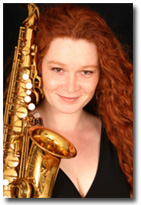 "I have found Gonzalez reeds to be consistent and reliable,
a good number useable straight out of the box.
Good flexibility, good resistance; I happily recommend them!"
Lara James is a saxophonist known for her work as a collaborative musician and soloist. She has established herself as a musician with a busy and varied portfolio career ranging from recital, chamber, orchestral and band performances to lecturing, and performs across a variety of musical genres.
Visit Lara's own sites:
Larasax.com
Lara's Myspace Page
Gonzalez Saxophone Artist Sarah Watts says:
Gonzalez reeds enable me to produce a flexible and versatile sound for any performance situation.
The unique 1/4 strength that they offer provides me with subtle alternatives and means that I have a perfect reed for any acoustic setting.
FOF Reeds for Clarinet
The FOF reed was designed for clarinetists that want a richer, darker sound.
It stands for For our Friends and is made to an American 'File' and has thicker cane in the heart.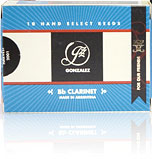 Made from high quality 3.2mm blanks, the FOF reed is also scraped more in the shoulders for positive low register response. Designed for discerning Professionals and Advanced Students.
This cane is made of premium quality on a segment of 3.6 mm. rectified to 3.18 mm.
The material is stored to age for at least 4 years before its manufacture. Because of its deeply carved shoulders, the reed is completely released in the bass sounds, where vibrates like no other. While a heart with higher density allows to attack the high notes with ease and refinement.
View FOF Reeds for Bb Clarinet
Gonzalez Reed making Slideshow