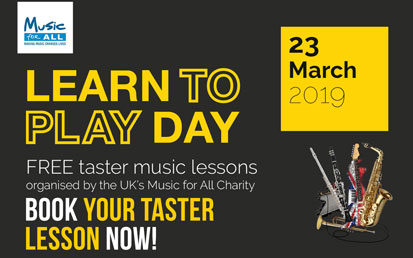 Learn to play day - Saturday 23rd March 2019
Get involved as we take part in the national 'Learn To Play Day' 2019! This event is supported by the Music For All charity. We will be opening up our doors for a day of free instrumental taster lessons to inspire and support anyone wanting to get involved in Woodwind & Brass playing.
Suitable for the whole family the 'Learn To Play Day' has been running for the last 7 years and each time we offer a relaxed and supportive environment to come and try out an instrument of your choice. Whether you've always wanted to be a 'Sax Superstar' or play some beautiful 'Clarinet Classics' this is the day to come and get involved and see how beneficial and fun playing music can be for all ages. In the past we've started youngsters and adults on these days and many go on to great heights with their playing. It's never too late to pick up an instrument and give it a go, why not take some inspiration from some of our success stories.
There's no cost and you can book your FREE taster session in advance via the contact form below, our shop has plenty of free parking and you can find us on this map. We'd love to hear from you and get you started on YOUR musical journey!
Book Your Taster
Previous Learn to play day photos