Brass Instrument Repairs – The Weird and Wonderful!
28th April 2010
Here at Dawkes we get a broad range of brass instruments coming to our workshops for repair and improvement. Two instruments have been in recently that caught our eye and are certainly worthy of wider mention. Firstly we had a request by a football mad Trombonist: He wanted his Bach 36 Strad Trombone relacquered in the colours of his beloved West Ham Utd (good job they stayed up – ed), so always keen for a challenge we worked with the relacquering team to match the colours faithfully. (more…)
Buffet B12 Clarinet – Celebrating Its Heritage
24th April 2010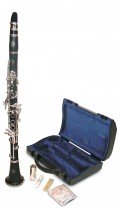 The Buffet B12 has, for as many years as I can remember, been THE student clarinet that we all refer to as the industry standard. The recent passing through our hands of one of the limited edition clear perspex models got us thinking that it may be time to pay tribute to this great instrument and its heritage.
Yesterday Buffet R13's – Today…a Tarogato!
20th April 2010
Just received a beautiful blood red looking soprano sax, which was not a soprano sax but, of course, a Tarogato. The owner needs me to make a mouthpiece for it, which roughly resembles a
clarinet mouthpiece
, as it fits into the instrument and not over it similar to the soprano. However, what is a Tarogato I can hear you asking? Originally a Hungarian/ Rumanian instrument steeped in folk law and when played with its original double reed certainly frightened the hell out of ones enemy. However, a revival of folk instruments by Hungarian musicians about 1890 saw it changed to using a mouthpiece and single reed, thus producing a much warmer sound without the 'serial killers' character.
NEW! Pearl Flute Info Videos
15th April 2010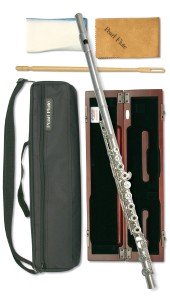 Hi all. We've just uploaded 2 new videos on the splendid Pearl 695RBE CODA and 795RBE Coda Flutes.
Emergency Saxophone Repair
Nice little story…We were displaying at the National Concert Band Festival last weekend in Birmingham. It was a great weekend and inspiring to see so many players, especially kids, enjoying playing in concert and big bands. We were by our stand when a rather distressed young lady came to us clutching a Baritone Sax and exclaimed that it has suddenly stopped working properly! She was due to play in 2 minutes and the Sax was not blowing any notes below a D, so my colleague pointed the girl in my direction as he knew I had some repair experience (albeit a few years ago!).  I asked the young lady to play for me so I could hear the problem, at this point your mind wishes you were at the work bench with your leak light and tools, it's funny how being removed from a usual place of work can affect your ability.
Ton Kooiman Clarinet Thumbrest
7th April 2010
A lot of people have difficulty holding their Clarinet.  After playing a while, it can cause discomfort to the thumb.
Saxophone Octave Mechanism Repair
In the Sax workshop, we see this problem daily…
The Saxophone is a fragile instrument and the brass keys can get bent.  It's really easy to be a bit heavy handed and grip the crook too tightly when packing it away.  What tends to happen is that that key on the top of the crook gets bent and it when you play, you get a really bad squawking sound.  That's not you, that's the pad at the top of the Saxophone not closing.  The Sax is trying to play the octave above.  Your best bet is to get a qualified Instrument Repair Technician or Teacher to repair it, but if you can't here's how it's done.