'Reed' all about it: Part 2 of 3. The Clarinet Rico/D'Addario Stable…
Many thanks for all the positive feedback from Part 1. (Vandoren & Gonzalez) we're glad you found it so useful. In Part 2. we're going to look at the Rico & D'Addario offerings, there's quite a few options here but stick with me, it'll all be worth it!
In truth even the fact we have to split those two names (Rico & D'Addario) is interesting, D'Addario bought the Rico company out in 2004 and have been in ownership ever since. The production has remained the same on some items and not on others, needless to say the D'Addario company have piled a lot of money into the whole 'Rico Group' brand of products and this has generally seen a big improvement in consistency and methods of accurate production.
In recent years the D'Addario influence has become more obvious in the branding of the Reeds (there was a recent blog post on this to do with Rico Jazz Select Saxophone Reeds and their recent changes and the confusion it caused!). On the Clarinet reeds the most obvious change is that they've tried to create a 'Reserve' brand that is separated from the name Rico. Clearly the feeling is that 'Rico' by its name and history implies a student level product, this is obviously something they want to separate from their upper level products and I suspect we'll see more of this in the coming years as D'Addario look at this stable of products both in terms of Student & Pro and maybe even across genres, i.e. Jazz & Classical etc.
With that in mind I've split the Rico/D'Addario brands into a theoretical Student vs Pro level…
'Student Level' – Rico/D'Addario Group Reeds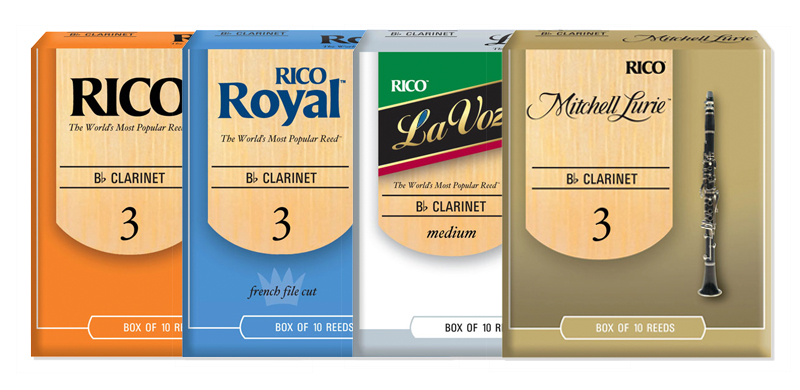 Let's get straight into it with the Classic Orange Box Rico – Arguably the most recognisable global brand of reeds with Vandoren Blue Box and there's part of the story; Ask many players and teachers and they will refer to the Orange Box as a 'poor mans' Vandoren. The fact of the matter is they're a different cut of reed (Unfiled rather than French Filed) and as such shouldn't be compared like for like. The Orange Box reeds are however specially cut for the beginner with a thin heart so that they react quickly and easily; the problem is that if the teacher does not upgrade the pupil to more professional reeds (i.e. with a thicker heart/profile) as they progress through Grades 3/4 etc the pupil may not develop 'projection' and 'support' and will lack control in the higher registers. They are however very good at encouraging a nice easy response early on and are still the 'go-to' student reeds for many because of the ease of play…and the price!
Other options to consider would be the Gonzalez RC which are similar in cut, strength and price. Both the Rico Orange Box and Gonzalez RC come up half a strength under Vandoren Blue Box strengths (i.e. Rico 2.5 = Vandoren 2)
The Rico Royal reed combines the features of the traditional Rico cut with a French file, if you want a Vandoren Blue Box comparison then this is much closer than the Rico Orange Box and can be compared on a like for like basis. Designed for advancing players, Rico Royal offers an even response across the registers because of more cane in the heart, and more clarity in the sound due to the Filing process which removes cane from the shoulders of the reeds and promotes a cleaner articulation. Suited to 'French' style facing curves on common mouthpieces such as Vandoren 5RV, B40, B45 etc. Other options here would be Vandoren Blue Box or Gonzalez Classic, you'll find the Vandoren a half strength harder but the Gonzalez Classic will be similar strength and probably a little cheaper.
The LaVoz reeds offer the ultimate unfiled American cut reed, sort of like an advanced version of the orange box,  that on a typical American faced mouthpiece can offer a rich vibrant sound (e.g. Link, Meyer etc). They are not generally suitable for French faced mouthpieces like the 5RV, B40, B45 style. Interestingly the strengths are listed as soft/medium soft/medium hard/hard – I've never really found out the reason for this. If anyone in the ether (from D'Addario) is reading this I'd be happy to know the rationale. What's interesting is that they used this grading system on the Jazz Select Sax reeds and it's something that they may wish to associate with a 'Jazz' genre of reeds. In terms of strength if you associate a Medium with a #2.5 in 'normal' Rico strengths then you will be about right (we have posted a reed strength chart further down to help).
Mitchell Lurie reeds (Standard not Premium) are unfiled and feature a thinner tip, for ease of response, combined with a thicker spine. The result is a more resistant reed with a warmer sound. According to our very own Prof.Anton Weinberg these reeds came over to the UK in the late 60's and early 70's and proved most popular with players who were professionally very busy and wanted a more consistent and more immediate 'blow' with a reed that did not require 'breaking in'. They are supplied in boxes of 10 unlike the Premium versions (listed further down) that are supplied in 5's.
The Sales Stats:
We looked at our sales stats from Oct 1st 2015 – Jan 31st 2016 and you can see the results below. This pie chart is the % of each Rico 'Student' model against other Rico 'Student' models in that time period:
There are some factors to consider when looking at these stats:
Rico 1.5 are very popular with educators and when offered these or Vandoren blue box as a choice the average parent goes for the cheaper option, also Schools and other bulk buyers prefer the price, thus giving them a strong market share in that 1.5 zone.
LaVoz really are going to be just for the 'Jazzers' and the fact that when asked to name a Jazz Clarinet player most people would say Artie Shaw or Benny Goodman (both of whom enjoyed their peak fame BEFORE World War II) it gives you some idea of the vitality of the genre!
Rico Royal are strong in the 2 and 2.5 upwards, whereas the Rico Orange box sales drop off sharply after strength 2.
Although the standard Mitchell Lurie don't do so well here, the Premiums do rather better in the Pro end. Read on…
'Pro Level' – Rico/D'Addario Group Reeds
And you thought there were a lot of choices in the student range…brace yourself for a myriad of options, but don't worry we'll do our best to de-code it. Perhaps this is one reason why historically they've struggled to break the Vandoren stranglehold of this sector of the market…ever heard of too much choice guys?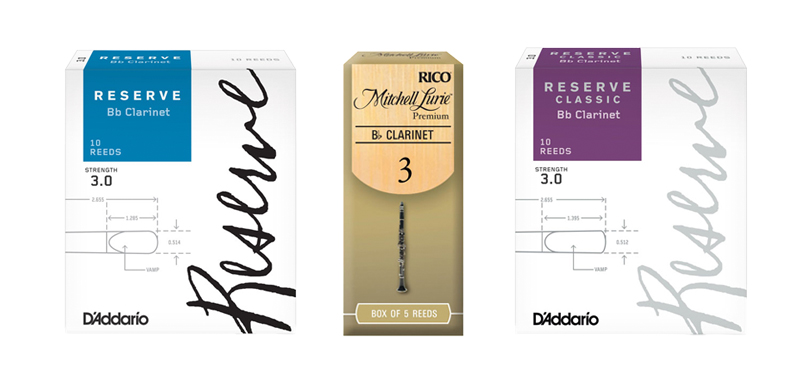 The Mitchell Lurie Premium come in boxes of 5 and feature all of the aforementioned characteristics of the standard Lurie but using premium cane and we feel greater quality control. They are filed leaving more cane in the heart and with a thin tip, these would be close to a Vandoren Blue Box or Gonzalez Classic and are actually very nice reeds. Out of interest Mitchell Lurie was a clarinet virtuoso who died in 2009, he was famed both for high-calibre performances of classical music and as a solo player with Hollywood's RKO studio orchestras recording music in the great Hollywood years of film. Apparently the composer Leonard Bernstein called him "the premier clarinettist in motion picture music, and indeed in the world". I wonder how long this name will continue on, it doesn't seem to fit with the very modern approach of D'Addario and of the market categorisations I outlined at the beginning of this article.
Now to the latest release, the Reserve caught the imagination of players during a time when many of the new model mouthpieces had come on to the market and players were confused as to the best choice of reed to use. The consistency of the Reserve reeds was a distinct feature that players found an advantage when playing constantly day in and day out. Produced from the highest quality cane available the standard Reserve offers a traditional blank design that offers a focused sound, a shorter vamp for even response, rounded tip corners for tonal warmth, and a standard tip thickness for quick response.
Off the back of the standard Reserve came the Reserve Classic, these offered a longer vamp than the standard Reserve (for flexibility), square tip corners for an easier response, and a thicker tip. The result is a reed that feels more like a Rue L'Epic Vandoren (and possibly the V12) or Gonzalez GD.With the longer vamp it's important not to play these on mouthpieces that have quite a short lay otherwise they will feel stuffy and resistant. (ie Vandoren 5Rv, 5RV Lyre, Vandoren 11.6, Vandoren B46)

For D'Addario this Reserve range were the reeds to really challenge the Vandoren dominance, have they done that…not sure. They've had some success in certain markets but we still see a large dominance on the Vandoren sales, is this because the Reserve aren't as good or is it because of old habits dying hard…?
Making up the rest of the Pro Range of Rico/D'Addario are the Grand Concert Select options…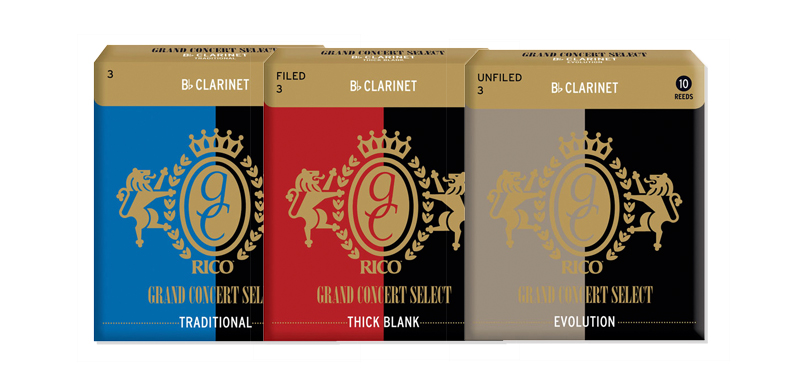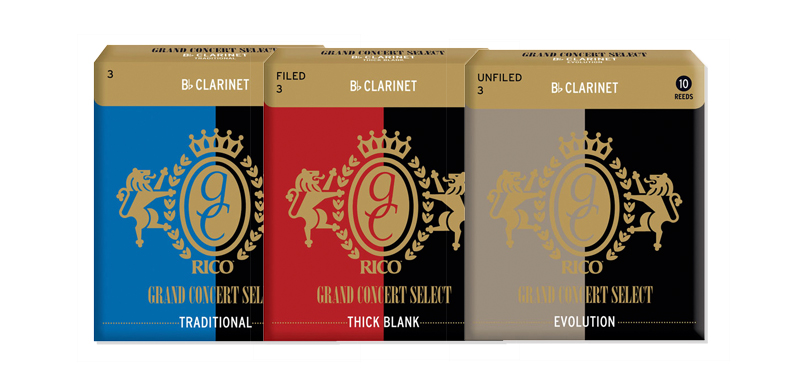 I'm going to start with a slight criticism here, if I had a pound for every time these Grand Concert Select boxes had changed in design I'd be…well, I'd have enough for a decent lunch lets just say that. I'm a big one for consistency of branding and I think this hasn't helped. I know that Rico/D'Addario have had good success with these GCS reeds in certain markets, especially in parts of Asia where they are well regarded. For us in the UK I'm not sure they ever burst through, despite lots of effort from Rico. How long will they keep these up? Will the Reserve range expand and take in some of these options? Not sure, lets deal with what we have on offer right now:
The Traditional Grand Concert Select reeds are filed and feature a traditional tip and thicker spine, providing a quick response. They have a traditional blank thickness; traditional blanks are made from cane closer to the bark, adding more brilliance to the sound.
The Thick Blank Grand Concert Select reeds are also filed and feature a traditional tip and thicker spine. They differ from Traditional GCS Traditional in that they have a thicker blank; thicker blanks are made from cane further away from the bark, resulting in a warmer and darker sound. The Vandoren V12 or Gonzalez GD would be similar alternatives in many ways.
Finally (and well done if you made it this far!) there are the Grand Concert Select Evolution, these reeds are unfiled and have more material in the shoulders of the vamp. They feature a traditional tip and the thickest spine of the GCS family, providing a full sound. Of all Rico's clarinet reeds, GCS Evolution has the thickest blank; this results in a warm, dark tone…but, also can give the feeling of a 'tough' blow. Just go carefully on the strength you choose otherwise you'll think they are stuffy and unresponsive. It's safe to say this type of reed wouldn't really suit the classic French facings of the Vandoren 5RV, B40, B45 etc. Rather, it would be more suited to the M30, M15, BD5, Reserve mouthpieces etc. The Evolution are similar in some ways to the Gonzalez FOF which also are unfiled and have a thick blank and give a dark, warm symphonic sound. The Vandoren equivalent would be the new V21 reeds but would be half a strength softer as the GCS Evolutions have more density of cane.
The Sales Stats:
We looked at our sales stats from Oct 1st 2015 – Jan 31st 2016 and you can see the results below. This pie chart is the % of each Rico 'Pro' model against other Rico 'Pro' models in that time period: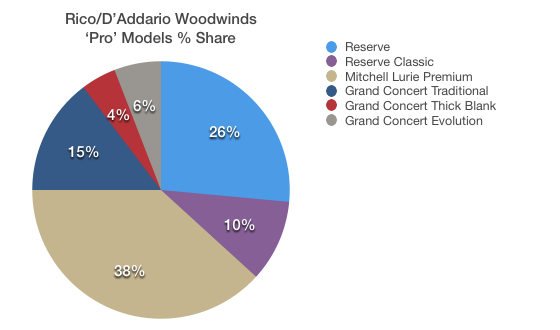 There are some factors to consider when looking at these stats:
We were surprised with Mitchell Lurie Premium being on top, we do have a few teachers that very actively recommend them, I'm not sure these percentages would be represented in the wider market.
Even in the relatively short time since Reserve reeds have been introduced they are already outperforming the Grand Concert Select range which has been around much longer.
The Thick Blank and Evolution buyers are dwindling and are small in comparison to the rest. How long will D'Addario keep going with these niche reeds, especially if it may be more prudent to re-package a similar design into the Reserve range?
Summary:
(If you only read 1 paragraph, make sure it's this one!)
You certainly can't say there aren't a lack of reed options out there. I count 10 just from this one company (and I didn't include Plasticover or the Reserve German Cut). So, we're back to the old conundrum of matching up the right reed with your mouthpiece. Keep it simple; establish the facing curve style and length of lay on your mouthpiece and then relate that to the reed cut designs. i.e. French facing curve will suit a French filed reed with a thinner tip as a general rule, whereas American facing curve will suit an American style unfiled reed with a thicker tip and sometimes a thicker blank. Add to this whether your mouthpiece has a short facing (making reeds feel harder) or a long facing (making reeds feel softer) and you should be close to what will work best. Not sure about your mouthpiece style? Get in touch and we'll help! Or do some homework and research your mouthpiece on the makers website, for many of you this will be Vandoren, they have a downloadable e-catalog that tells you the facing length which is a good place to start.
As ever we offer our 'Tester Packs' of French Filed and American Unfiled reeds, these are a great place to start when experimenting as they offer the main brands across the right strengths for your choice.
*Coming Next Time:
'Reed' all about it: Part 3/3. The 'best of the rest' and Synthetic Clarinet reed options…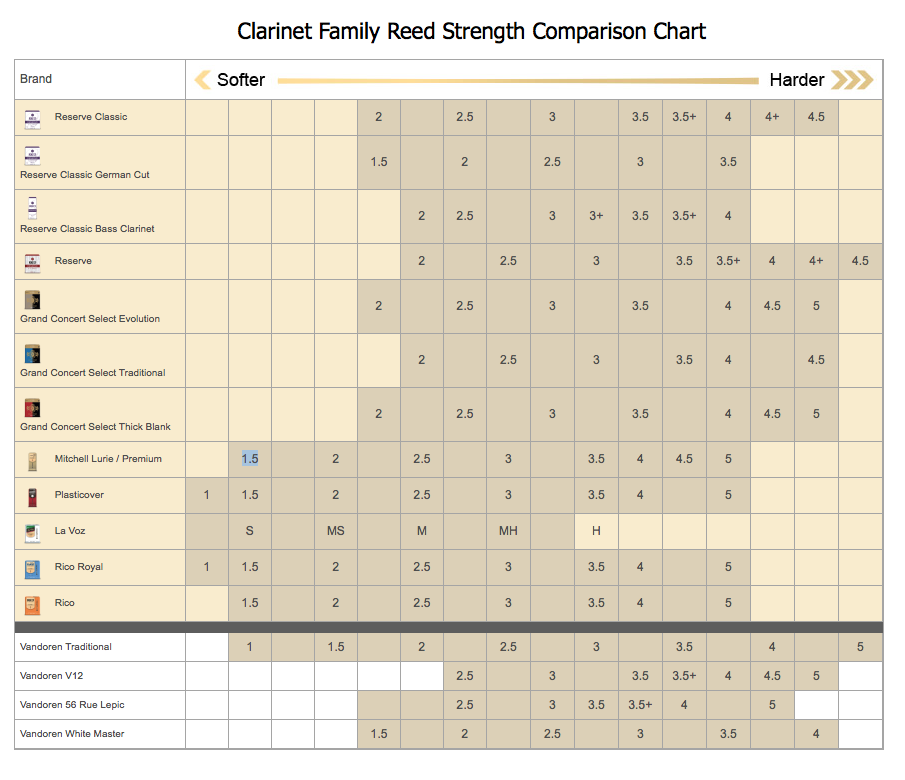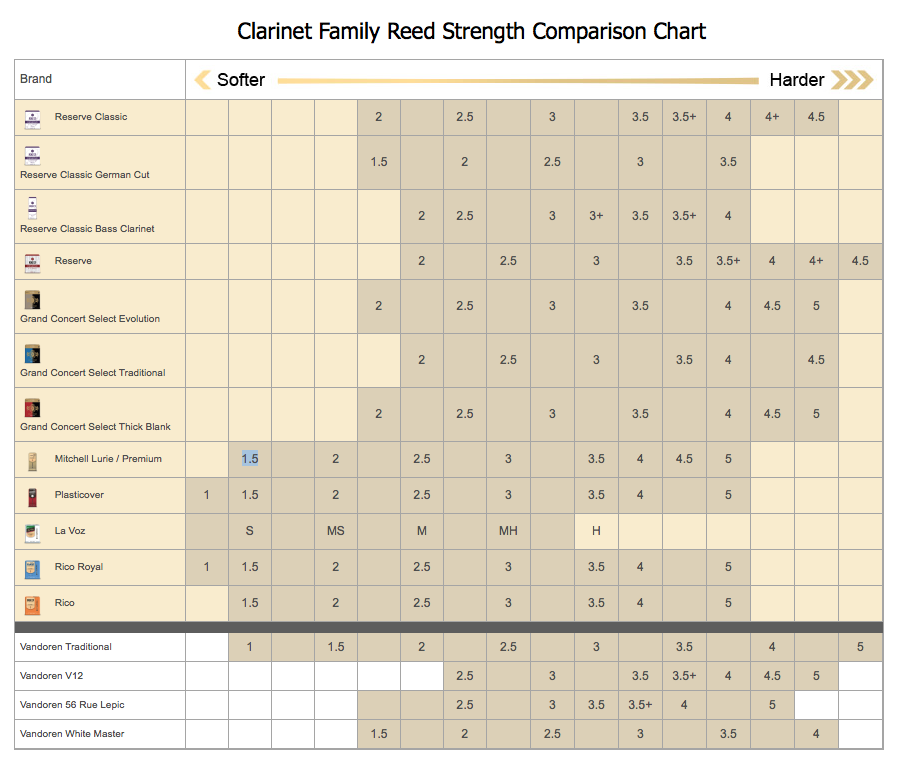 Authors: Prof.Anton Weinberg & Sam Gregory (Woodwind Dept)
'Reed' all about it: Part 2 of 3. The Clarinet Rico/D'Addario Stable…
'Reed' all about it…Part 1 of 3. Vandoren & Gonzalez (Clarinet Reeds)
Clarinet reeds have developed a long way since the old days when the choice was either a box of Vandoren or some Rico reeds. There are multiple brands that are worth your consideration and within the brands there are different models of reeds, let's have a look at some of the more popular options (Vandoren & Gonzalez) going into 2016 in Part.1 of our Clarinet Reed 'State of the Union'…
Vandoren:
Vandoren make 4 main varieties and it is a simple choice as to which might be suitable for you: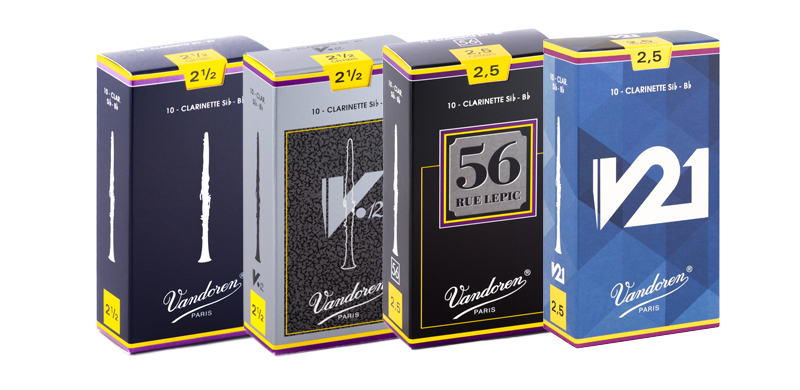 The old blue box/traditionals, with a strong heart and very thin tip, are still available, but now we have also the V12, the V21 and the now famous '56' variety. The V12 is made for long lays so it is cut with a longer heart in the reed and also from lower node cane. If used on a short lay it can therefore have an unclear sound. The Rue L'Epic 56 is cut rather like the American reeds; that is to say with a thinner heart but a thicker tip to compensate; this makes the reeds quite vibrant and 'instant' to play.
The new V21 reed is a combination of both ideas and therefore has a thicker heart than the 56 but also a thicker tip than the standard blue box.
We looked at our sales stats from Oct 1st 2015 – Jan 31st 2016 and you can see the results below. This pie chart is the % of each Vandoren model against other Vandoren models in that time period.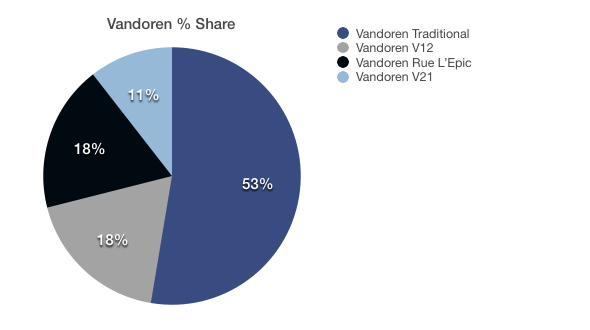 There are some factors to consider when looking at these stats:
The V21 reeds are still very new in the market, it will be much more interesting to see how they are established against the other Vandoren models after 1-2 years.
The Traditional blue box have been around a looooong time, many players and teachers know them and have used them for years and there is a "better the devil you know" mindset sometimes.
Many players use French style lay mouthpieces (5Rv, B40, B45 etc) as such the Traditionals are commonly a good choice, whether they know that or not!
Often reeds are bought by parents for players who are using softer reeds (1.5 or 2) that are not available in the other strengths. When you look at 2.5 upwards the stats get closer but still with Traditional out in front.
At the end of the day it is a personal choice as to which one the player prefers, but it is important to note that the 'American' style reeds vamp; that of the 56 and V21, is really most suited to American style lays where the curve of the lay develops into a straight flat finish towards the tip. With the French style, the lay curve carries on right to the top of the tip rail and the famous 5RV is a classic example of this. If you are unsure as to the design of the lay on your own mouthpiece please get in touch with us and we can help advise.
Gonzalez:
Now we also have other makes of reed available, many not sold previously in this country. The Gonzalez reeds offer the same range of possibilities as the Vandoren range but have slightly different names and designs such as the FOF, GD, RC or Classic.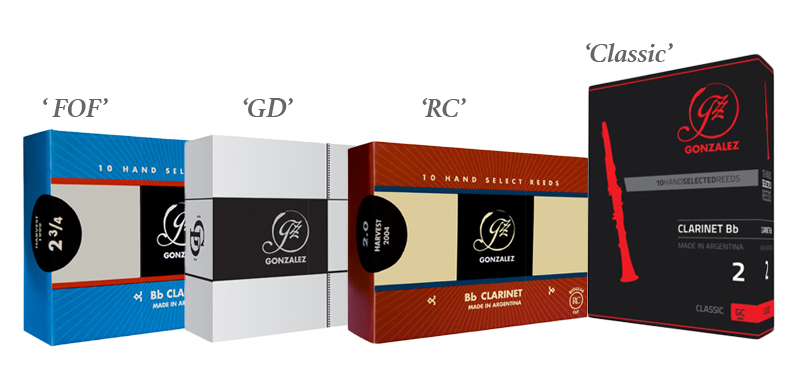 The Gonzalez FOF have proved popular with professional and advanced players. With an American cut they have a thickish tip and actually a thick heart as well. Because of this design they give a strong, rich, dark sound but do come up feeling harder than you may be used to. Advice is to come down 1/2 a strength on what you expect. The American cut, as mentioned above in the Vandoren section, is more suited to mouthpieces with a straight flat finish on the lay. For example the Vandoren M30, BD5, Rico Reserve X5 etc.
Vandoren equivalent to FOF = Rue L'Epic/V21
The Gonzalez GD reeds are made from a cane with a classic French Cut, not totally dis-similar to the Vandoren V12. They are made with a thicker blank and a larger diameter material than the standard clarinet reeds. This material is normally used in the manufacture of Alto saxophone reeds and can give a richer sound. They are the first Gonzalez reeds with a French Filed Cut, the GD's have a longer scraping area and more wood in the heel, therefore they are quite vibrant and long lasting.
Vandoren equivalent to GD = V12/V21
The Gonzalez RC reeds* have proved to be very popular since we took them on. Priced very sensibly and as a direct competitor to the Rico 'orange box' they have proved to be arguably more consistent and better playing than the Rico's, and at a more affordable price, ideal for educators. The reed itself is quite bright compared to the other Gonzalez equivalents and also unlike it's 'brothers' they come up softer than you would expect. So for example if you use Vandoren Traditional #2.5 you'd probably want a Gonzalez RC #2.75 or #3. Yes! They do 1/4 strengths, but only from 2.5 to 3.5, not either side of that.
Vandoren equivalent to RC = Traditional if you had to pick but it's fairer and more accurate to say Rico Orange box.
*Feb 2016: Please note the RC boxes are currently changing in design and so may vary from the picture above depending on when you read this. The new box is a more solid block red colour.
The Gonzalez Classic reeds are designed for the musician to quickly adapt to it, because they have a cut that has been used by most manufacturers (i.e. Vandoren Traditional – oops, did I say that!), but using the slightly longer aged cane that is present in all Gonzalez production. They have a typical filed French cut, with a thin tip, that will be suitable for those types of mouthpieces with French style rolling facing curves (5RV, B40, B45 etc).
Vandoren equivalent = Traditional Blue Box
Again, we looked at our sales stats from Oct 1st 2015 – Jan 31st 2016 and you can see the results below. This pie chart is the % of each Gonzalez model against other Gonzalez models in that time period.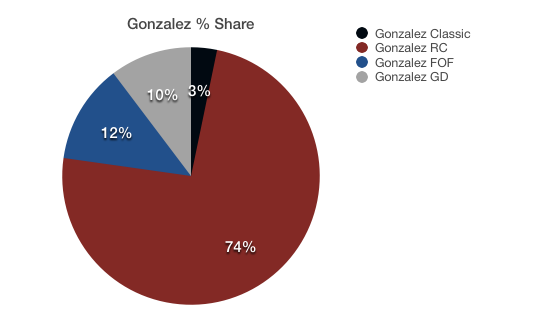 There are some factors to consider when looking at these stats:
We sell a lot, and I mean a LOT of Gonzalez RC #1.5 to music services etc who want a reliable reed at a good price, this does somewhat skew the figures above.
If you compare from strength #2 upwards it gets a lot closer and we're seeing growth in the FOF and GD especially for advancing players as they suit a lot of the mouthpieces being sold these days. (Vandoren M30/Vandoren BD5/Weinberg etc)
We've not really given the Classic model much attention, i.e. in shop displays, newsletters, teachers etc. As such I think it's a bit of a sleeping giant. Consider it's very similar to a Vandoren Traditional reed but 25% cheaper and you can see the potential…
The staff will help you with your choices but note that the Gonzalez cane is more vibrant than the Vandoren cane and in many of their varieties they offer a stronger reed (except on the RC range, and to a degree the Classic range) so therefore we recommend you choose a half strength less than your usual choice. We have a Gonzalez reed strength contact form you can use for advice on which type and which strength would be suitable for you.
Both Gonzalez and Vandoren produce reed strength comparison charts, however neither is totally up to date, and neither takes into account how the mouthpiece lay will affect this 'feeling' of relative strength. They also slightly contradict each other on various listings. For interest though they are shown below:


Summary:
All reed makers have basically followed the Vandoren idea because clarinetists now use a range of mouthpieces which have become easily available due to the development of the internet and the ability to also purchase online. It may seem a complex process but is no more difficult than buying a pair of new shoes; several styles may be in your size but how it feels when you take those first steps usually settles the choice very quickly. Apply the same criteria and you will not go too far wrong. The first impression is most important as after about 60 seconds you unconsciously use your technique to make the results what you would like them to be. Therefore to fool this natural tendency always gives heed to that first impression and how it feels to blow.
Authors: Professor Anton Weinberg & Sam Gregory (Woodwind Dept)
*Prof.Weinberg is available in store on Thursdays, Fridays and Saturdays. Please contact us for any reed queries you may have, or to get advice on what's best suited to your mouthpiece.
'Reed' all about it…Part 1 of 3. Vandoren & Gonzalez (Clarinet Reeds)