A Forgotten Man?
by Peter Gardner
In the UK his name rarely crops up in discussions about jazz saxophonists and no saxophone student I have talked to recently has ever heard of him.  I suspect the same goes for many of those students' teachers as well.  Even if you look on the websites of the famous jazz stars he played and recorded with, his name is at best infrequent.  There is one biography about him.  It was published in French five years ago and has not yet been published in English, and since it is twenty years since he died, you might fear that his music will become confined to those with long but failing memories and groaning shelves of dust-gathering recordings. And that would be a great shame because Barney Wilen, I would argue, particularly in his later years, produced music of great charm and gentle emotion that marked him out as a truly original talent.
Bernard-Jean Wilen, to give him his full first name, was born in Nice on 4th March, 1937, to a French mother with aristocratic connections and a well-off American father, who was said to be both a dentist and an inventor.  The Wilens went to America at the start of the Second World War, where they lived with various relatives and their son became something of a fan of the big bands and singers he heard on the radio.  While in America young Wilen was also given an alto saxophone as a birthday present and soon he was playing in school ensembles.  The family returned to the south of France at the War's end and the Nice Jazz Festival in February 1948 seems to have been something of an eye-opener for the ten-year-old saxophonist; according to one source, when he heard 'The Bob Shots', a Belgian combo that featured Bobby Jaspar on tenor and has been described as Europe's first bebop group, Barney came to the conclusion that Europeans, not just Americans, could play jazz.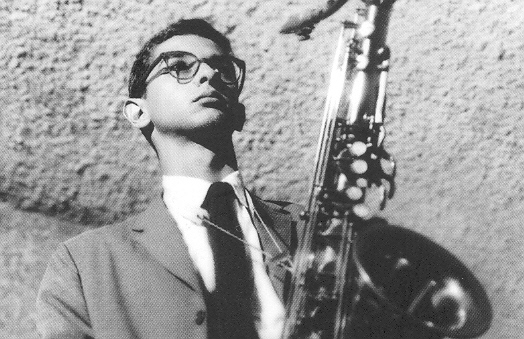 Barney's musical development, whether measured by American or European standards, was rapid.  By the age of seventeen, having already come to prominence in Nice, he was starting to make a name for himself as a tenor saxophonist in Paris' jazz clubs, playing with and frequently astonishing visiting American musicians and getting favourable mentions in the French magazine Jazz Hot, which in 1954 described Barney's favourite musicians as "Lester, Lester and Lester, and…Al Cohn".  Barney's fondness for Lester Young is evident in his first recording in October 1954 with a group billed as the Roy Haynes Band that, in addition to Haynes on drums, also featured Joe Benjamin on bass.  Undaunted by recording with such American masters, Barney sounds like the fifth brother.
Over the next six years Wilen would appear and record with such American stars as John Lewis, Percy Heath, Kenny Clarke, Miles Davis, Milt Jackson, Duke Jordan, Kenny Dorham, Bud Powell, Dizzy Gillespie, Clark Terry, Lee Morgan and Wayne Shorter,  he would make LPs with his own quartets and quintets, he would work with Miles Davis on the soundtrack of Louis Malle's film Ascenseur pour l'Echafaud and with Blakey's Jazz Messengers, where he replaced Hank Mobley, on the soundtrack of Roger Vadim's film Les Liaisons Dangereuses.  In addition, he would be awarded the Django Reinhardt Prize by the Academie du Jazz, he would win readers' polls, he would be seen frequently on French television, he would appear at the Cannes Jazz Festival alongside Don Byas, Stan Getz and Coleman Hawkins and he would play at the Newport Jazz Festival.  All this before he was twenty-four!
Listening to the twenty minutes or so that were recorded of Wilen at the 1959 Newport Festival, we find a boppish tenor player, who could have stepped straight out of Rudy Van Gelder's studio, and who is indebted, not to Lester or Al Cohn, but to Parker and the rising tide of hard-bop reed men (1). Barney also had a surprise for his American audience.  Bearing in mind that it would be over a year until Coltrane recorded on soprano saxophone and quite a few years before tenor players doubling on soprano became common place, Barney's use of soprano at the start of ''Round Midnight' must have surprised the Newport crowd and helped set the young Frenchman apart from the host of fast, post-Parker tenor players who seemed to be flooding the scene in the late 1950s.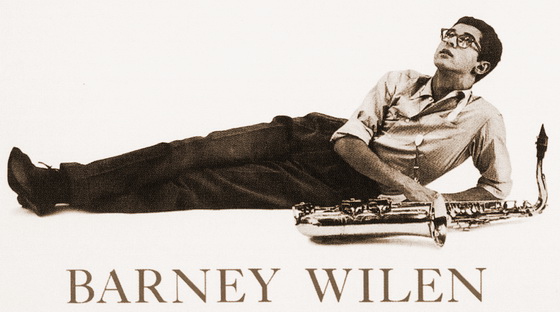 Perhaps a clearer picture of how Wilen had developed as a musician comes, not from his appearance at Newport, memorable though it must have been for the twenty-two-year-old from the Old World, but from his performances on an album from the previous year, 'Jazz sur Seine' (2). Recorded in Paris 'Jazz sur Seine' has Wilen in the wonderfully supportive company of Milt Jackson, on piano, not vibes, Percy Heath, bass, and Kenny Clarke, drums, and Wilen's ballad playing on 'Vam' and 'Nuages' shows that he has acquired a soft lyricism to go alongside his mastery of bop's demanding harmonic and instrumental necessities.  The fact that four of the twelve tunes on 'Jazz sur Seine' were by the French composer and singer, Charles Trenet, also shows Wilen's fondness for songs  with a Gallic flavour.
But Wilen had a restless spirit. By 1966 he had moved into free jazz, which led to the album 'Zodiac' and then he organised an expedition to document the music of Pygmies and recorded the album 'Moshi', an album said by one source to be "an eccentric effort fusing avant jazz sensibilities with African rhythms, ambient sound effects, and melodies rooted in American blues traditions…this is music with few precedents or followers, spanning from extraterrestrial dissonance to earthbound, street-legal funk".  Then there was a period in Barney's life that the French jazz authority, Pascal Anquetil, describes as "a voyage of initiation" during which the former jazz musician lived for years in Niger and Mali among the native people and some accounts tell of him smuggling medicines into war zones.  Wilen returned to Nice in 1977. Over the next few years, he didn't make any jazz recordings and, according to Anquetil, he was seen as "a musician who was such a has-been".  However, things changed dramatically in 1986.
Although no one had sought any kind of permission from him, Barney discovered that he was the subject of a comic strip, Barney et la note bleue, in the Franco-Belgian comics magazine, A Suivre,   published by the Belgian based company, Casterman. This prompted Barney to go along with guitarist Philippe Petit and play on the Champs-Elysees, under the apartment of the comic strip's writer, Philippe Paringaux.  As a result, Paringaux became involved in Barney's affairs and an appearance in a Paris club was soon arranged. On opening night, writes Anquetil, "only a handful of devotees turned up, but the next day a miracle occurred! Both Liberation and Le Monde published a front page article hailing "The Return of Barney Wilen".  That very night, a compact queue formed outside the club…and it stretched several hundred metres…Like phoenix reborn from its ashes, "Wilen was back again" one last time."
Following France's rediscovery of her former teenage prodigy, record companies began to record Wilen frequently, some of the notable resulting CDs being: 'La Note Bleue', 1987, 'French Ballads', 1987, 'Wild Dogs of the Ruwenzori', 1988, 'Never Let Me Go', 1990, where Wilen guests with altoist Jacques Pelzer, who had played in 'The Bob Shots' in Nice in 1948,  'Sanctuary', 1991, 'Dreamtime', 1992, and 'The Osaka Concert', 1994.  If I were to choose two from this selection, one would be 'French Ballads', where Michel Legrand's songs are well-represented and Barney just about manages to show there is some ballad potential in Jacques Revaux's 'My Way'. As for my   personal favourite, it has to be the trio album, 'Sanctuary', which features Wilen on both soprano and tenor together with the outstanding Swedish bass player, Palle Danielsson, and the inventive and resourceful Belgian guitarist, Philip Catherine.  Wilen's tone is now light and resonant, his ideas are melodic and frequently touchingly gentle and his style might be thought to owe more to Paris than Kansas City.
Unfortunately, as you will discover if you go online, some of the CDs just listed belong in a sellers' market and prices are becoming increasingly steep. But is hope at hand? Well, the French label Fremeaux has recently issued a three CD set 'Barney Wilen, Premier Chapitre, 1954-1961', FA 5487. The set includes a track by Barney with the Roy Haynes Band from '54, tracks by Barney's early quartets and quintets from '57, both 'Vamp' and 'Nuages' from 'Jazz sur Seine', ''Round Midnight', with Barney doubling on soprano, from 59's Newport Jazz Festival, and lots of other recordings that give ample proof of Wilen's early flowering and of his ability to do more than hold his own with established American jazzmen.  At the time of writing, I don't know how many chapitres Fremeaux has planned, but let us hope that copyright problems don't prevent there being   sufficient to include the recordings from the late 1980s and the 1990s when Barney was back "one last time".
Several accounts of Wilen's early days stress the influence of the poet, film-maker and novelist, Blaise Cendrars, who was, some writers say, a friend of Barney's mother. While Wilen's father was urging his son to study hard in order to practise law, Cendrars, in Barney's words, "told me to follow my instincts and my dream".  We should be grateful that he took the advice of a poet.
Barney Wilen died of cancer in Paris on 25th May, 1996, aged fifty-nine.
Peter Gardner
February, 2017
Acknowledgement
I am most grateful for the help of Auriel Mahoney, Steve Marshall and Dawkes' Sam Gregory.
Endnotes
(1) The Fresh Sound's CD 'Barney Wilen Quartet, Newport '59', FSR 165, would seem to have all the existing tracks from Wilen's Newport appearance plus tracks recorded in Paris by a quintet involving Wilen, Bud Powell and Clark Terry.
(2) The Gitanes Jazz CD 'Barney Wilen, Jazz sur Seine', 548 317-2, has all the tracks recorded by the Wilen-Jackson group on 13th and 14th February, 1958.
Some Sources Used
Notes by Pascal Anquetil for the CD 'Barney Wilen & Philippe Petit, Flashback', PJCP 222012.
Yves Buin, Barney Wilen: Blue Melody (Castor Astral, 2011).  This is the biography of Wilen that has not yet appeared in English.
Brian Morton and Richard Cook, The Penguin Jazz Guide (Penguin, 2011).
Tom Perchard, After Django: Making of Jazz in Postwar France (University of Michigan Press, 2015).  One of this book's seven chapters is devoted to Wilen with an emphasis on Wilen's involvement with free jazz.
Notes by Alain Tercinet adapted from the French text by Martin Davies for the three CD set 'Barney Wilen, Premier Chapitre, 1954-1961', Fremaux FA 5487.
A Forgotten Man?
Sax Masterclass Recap – Hannah Marcinowicz (Sat Feb 25th, 2017)
It's always nice to welcome back a musician that left such a great impression the last time they visited. Hannah Marcinowicz (www.hannahsax.com) previously held a Clarinet Masterclass here at Dawkes which was met with universal acclaim from all those in attendance and another great session was enjoyed last Saturday with some Sax players, young and…well, let's just say more experienced players!
About Hannah
A former Purcell School pupil, Hannah graduated with first-class honours from the Royal Academy of Music, where she studied both saxophone and clarinet. Numerous awards, including a major scholarship from the Leverhulme Trust, enabled her to continue her conservatoire studies in Paris, with international soloist, Jean-Yves Fourmeau. She was awarded the prestigious Médaille d'Or twice.
She has performed with the UK's leading orchestras, including the London Symphony Orchestra, Philharmonia Orchestra, BBC Concert Orchestra, Royal Philharmonic Orchestra, London Philharmonic Orchestra, BBC National Orchestra of Wales, Royal Northern Sinfonia and London Concert Orchestra. A regular performer at the BBC Proms, she has appeared as a featured soloist under Sir Colin Davis and Paul Daniel. Her international performances include concertos and recitals in the Middle East and Far East. She has also appeared as a guest soloist with the European Union Chamber Orchestra.
Hannah plays mainly Yamaha instruments including the YSS-875EX Custom Soprano and YCL-CSGIII Clarinets.
"Excellent mix of genres. Hannah was a great communicator and her explanations were great" – Attendee
On the Day
It was great to see a wide range of participants and attendees, from youngsters going through their first few grades, a student at a major music college and some more experienced adult players. We also transitioned through the repertoire range from Classical to Jazz with a few pit stops in-between, something of a theme for the day that I'll touch on later.
Usually at these types of events we have an audience of around 25-30 with 4-5 volunteers (victims?!) who perform a piece to the assembled audience with either a CD backing or in this case we also had a real life pianist if they wanted. It's quite something to stand up in front of a group of people you've never met and play a piece of music to someone who's about to critique you on it in front of everyone, so well done to all that volunteered.
Common topics usually arise about stance, filling the instrument with the correct air stream, preparing to play, coping with technically demanding passages etc. No doubt some of these topics are touched on in normal weekly lessons but sometimes it takes another angle or way to explain things to help the pupil take ownership of these challenges and act on the solutions. It's a great buzz to see a connection and engagement from the younger players especially who are like sponges and eager and able to take on advice so quickly.
In between volunteer performers Hannah performed a few pieces with her pianist Philip Mountford. It's here that the professionalism shows and the strata of experience levels becomes even more apparent. There is a security in listening to a good professional play, everything is under control however demanding technically the piece may be, and importantly the piece is delivered in the correct style to represent the 'story' of the composition. It was great to hear Hannah on both the Alto, and also showcasing the Soprano which she really got to sing.
"Excellent session for all things saxophone!" – Attendee
Conclusion
All too often our days in Music Retail are dealing with the nuts and bolts of the Retail side of things. Fulfilling orders, customer service queries, chasing suppliers, paying bills etc. It's so refreshing to actually re-engage with the 'dots' and hear some customers at various stages of their musical journey and give them the opportunity to work with people like Hannah to enthuse and encourage them onwards. Also, hearing Hannah and the other performers who chose to use the pianist also cemented how important it is to make music together with others, yes CD backings are helpful when practicing but to actually make music nothing beats playing alongside someone.
The day finished off with a customer performing the jazz classic 'Naima', it was a captivating performance highlighting the vast spectrum of tone that the Saxophone can produce. From this rich, melancholic subtlety to the vibrancy and sweet singing tones we'd heard earlier in the day, it was a great reminder that the Saxophone is such a versatile instrument with a tone very close to the human voice. It was a nourishing afternoon for all and a perfect excuse to indulge in all things Saxophone for a couple of hours. Thanks to all who came along and of course to Hannah and Philip.
"Really engaging, really enjoyable and really informative!" – Attendee
*Should you wish to take part in any future masterclass events please sign up to our Saxophone Newsletter to receive notifications of events.
Sax Masterclass Recap – Hannah Marcinowicz (Sat Feb 25th, 2017)