Not 'The Lion' and Hamp in Pasadena
Join jazz aficionado Peter Gardner with his look back at one of the premier, but lesser known, lead Alto Saxophonists in jazz history…
If your CV included playing lead alto in the bands of Jimmie Lunceford, Harry James, Duke Ellington, Billy May and Charlie Barnet as well as spells with Jazz at the Philharmonic and Gene Krupa trios, and you had played on one of the most famous jazz records, we might expect that you would be quite well known to any modern saxophonist who has more than a passing interest in the history of jazz and big bands.  Sadly this is not the case, and when you mention this saxophonist's name, people with some knowledge of jazz history often think you are talking about a famous stride pianist. So, let me clarify. Willie Smith, or to give him his full name, William McLeish Smith, was the lead alto saxophonist with the more than impressive CV.  Willie 'The Lion' Smith was a justifiably famous, bowler-hatted, cigar-chomping, extrovert stride pianist.
William McLeish Smith was born in Charleston, South Carolina, in November 1910.  One of his grandparents was Scottish, hence 'McLeish', but the rest of his forbears, I believe, were African American. Willie himself had pale skin, and people often thought he was Mexican or from a Mediterranean country. When he was a child Smith's family moved to Cleveland, Ohio, and before he was in his teens he was playing the clarinet, though after a while he decided that the clarinet "is ten times as hard" as the saxophone and the alto sax became his preferred instrument. By 1929, having graduated from Fisk University, he was a professional musician with a group led by Jimmie Lunceford.  Smith would stay with Lunceford for the next thirteen years and he would be a professional musician for the rest of his life.
During the Second World War Willie Smith was in the US Navy stationed at the Great Lakes Naval Station along with other fine musicians, such as Al Grey, Lou Donaldson and Clark Terry, and the Naval bands and its Station were strictly segregated.  As Clark Terry later recalled, "They really had two branches of the Navy in a sense, as far as we were concerned.  All the black people were confined to… (a) camp called Camp Robert Smalls", whereas the whites were in the main part of the Station.  The authorities, Terry remembered, "wanted Willie Smith to come over on the main side, because he could pass.  They even offered him a commission.  He turned it down, said, 'I'm going to stay over here with my gang.' He was a beautiful cat."
Gene Norman, who died in 2015 aged ninety-three, had been at various times in his life a disc jockey, a jazz promoter and the owner of a famous Los Angeles nightclub and a record company both called 'Crescendo'.  In 1947 he began organising a series of 'Just Jazz Concerts' in the Shrine Auditorium, Los Angeles, and the Civic Auditorium in Pasadena. The group he assembled at the Civic Auditorium on Monday, 4th August, 1947, billed as 'Lionel Hampton and His Just Jazz All Stars' drew star musicians from some of the bands that were playing in the area at that time. Tenor saxophonist, Corky Corchoran, and altoist, Willie Smith, were from the Harry James orchestra and trumpeter, Charlie Shavers, was from Tommy Dorsey's orchestra. The rhythm section for part of the concert involved Tommy Todd on piano and guitarist, Barney Kessel, along with Slam Stewart, bass, and Lester's brother, Lee Young, on drums. The leader of the group was vibraphonist, Lionel Hampton.
Lionel Hampton had played drums and vibes in  bands on the West Coast, but he came to national attention after Benny Goodman discovered him in 1936 playing in Los Angeles' Paradise Club. Hamp soon established himself as a crowd-pleasing and propulsive member of Goodman's quartet, one of the most famous quartets in the history of jazz. When drummer, Gene Krupa, and pianist, Teddy Wilson, left Goodman, Hampton stayed on and became a member of the new Goodman small groups that involved the innovative guitarist, Charlie Christian. Interestingly, at Christian's first recording session with Goodman and Hampton on 2nd October, 1939, one of the tunes recorded was 'Stardust', and the guitarist's solo contains a quote from 'Pretty Baby'. Quoting from 'Pretty Baby' would become a regular feature of Christian's solos on Carmichael's famous melody. Hampton left Goodman in 1940 to lead his own big band and in the August of 1947 Hampton's band was playing in the Los Angeles area when he was invited to lead the Just Jazz All Stars at what turned out to be a truly memorable concert, memorable chiefly because of the All Stars' treatment of 'Stardust' and Hampton's solo in particular.
Hoagy Carmichael's 'Stardust', or 'Star Dust' as it originally was in 1927, has been recorded thousands and thousands of times.  The tune's lyricist, Mitchell Parish, is said to have become a millionaire with royalties from just this one song. In 1940 alone Artie Shaw, Tommy Dorsey, with the young Frank Sinatra, and Glenn Miller all had hits with Carmichael's song, but few recordings  of 'Stardust' can compare the All Stars' version from August 1947. For a start, there's obviously an appreciative audience present, an audience that warms to the performance. Then there's the matter of length; the All Stars' recording of 'Stardust' lasts about fifteen minutes. Then there's the matter of quality; the recording, I would argue, involves several exceptional solos.
The obvious standout soloist is Lionel Hampton, who takes the last three choruses, at times quadruple-timing over the slow steady pulse from the rhythm section. And, yes, we do get the quote from 'Pretty Baby' in his first chorus. Jazz has, perhaps, turned its back on the entertainers in its ranks.  Hampton reminds us that great jazz doesn't have to be sober or sombre.
As for the other soloists, Charlie Shavers takes the second chorus and plays with a mixture of taste and fun, and, according to one authority, though I think this is a trifle inflated, "delivers one of the greatest solos of his illustrious career." Shavers is followed by someone certainly delivering one of his greatest solos; the third chorus features Corky Corchoran, who produces a solo of full-toned, rhapsodic tenor playing that has passion without harshness. Though frequently passed over with barely a comment, this solo by Corchoran is an absolute gem. Hawkins and Don Byas would both have been proud of this.  In the fourth chorus, Slam Stewart bows and hums to the delight of the audience, but, as critics keep reminding us, a little Slam Stewart goes a long way, and his one chorus here is just about enough.
With all the excitement that Hampton brings to the final five minutes, listeners might forget how the piece started.  It began with Hampton playing just a few chords and Willie Smith, with a wonderfully rich tone and immaculate control, sliding up to notes with grace and ease, much to the amusement of the Pasadena patrons, as he outlines Carmichael's famous main theme. Listening to the way Smith reaches for notes and eventually arrives, you may well think you have found the origin of Billy May's slurping saxophones.  Still, whatever Smith may have spawned, this is alto playing by a master. The one LP on which he was leader was called 'Willie Smith: Alto Saxophonist Supreme!' (1). He was an outstanding performer.
Gene Norman had assembled a wonderful group of musicians from an era, the Swing Era, that was on the wane, but you would think Swing was in robust health judging from this Pasadena concert. Although drawn from different bands, these musicians had a vast and shared repertoire, a common harmonic language and ingrained musical values.  As a result, while their music was wonderfully spontaneous, it could never be chaotic; it was underscored by years of tradition, and on 'Stardust' those musicians produced something of a masterpiece.
So, where can you find this extraordinary recording? Well, it can be found in Properbox's four CD set, 'The Lionel Hampton Story' (Properbox 12) and this boxed set can still be bought for quite a reasonable price. But the really good news is that all the All Stars' Pasadena recordings are available on the competitively price Avid Jazz, 'Lionel Hampton, 3 Classic Albums Plus (Hamp's Big Band/Lionel Plays Drums, Vibes, Piano/Lionel Hampton with the Just Jazz All Stars)', AMSC 1093.  (Be careful with the details because there is another Avid release, 'Lionel Hampton: All Star Groups and Orchestra-Three Classic Albums Plus', AMSC 993, and this does not contain the Pasadena tracks.)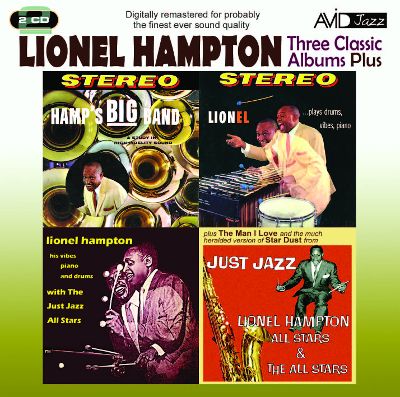 And what of Willie Smith? He carried on playing with some outstanding orchestras and in late 1966 he was leading the sax section of a great Charlie Barnet band in Basin Street East, New York, and doing so to much acclaim. When asked who was in his new band, Charlie Barnet pointed to Willie Smith and said, "That's my band."
In the spring of 1967 Willie Smith was due to tour Europe with a show called Jazz from a Swinging Era.  Instead, he was in the Veterans' Administration Hospital, Los Angeles, for treatment on his throat. On 7th March, 1967, less than three months after appearing with Charlie Barnet, Willie Smith died of cancer.  He was fifty-six years old and had been a professional musician for nearly thirty-eight years.  The names on his CV read like a history of big bands. He was one of the finest lead alto players of his or any era and could be a powerhouse of a soloist, but, when he put his mind to it, he could play with great delicacy and humour.
Peter Gardner
June, 2017
Acknowledgements
I am very grateful for the help of Steve Marshall and Dawkes' woodwind specialist, Sam Gregory.
Endnote
(1) 'Willie Smith: Alto Saxophonist Supreme!', London LP, ZGL 118. I do not know if this LP has ever appeared on CD.
Some Sources Used
Stanley Dance, The World of Swing (Da Capo, 1979).  Eddy Determeyer, Rhythm Is Our Business: Jimmie Lunceford and the Harlem Express (University of Michigan Press, 2006). Gene Lees, You Can't Steal a Gift (Yale University Press, 2001). George T. Simon, The Big Bands (Collier Macmillan, 1967). Joop Visser, Notes for 'The Lionel Hampton Story', Properbox, 12.
Not 'The Lion' and Hamp in Pasadena
Break-In at Dawkes: Saxophone Thefts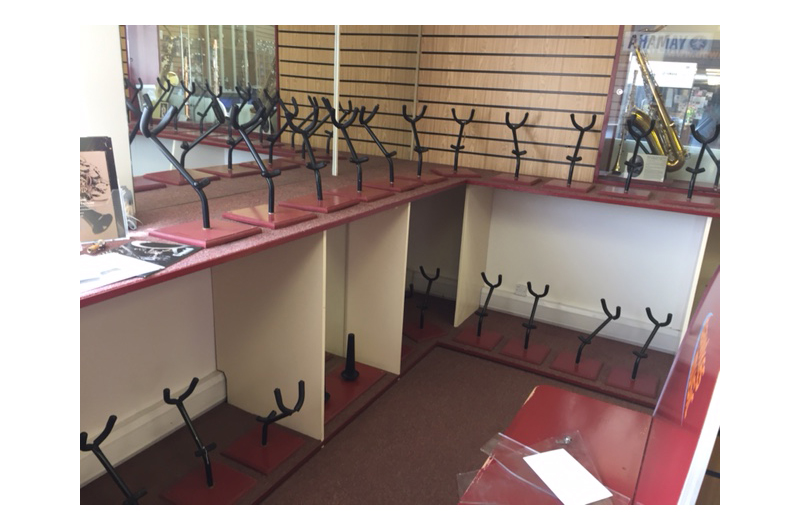 *UPDATE: We have a full list of our stolen instruments & the saxophones also stolen from Sax.Co back in April/May – SEE BELOW
In the early hours of July 12th we were victims of a break-in at the shop. The gang of thieves forced their way into our Sax Suite and stole 40 saxophones that were on display (full list below). The police arrived on scene and are investigating the matter further. Sadly this is the most recent in a spate of Music Industry related break-ins with the thieves clearly targeting certain locations and stock types. It is unlikely these instruments will appear in the UK marketplace but we have listed a full inventory below of what has been stolen, please be aware or on guard for any 3rd party re-selling or auction sites offering these models. Any info can be passed to us or Thames Valley Police (Ref: 43170204724)
As many of you can imagine this has been an extremely harrowing and stressful 24-48hrs as we bolster security and assess the losses. For a niche family company of over 50 years this is an extremely painful experience. Many of our staff have worked in this building since we moved here in 2000 and we are all sickened by these actions. We're not part of a big High St chain that may more easily be able to bear these costs and the resulting logistics, and each day/week/month we strive to give our customers the best service and stay viable in an increasingly competitive retail marketplace. Outside forces like this have a real impact on the business as funds are required to take extra steps to protect our building and staff plus re-invest in stock.
As ever we appreciate the support of our wonderful customers and suppliers who will no doubt help us through this experience. We will continue to offer our best service, choice and expertise to all of those that we know fully appreciate it.
The Team at Dawkes
DAWKES MUSIC (Crime Ref #43170204724) Stolen Saxophone List: (all new unless specified)
Aizen Fuga – Tenor Sax (#T000396)
Aizen Hibiki – Alto Sax (#A1000494)
Aizen Hibiki – Tenor Sax (#T1000493)
Cannonball A5-BL – Alto Sax (#178017)
Cannonball A5-BL – Alto Sax S/Hand (#168060)
Cannonball A5-R (Red Ruby) – Alto Sax (#180712)
Cannonball AVR20-L Vintage 20th Anniversary Model – Alto Sax (#V179014)
Cannonball GA5-B – Alto Sax (#163209)
Cannonball GA5-SB – Alto Sax (#179415)
Cannonball GT5-SB – Tenor Sax (#179555)
Cannonball SA5 BS Arc – Soprano Sax (#170907)
Cannonball SC5-L – Curved Soprano Sax (#123831)
Cannonball T5-BR Brute – Tenor Sax (#178408)
Cannonball T5-White – Tenor Sax (#165340)
Cannonball Vintage SVR-L – Soprano Sax (#V161233)
Conn New Wonder – Tenor Sax S/Hand (#442xx)
Keilwerth SX90R Shadow – Alto Sax (#128318)
Keilwerth SX90R Vintage – Tenor Sax (#128398)
Pierret Artist – Tenor Sax S/Hand (#NSN)
Selmer Model 26 – Alto Sax  S/Hand (#12460)
Selmer Reference 54L – Tenor Sax (#789893)
Selmer SA80 II Jubilee – Alto Sax (#781830)
Selmer SA80 II Jubilee – Tenor Sax (#784721)
Selmer Series III Jubilee – Soprano Sax (#789417)
Selmer Series III Jubilee – Tenor Sax (#776672)
Theo Wanne Mantra Platinum Silver – Tenor Sax S/Hand (#10047)
Windcraft WAS-110 – Alto Sax (#504872)
Windcraft WTS-200 – Tenor Sax (#PST080009)
WoodStone New Vintage AF Model – Tenor Sax (#0488)
Yamaha YAS-280 – Alto Sax (#M71831)
Yamaha YAS-480 – Alto Sax (#M40534)
Yamaha YAS-62 – Alto Sax (#E55872)
Yamaha YAS-82ZB Black/Gold – Alto Sax (#E46650)
Yamaha YSS-82ZR – Soprano Sax (#002868)
Yamaha YTS-280 – Tenor Sax (#M65644)
Yamaha YTS-480 – Tenor Sax (#M47927)
Yamaha YTS-875EXII – Tenor Sax (#E54371)
Yanagisawa AWO2 – Alto Sax (#00359445)
Yanagisawa AWO20 – Alto Sax (#00360832)
Yanagisawa TWO2 – Tenor Sax (#00345290)
All instruments were stolen without cases but we know of instances where they may be offered 'with' a case if sold through a 3rd party website or auction site etc.
SAX.CO (Crime Ref #47170047020) Stolen Saxophone List: (all new unless specified)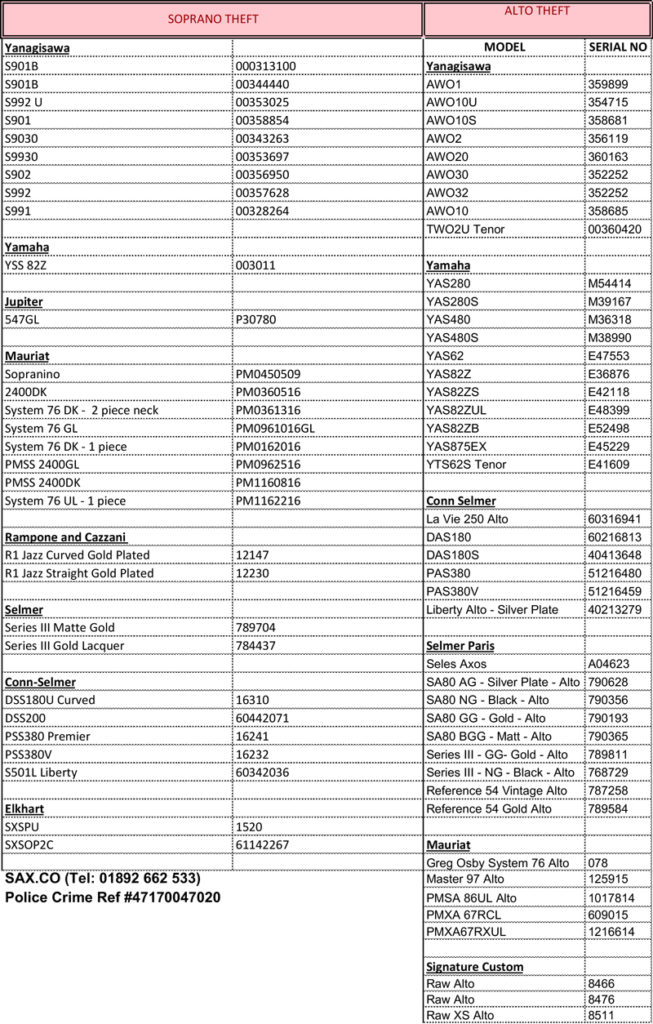 Break-In at Dawkes: Saxophone Thefts