The Duke, Hawk and maybe Lorenzo
According to John Chilton, despite all the musicians who met up at the recording studio on that August afternoon being "hard bitten veterans who had made thousands of records between them", nevertheless the occasion "seemed special".  This was going to be no ordinary recording session; it would involve two musical legends who, or so they insisted, had been intending to get together for decades. But record producer Bob Thiele had finally made it happen.  The date was 18th August, 1962.
Remarkable Repairs
Here at Dawkes, we are lucky to say that our business thrives on the strength of not only our friendly sales team but also our technically qualified repairers in our onsite workshop. We employ more qualified brass and woodwind repairers than any business in the UK, and are proud of our legacy built by Jack Dawkes back in the 1960's from a shed in his back garden.
G is for great – or is it? New G-Reeds for Saxophones…
You may have noticed, if you were in the market for new reeds (or even your trusty usual ones!) that we have some new synthetic options. Now for sale on our site we have the new G-REEDS!
"Faz" by Peter Gardner
The number of great clarinet players who were born or learned to play in New Orleans when jazz was in its infancy is quite amazing.  Johnny Dodds, Edmond Hall, Albert Nicholas, Omer Simeon, Leon Roppolo, Jimmy Noone, Barney Bigard, Sidney Bechet and Irving Henry Prestopnik are just some that come to mind. If the last of these is not too familiar, maybe you know him under the Mediterranean name for 'beans', possibly acquired as a term of commendation, or because in his early days he only played from music in a prim and proper or 'fah-so-lah' kind of way.  Still, whatever its etymology, 'Fazola' replaced the east European name of his father, 'Henry' was dropped and for most of his adult life he was known as Irving Fazola or 'Faz'.
5% OFF – Top 10 Saxes Offer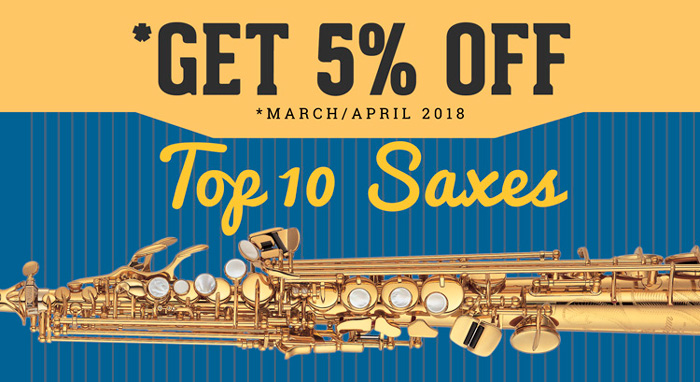 We're delighted to be offering an extra 5% discount off our Top 10 Saxophone models until April 30th, 2018. There is limited stock available across a variety of brands including Yamaha, Selmer & Yanagisawa. So, don't miss this chance to grab a bargain for either a beginner, upgrader or pro player – we've got something for everyone.