Live Dawkes
Sax Masterclass Recap – Hannah Marcinowicz (Sat Feb 25th, 2017)
It's always nice to welcome back a musician that left such a great impression the last time they visited. Hannah Marcinowicz (www.hannahsax.com) previously held a Clarinet Masterclass here at Dawkes which was met with universal acclaim from all those in attendance and another great session was enjoyed last Saturday with some Sax players, young and…well, let's just say more experienced players!
About Hannah
A former Purcell School pupil, Hannah graduated with first-class honours from the Royal Academy of Music, where she studied both saxophone and clarinet. Numerous awards, including a major scholarship from the Leverhulme Trust, enabled her to continue her conservatoire studies in Paris, with international soloist, Jean-Yves Fourmeau. She was awarded the prestigious Médaille d'Or twice.
She has performed with the UK's leading orchestras, including the London Symphony Orchestra, Philharmonia Orchestra, BBC Concert Orchestra, Royal Philharmonic Orchestra, London Philharmonic Orchestra, BBC National Orchestra of Wales, Royal Northern Sinfonia and London Concert Orchestra. A regular performer at the BBC Proms, she has appeared as a featured soloist under Sir Colin Davis and Paul Daniel. Her international performances include concertos and recitals in the Middle East and Far East. She has also appeared as a guest soloist with the European Union Chamber Orchestra.
Hannah plays mainly Yamaha instruments including the YSS-875EX Custom Soprano and YCL-CSGIII Clarinets.
"Excellent mix of genres. Hannah was a great communicator and her explanations were great" – Attendee
On the Day
It was great to see a wide range of participants and attendees, from youngsters going through their first few grades, a student at a major music college and some more experienced adult players. We also transitioned through the repertoire range from Classical to Jazz with a few pit stops in-between, something of a theme for the day that I'll touch on later.
Usually at these types of events we have an audience of around 25-30 with 4-5 volunteers (victims?!) who perform a piece to the assembled audience with either a CD backing or in this case we also had a real life pianist if they wanted. It's quite something to stand up in front of a group of people you've never met and play a piece of music to someone who's about to critique you on it in front of everyone, so well done to all that volunteered.
Common topics usually arise about stance, filling the instrument with the correct air stream, preparing to play, coping with technically demanding passages etc. No doubt some of these topics are touched on in normal weekly lessons but sometimes it takes another angle or way to explain things to help the pupil take ownership of these challenges and act on the solutions. It's a great buzz to see a connection and engagement from the younger players especially who are like sponges and eager and able to take on advice so quickly.
In between volunteer performers Hannah performed a few pieces with her pianist Philip Mountford. It's here that the professionalism shows and the strata of experience levels becomes even more apparent. There is a security in listening to a good professional play, everything is under control however demanding technically the piece may be, and importantly the piece is delivered in the correct style to represent the 'story' of the composition. It was great to hear Hannah on both the Alto, and also showcasing the Soprano which she really got to sing.
"Excellent session for all things saxophone!" – Attendee
Conclusion
All too often our days in Music Retail are dealing with the nuts and bolts of the Retail side of things. Fulfilling orders, customer service queries, chasing suppliers, paying bills etc. It's so refreshing to actually re-engage with the 'dots' and hear some customers at various stages of their musical journey and give them the opportunity to work with people like Hannah to enthuse and encourage them onwards. Also, hearing Hannah and the other performers who chose to use the pianist also cemented how important it is to make music together with others, yes CD backings are helpful when practicing but to actually make music nothing beats playing alongside someone.
The day finished off with a customer performing the jazz classic 'Naima', it was a captivating performance highlighting the vast spectrum of tone that the Saxophone can produce. From this rich, melancholic subtlety to the vibrancy and sweet singing tones we'd heard earlier in the day, it was a great reminder that the Saxophone is such a versatile instrument with a tone very close to the human voice. It was a nourishing afternoon for all and a perfect excuse to indulge in all things Saxophone for a couple of hours. Thanks to all who came along and of course to Hannah and Philip.
"Really engaging, really enjoyable and really informative!" – Attendee
*Should you wish to take part in any future masterclass events please sign up to our Saxophone Newsletter to receive notifications of events.
Sax Masterclass Recap – Hannah Marcinowicz (Sat Feb 25th, 2017)
Yoga Masterclass – Saturday November 15th, 2014
'Don't forget to breathe: Yoga and the art of Woodwind Playing'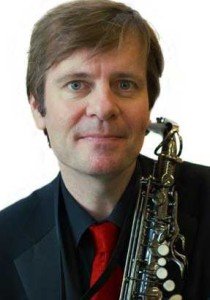 We're delighted to welcome top UK Woodwind Pro Duncan Lamont Jr to Dawkes for this exciting Yoga masterclass. Duncan will be accompanied by his Yoga instructor (Karen Pancholi) and they will be discussing and demonstrating how Yoga can help all Wind players with breathing, relaxation and much more…
Duncan is in demand as a multi-woodwind player having played in many of Londons top 'West-End' shows and on numerous TV shows and appearances. He has also given masterclass sessions at some of the UK's leading music colleges on 'life as a working professional' and all manner of Woodwind related topics.
There will be two sessions (11.30am Spaces Available & 2pm Fully Booked) as we expect demand to be high and there are limited spaces available in our seated 'learning zone' upstairs at Dawkes.
This promises to be an enlightening, fun and useful masterclass led by one of the UK's most respected multi-woodwind players, accompanied by a Yoga expert with years of advice to share with you all. See booking details below…
*Please email 'samg@dawkes.co.uk' to book your place. Please include:
your name
contact email
contact tel
no. of people
preferred workshop time (11.30am only available)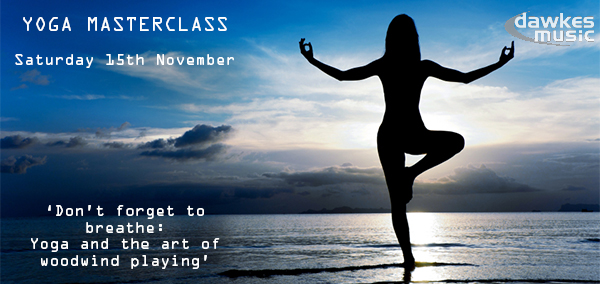 Yoga Masterclass – Saturday November 15th, 2014
Other Live Dawkes Posts
Learn To Play Day – 2014
'Trumpet-Fest' – Live @ Dawkes Event (Sat Nov 16th – Report)
'Trumpet-Fest' – Live @ Dawkes Event (Sat Nov 16th – Report)
Breaking News! EBJO will be Live @ Dawkes…Sat Nov 16th @ 1.30pm
Breaking News! EBJO will be Live @ Dawkes…Sat Nov 16th @ 1.30pm
Learn to Play Day 2013 (Live @ Dawkes IV)
Learn to Play Day 2013 (Live @ Dawkes IV)
Live @ Dawkes III – Vive Le Saxophone!
Live @ Dawkes III – Vive Le Saxophone!
LIVE @ Dawkes…Sunday June 19th – Big Band Gig