Happy Birthday to Wally Fawkes
20th June 2022
Towards the end of June this year will be Wally Fawkes' ninety-eighth birthday. Those who wish to celebrate the birthday of Trog or the Daily Mails' Flook have my blessing and my encouragement. I am not going to interfere with anyone's celebration of one of our greatest artists and cartoonists. Instead, I wish to focus on Wally Fawkes, clarinet and soprano saxophone player, and one of our finest musicians.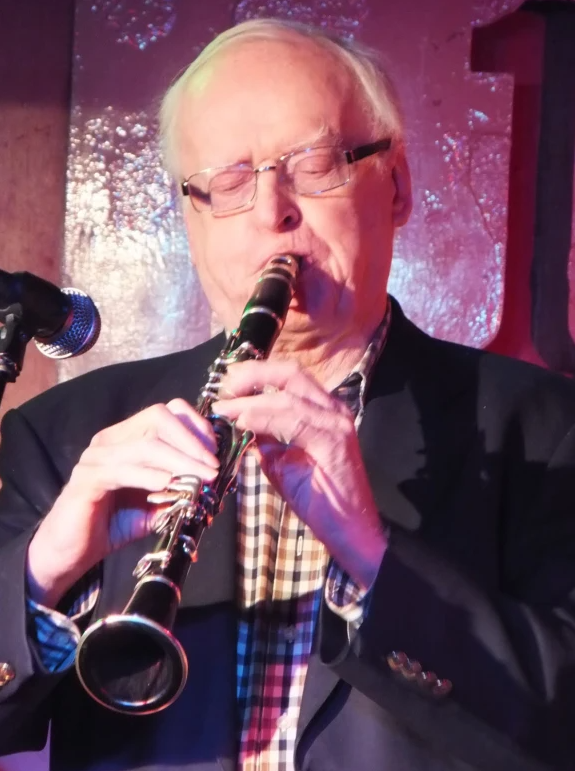 The Early Days
Walter Ernest Fawkes was born in Vancouver, Canada, on 21st June, 1924, but, as a young child, he was raised in this country. He also began to learn the clarinet and by his late teens he was playing with pianist, George Webb, and some other aspiring musicians who met on Monday evenings in the basement of the Red Barn, a public house in Barnehurst, Kent. Initially the sounds seem to have been quite awful and several local semi-professionals tried to lend a hand, but over the last years of the War the band's own style as well as that of its clarinettist began to emerge.
In America in the early 1920s, cornet players Joe 'King' Oliver and Louis Armstrong formed the musical core of one of the greatest jazz bands ever. In Barnehurst, Kent, George Webb also had two cornettists, Owen Bryce and Reg Rigden, though other comparisons with Oliver may be difficult to draw. The band that Joe Oliver originally assembled also allowed room for the clarinettist, Johnny Dodds, to play sweet and high above the brass players that also included trombonist, Honore Dutrey. In Webb's band, young Wally found himself competing with two cornets plus trombonist, Eddie Harvey, and sousaphone player, Art Streatfield, but, unfortunately, when Wally found the space, he often wasn't in tune; clarinets can offer surprising volume, but pitch is a casualty.
His Playing Style
When we hear Webb's early recordings from 1945, it is clear that Fawkes has found a role and a hero. His heavy vibrato and forcefulness in ensembles are clearly derived from one of New Orleans celebrated masters, Sidney Bechet. To this, however, have been added two features which help  reveal Fawkes' individualism. Firstly, in his solos Fawkes brings a delicacy  or, you might prefer, a gentility to his playing, and this is something I don't associate with Bechet. As the era developed, established European clarinet teachers must have been in despair over the styles and tones young revivalists would try to develop, but Wally Fawkes might be seen by those teachers as having at least one redeeming quality; he was a delicate, sensitive soloist. 
The second feature of Fawkes' clarinet playing that deserves attention comes to the fore towards the end of several of Webb's recordings. It is something I associate in particular with a New Orleans-born clarinettist, Irving Fazola. As the excitement of the music grew and the brass players got louder (in Webb's early bands there were two cornets), Fawkes would move to a higher register, but play fewer notes than he had been. Fazola's performance with Bob Crosby's Bob Cats on 'The March of the Bob Cats' from 1938 is a clear illustration of what I am talking about. Whether Fawkes heard Fazola or studied him I do not know, but good soloists have amazing ears, developing features they have heard often with no need for anyone to draw attention to them.
So, even in his early days, though he was indebted to Bechet, Fawkes was his own man. This, of course, raises questions about how Fawkes came to listen to Bechet's recordings, about how others, like Fazola, may have bent the young man's ears and about how he seems to have avoided the dominating forces of Benny Goodman and Artie Shaw. What we do know is that when Humphrey Lyttelton joined Webb's Dixielanders and travelled with them to Hawick, learning his parts on the way, he was joining a vastly experienced clarinettist, who, The Hawick Express reminds us, was a cartoonist with the "Daily Mail" and was judging Hawick's "belle of the ball and pretty ankle contests". It must have been a busy Friday.
Humph & Wally
Lyttelton, son of an Eaton housemaster, soon formed his own band and took Fawkes with him.  "November 1947" is the date given by his manager for Humph's "departure from the Dixielanders" and the next ten years or so would prove as eventful as Humph and Wally could have wished. Even in their early years there were records to make, including sessions with Graeme Bell and His Australian Jazz Band, with Carlo Krahmer's Chicagoans, a group that included a young Welsh pianist, Dill Jones, and with Sidney Bechet, as well as their own recordings, and there were concerts and festivals. Lyttelton, to my ears, begins steadily and carefully, but there is often a lack of zest and drive; 'taking his time' and 'learning the ropes' seem to capture the young trumpeter even though writers from the late 40s seem to have heard something more exciting. With Fawkes, there is, perhaps, a tendency to over-blow in his early sessions with Humph. Fawkes may not dominate an ensemble in the way Bechet did, but he makes sure his own voice is clear and bold, even if it is secondary. As for pitching, it is still a problem, but the young man with the clarinet is not going to let it interfere with what he wants to say.
To my tastes, though, it is the 50s where we find Humph and Wally at their best. Humph has become a confident leader and Wally has become an exquisite and entertaining sideman. At times the band's frontline consisted of just the two of them, and at times, with the help of altoist,  Bruce Turner,  and trombonist, John Picard, the band had eight members. The band also had a hit, or maybe I should say minor hit. It was 'Bad Penny Blues' from 1956 and featured Humph with the band's rhythm section. For a while it figured in this country's top twenty, but, I would suggest, Fawkes' solo performance from the Conway Hall in 1954 is much more deserving of our attention.
"The Conway Hall, in London's Red Lion Square behind Holborn Tube Station, was built in 1929…and took its name from one of the Society's lecturers." That's how Lyttelton described the venue that housed his band for its monthly venues in the 1950s. 'Wally Plays the Blues' is a straightforward twelve bar where Wally builds slowly from the clarinet's rich bottom register until reaching its upper limits, finally dropping to the depths where he began. This is a majestic and moving blues, a well-received piece of gentle beauty.
Three months later, Humphrey Lyttelton was with an eight-piece outfit at London's Royal Festival Hall.  The issued recordings from this session show a band that is lively and assured. As for Wally, he tackles 'High Society' with great confidence and explores 'Trog's Blues', a piece he composed year's earlier with George Webb, with plenty of upper-register bluster, but, while he is wonderfully received by the Festival Hall's audience, the intimacy of the Conway Hall's performance still sets a standard it would be difficult to replicate.
The 1950's and Beyond
The '50s also saw Fawkes recording with small groups that included Bruce Turner and Sandy Brown. Of these it is the ones with Sandy Brown that are of particular interest. Sandy, Indian-born and Scottish educated, went down from Edinburgh to London in the '50s and proved to be extremely influential.  Based originally on Johnny Dodds, Brown had developed his own assertive style, with strong influences of African hi-life music. The two met in London in November 1956 and of the recordings they made, an up-tempo version of the Benny Goodman favourite, 'Avalon', is the standout track. Sandy's second chorus solo has the punch and drive of someone who is keen to take no prisoners, but Wally's fourth chorus is altogether more interesting. It seems based on what he had already sketched out in the opening chorus, where Wally plays an accompaniment to Brown. Now, when Wally has centre stage, we hear the richness and the links of this developing solo. It's another piece of Fawkes' individualism that makes one yearn for more.
Whether it was the demands of his cartoons or Lyttelton's concern to develop an orchestra with a reed section or some other distractions, we may never know. What we do know is that in 1957 Fawkes left Humphrey Lyttelton and began to appear with a group that owed a great deal to Wally's cartooning background, the Troglodytes. This was a small jazz group that appeared regularly at the Six Bells in Chelsea, London, and also recorded for the Decca label. If we were looking for styles, I imagine this would be called mainstream, a group that, still with the traditional line-up, was breaking away from an earlier and rather confined repertoire. Of the various recordings the Troglodytes made, Wally's version of the Cole Porter hit, 'What Is This Thing Called Love?', has always been one of my favourites. Recording with the Troglodytes' rhythm section, Wally explores this Cole Porter classic with just enough looseness for us to forget the repetitions of the original.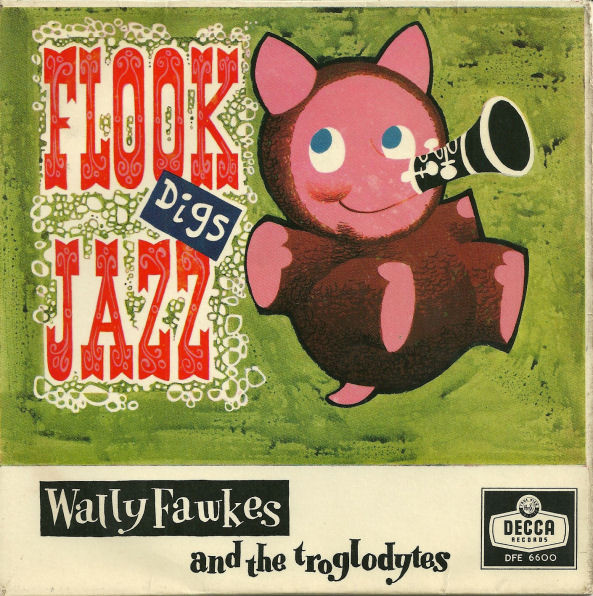 The Later Years
And there were still recordings with Humph. A 1960's session held at the Conway Hall had Humph doubling on clarinet with Wally for a couple of numbers, though for most of the traditional repertoire the frontline consists of Humph, on trumpet,  Wally, clarinet, and Keith Christie on trombone. Wally with Humph plus Bruce Turner, Pete Strange and John Barnes make up the frontline in a session from September 1983, which has a delightful version of 'Trog's Blues', where a growling trumpet and Strange's harmonic acuteness add to a moving second chorus. Fawkes, Humph and trombonist, Keith Nichols, make up the frontline of a Humph recording session in 1986 and the clarinettist and trumpet were together again in the early '90s, where 'Gatemouth' and 'Texas Moaner Blues' were two of the recorded pieces and John Beecham and Nichols share trombone duties.
But Fawkes was also recording with small groups away from Lyttelton and three of these albums were eventually released as a double CD by Lake records. The first, which featured a frontline of Ian Christie on clarinet and Fawkes on clarinet and soprano, was called after one of the last pieces Johnny Hodges ever recorded on soprano, 'That's the Blues, Old Man'.  Christie and Fawkes give us a delightfully sensitive version of this Hodges' blues, with Fawkes showing us that he is a very able soprano player.  There is a delicacy and a sensitivity to his playing on soprano, which again I found was in contrast to that developed by the New Orleans' wizard. They would have made a fine and contrasting duet had their times on soprano overlapped. The two further albums that Lake have included in this collection are 'Whatever Next', by Wally and His Soho Shakers, and 'London Blues', by the Pam Pameijer Trio, a Trio in which Wally is heavily featured, and while both of these albums have some fine playing by Fawkes, neither seems to reach the heights of 'That's the Blues, Old Man'.  Yet, all in all, this Lake double album is a wonderful collection.
Other Notable Albums
And there were other albums that deserve a mention: Dave Bennett recorded Yank Lawson with Wally in their 'Big Four' at Dean Street's Pizza Express in May 1986, he recorded Wally with Johnny Parker and Stan Grieg at the Wenlock Arms in August 1995 and he recorded Stan and Wally as part of 'Jazz Jurassics' in September 1999 and January 2000; Acker Bilk recorded the album 'Azure' with Wally for Paul Adams' Lake Records in February 2002; and…
No doubt there are more recordings that I should have mentioned, but, perhaps, it's time to stand back and reach some conclusions. In terms of greatness, most will argue that Sandy Brown and Tubby Hayes are superior and many might argue that Humph's achievements and Ronnie Scott's also deserve our attention. A few more stars may also be drawn to our attention. So, let me avoid too much debate, and state what should be glaringly obvious. Wally Fawkes was one of our very best clarinettists, and was also a very fine soprano saxophonist. He recorded for well over fifty years and made some of this country's finest jazz recordings.  (And you may think of adding that his profession was elsewhere.) So, if you can, will you please raise a glass or two to Wally on 21st June and thank him for his wonderful contributions to our great music. It is the very least he deserves. He was one of our very best.
Peter Gardner
June 2022
Acknowledgments
I am most grateful to Sam Gregory, Woodwind Specialist at Dawkes Music and to Steve Marshall, Instrument Repairer at Marshall McGurk, Crosby, Maryport, Cumbria.
Some sources used
Dave Gelly, An Unholy Row: Jazz in Britain and its Audience, 1945-1960, Equino9x, Sheffield, 2014.
Jim Godbolt, A History of Jazz in Britain, 1919-1950, Paladin Grafton, London, 1986.
Jim Godbolt, All This and Many a Dog, Quartet Books, London, 1986.
Jim Godbolt, A History of Jazz in Britain, 1919-1950, Northway, London, 2019.