Johnny Hodges: Small Group Maestro
15th September 2018
"Johnny Hodges had the most beautiful tone of any saxophonist in jazz."
– Scott Yanow
"Johnny Hodges was one musician who never had to sell himself.  All he had to do was blow."
– Budd Johnson
"His way of playing, whether smooth or passionate, his incisive attack and extraordinary skill in the art of glissandi, always made him instantly recognizable."
– Boris Vian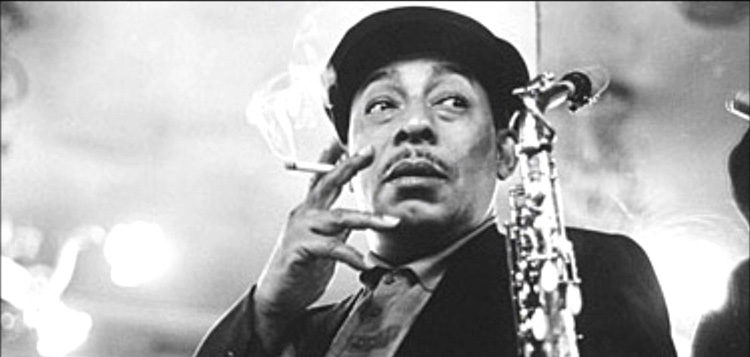 I have talked to several people who, like me, were privileged to see and hear Johnny Hodges, and frequently they speak about his apparent lack of involvement. "He just walked to the front and played. I don't even think he tapped his foot" and "He seemed slightly bored" are some of the comments I have heard over the years. Critics also commented about his demeanour: "the super-placid Johnny Hodges" is how George Avakian described the great saxophonist; Philip Larkin referred to him as "the inscrutable altoist".
There were even suggestions that when he soloed he was counting the exit signs or checking the size of the audience to make sure he wasn't being underpaid. And his attitude didn't change whether he was sitting in a reed section or leading a small group.
Surprise is often expressed over the fact that great art can be produced by disreputable and unpleasant people, people to whom we would never apply the superlatives we attach to their works.  In the case of Johnny Hodges, amazement arose because wonderful music, effortless swing and a tone that was one of the most exquisite in the whole of jazz were produced by someone who appeared detached from what he was doing.  "Never the world's greatest showman or greatest stage personality" was how Duke Ellington gently scoffed at his premier soloist's appearances before audiences. But, in addition to being the Duke's star saxophonist, this withdrawn personality led and played with numerous small groups that bore his imprint and constitute a wonderful and lengthy chapter in the history of jazz.  Yes, he just stood and played, as placid and inscrutable as you like, but no one has ever played quite like Johnny Hodges and his small groups provided a wonderful opportunity for him to display his extraordinary talents.
John Cornelius Hodges was born on 25th July, 1907, in Cambridge, Massachusetts, but his parents with their family soon moved to Boston. It was in Boston, possibly in 1924, that Johnny's sister   introduced her younger brother to the great New Orleans clarinettist and soprano saxophonist, Sidney Bechet.  Hodges and Bechet met backstage in a theatre where Bechet was starring and the teenager, who took along the soprano saxophone that he was trying to get to grips with, seems to have impressed the master with his version of 'My Honey's Loving Arms'.  Later, when Hodges moved to New York, he worked with Bechet at Club Basha on Seventh Avenue (Basha was how friends pronounced Sidney's family name) and appeared with Bechet at the Lafayette Theatre.  Apparently the master and his pupil duetted on 'I Found a New Baby'.  That would have been something to hear.
If Bechet, The Wizard of New Orleans, provided the early inspiration, Duke Ellington, his orchestras, his small groups and his music provided the environment in which Hodges' gifts could grow and flourish.  Hodges joined the Duke Ellington Orchestra in 1928. It was the start of his long and fruitful career as an Ellingtonian. His first spell with the Duke lasted without a break from 1928 until 1951 and the second and final spell lasted from 1955 until Hodges' death in 1970.  The twenty-one year-old, who first joined Duke's band at the Cotton Club, would be with the band for thirty-eight of his next forty-two years.  Loyalty is rare in an industry where personnels can change between recording sessions, though baritone saxophonist, Harry Carney, could make even Hodges seem a trifle unsettled in Duke's reed section; Carney joined the Ellington band when he was seventeen in 1927 and remained until the Duke's death in May 1974.
Hodges' early duties with Ellington involved playing second alto to Otto Hardwicke's lead alto, taking alto solos, playing soprano in the reed section and as a soloist, and playing the clarinet in section work. Apparently Carney, who lived near the young Hodges in Boston, gave Hodges clarinet lessons in exchange for saxophone lessons from his slightly older neighbour.  Seated alongside Hardwicke, Carney and Barney Bigard on clarinet and tenor, Hodges was part of the great Ellington outfit that took London by storm in 1933 and a member of the orchestra in the early 1940s that many critics view as Ellington's greatest, 'The Blanton-Webster Band', so-called because two of its outstanding sidemen were the young Jimmy Blanton on bass and tenor saxophonist Ben Webster. But some of my favourite music from that era was played by small groups drawn from the larger Ellington orchestra, many of which featured Hodges on both soprano and alto sax.
Toronto-born Helen Oakley first came to the jazz public's attention when, in her very early twenties, she moved to Chicago and began writing for Down Beat.  Soon she was working for the Irving Mills' music organization at a time when Mills was Ellington's manager.  The suggestion that Mills should start recording small groups of Ellington's sidemen seems to have come from Oakley, and in 1936/37 these groups, with names such as 'Barney Bigard and His Jazzopators', 'Rex Stewart and His 52nd Street Stompers' and 'Cootie Williams and His Rug Cutters', began to appear on record with Hodges playing on soprano and alto in Stewart's and Williams' septets.  (One of the tunes recorded by Williams' Rug Cutters, 'Blue Reverie', would be an outstanding feature for Hodges on soprano, Carney, baritone and Cootie, trumpet, at Benny Goodman's Carnegie Hall Concert in January, 1938 (1).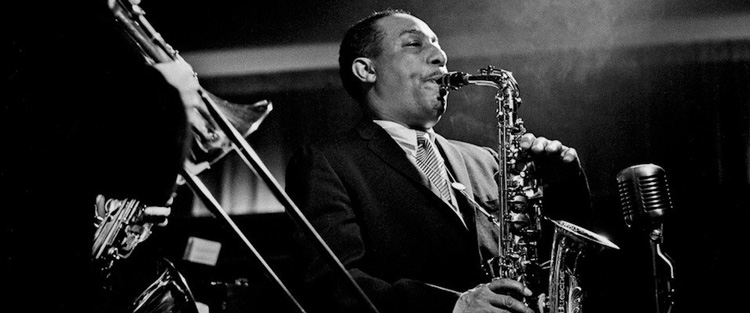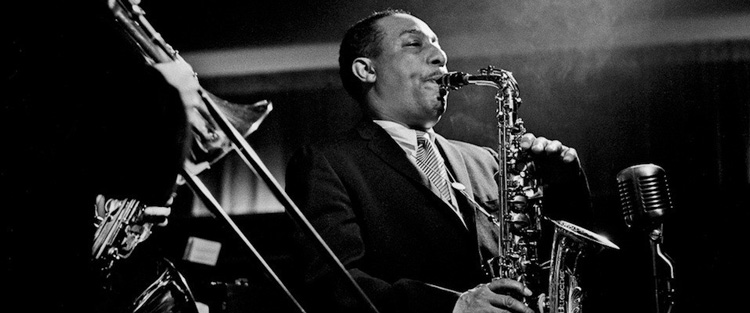 According to Oakley's own account, she would have liked to "have featured Hodges more prominently" in these small group sessions, "But it was Duke's deliberate strategy to hold Johnny in reserve." However, before long a septet drawn from the Ellington band, named as 'Johnny Hodges and His Orchestra', had a hit on its hands with a tune credited to Hodges and Ellington, 'Jeep's Blues'. ('Jeep' was one of Hodges' nick names. 'Rabbit' was another.) "In Harlem", said Oakley, "it was a sensation. Night after night you heard it coming non-stop from jukeboxes on every block."  Released as the B side with 'Rendezvous with Rhythm' on the A side, 'Jeep's Blues' would be one of the Vocalion label's best sellers.  'Jeep's Blues' consists of a four bar phrase covering the first four bars of a twelve bar blues leaving the next eight bars free for improvisation over different backgrounds.  The solo order is Hodges, Carney, Williams, growling, and Lawrence Brown on trombone.  On the fifth and final chorus the front line join in a riff after the opening four bars. 'Simplicity', 'elegance' and 'perfection' are the words that come to mind. My one quibble is that the soloists are only given eight bars each, but in the days of 78 rpm discs, brevity was both a virtue and a necessity.  Now it is seen as neither.
Irving Mills was keen to have a vocalist who would have great record sales and he would often use the Hodges small groups to support singers like Mary McHugh and Leon Lafell, though the hits never came. While they played excellently in this support role, when Hodges' septets were left to their own devices, the results were magical: 'Empty Ballroom Blues', 'The Jeep Is Jumpin'', 'Krum Elbow Blues', 'Hodge Podge', 'Wanderlust' and 'Rent Party Blues' (2) are just some of the gems by the Hodges small groups of this period, groups that towards the end of 1939 were featuring Billy Strayhorn as pianist and arranger.
Sadly, in 1940 Hodges made his last studio recording on the soprano saxophone.  Fittingly it was on a blues he had composed, 'That's the Blues, Old Man', and it was with a small group of Ellingtonians.  He was still using the straight soprano given him by Bechet in the 1920s, and in 1964 he admitted he still had the instrument, though he was "about ready to make a lamp out of it now."  By the time Steve Lacy, Lucky Thompson and John Coltrane had prompted a new generation of saxophonists to try the soprano and nasal and oboe-inclined sounds with a touch of Eastern promise became the order of the day, recordings of Hodges' sweet, gentle and bluesy soprano playing were rarely heard.  That was a great shame.  With the exception of Bechet, wrote Sidney Finkelstein in 1948, "and in a style of his own" Hodges created "probably the most beautiful soprano sax music on records."  Much has happened since 1948, but I still think Finkelstein is right.
The small groups continued. A memorable septet session from July 1941 produced 'Squatty Roo', a masterpiece, with Blanton's driving bass and Hodges' dominant alto conspiring to give us what the late Humphrey Lyttelton described as "three minutes of pure joy".  The session also produced a delightful, easy-paced version of Mercer Ellington's 'Things Ain't What They Used to Be' and a haunting treatment of Strayhorn's 'Passion Flower'(3), with Hodges giving a master class in glissandi
When he left the Duke in 1951, Hodges began to lead a septet that featured such Ellington stalwarts as trombonist, Lawrence Brown, and drummer, Sonny Greer. The group had an early hit with 'Castle   Rock', composed by the septet's powerful tenor sax player, Al Sears, and while there were a few personnel changes during the group's short life (At one point a mainstream-sounding saxophonist, John Coltrane, had the tenor duties.), its repertoire had a certain consistency: tunes Hodges would have played with the full Ellington orchestra, like 'I Got It Bad and that Ain't Good', 'Warm Valley' and  'Day Dream',  tunes with long associations with the leader's small groups, like 'Hodge Podge' and 'The Jeep Is Jumping', and lots and lots of  blues were the septet's standard fare(4). Although he had left the Duke's immediate orbit, Hodges small groups still sounded Ellingtonian; but then, as John Clement has observed, "the very sound of Johnny Hodges invokes Ellington".
When Hodges returned to the Ducal fold in 1955, he continued to record with small groups.  There were sessions with Ben Webster, with Harry Eddison, with Roy Eldridge, with Gerry Mulligan, with Billy Strayhorn, with organist Wild Bill Davis and many others.  One particular album from 1959 'Back to Back: Duke Ellington and Johnny Hodges play the Blues', has been described by Richard Cook and Brian Morton as "a small-group (and small-hours) classic". It consisted entirely of blues, not all of them twelve bar blues, and the follow-up album 'Side by Side' is another classic (5).  From the same period the album 'Not So Dukish' (which doesn't achieve what the label might suggest) also warrants an honourable mention.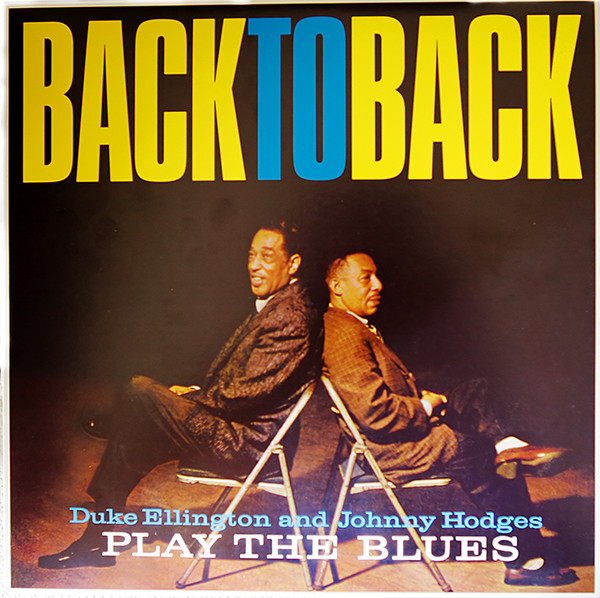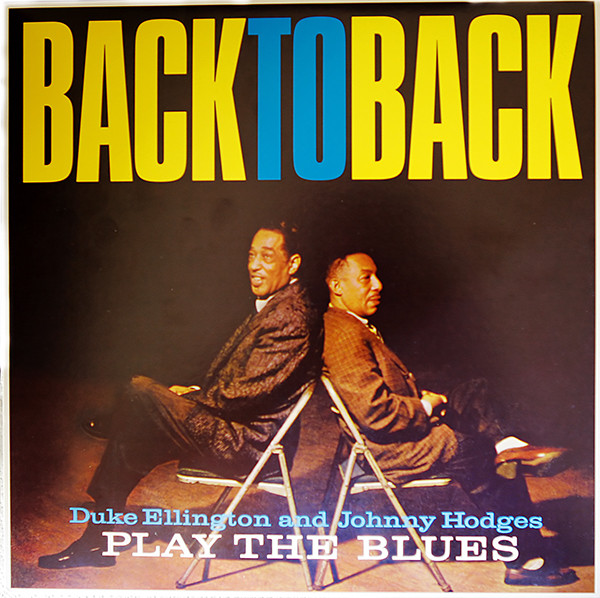 A brief pause in the Ellington orchestra's busy schedule, when the Duke was working on a film score, gave Hodges the opportunity to embark on a European tour with another septet and play more masterful small-group jazz, this time with a front line of Lawrence Brown, Ray Nance and Harry Carney and a play-list full of Ellingtonian favourites and tunes Hodges had used as solo vehicles for many years, like 'All of Me' and 'Sunny Side of the Street'(6).
While Hodges was an essential part of several great Duke Ellington orchestras, his activities as a leader or co-leader, have left us with a rich seam of about thirty years of small-group jazz.  The music of these Hodges groups, while never bland, is always warmly reassuring; like the best of comfort food, it never disappoints, and keeps you coming back for more.  And no one in a Hodges small group seeks to dominate or intimidate or cut anyone. In some later sessions Buster Cooper or Cat Anderson may have had the odd fit of bravado, but they were not trying to better anyone.  The fact is that Hodges was able to gather musicians who were so secure in their styles and abilities that their egos never felt the need to become nuisances; in a Hodges small group, no matter how wonderful the individual participants, no one felt threatened.
As for Hodges' place in the pantheon of jazz greats, the highly regarded writer James Lincoln Collier spoke for many fans and listeners when he said of Hodges, "What really mattered, though, was the warm beauty of his tone and swing.  He was probably the finest alto saxophonist in jazz history before Charlie Parker, and in some aspects of his playing, especially in the undulating sexual warmth of his sound, he was Parker's superior."  Hodges' playing in his small groups provides ample support for Collier's judgement.
Perhaps my own view of Hodges is revealed in the following true story. A good many years ago I was invited to talk about jazz saxophonists to some first year music students at a university in the Midlands. One of the musicians I decided to talk about was Johnny Hodges, and I produced a handout for the students that mentioned several of Hodges' recordings and albums. Many of those albums featured Hodges in small-group settings.  One, recorded in 1964, was called 'Everybody Knows Johnny Hodges'.  A year or so later I was invited to give some similar talks and I went to my filing cabinet to find the earlier handout. I discovered that I had called the 1964 LP 'Everybody Loves Johnny Hodges'.  Read into that what you will.
Peter Gardner
August, 2018
Acknowledgements
I am grateful to Steve Marshall from Marshall McGurk, Maryport, Cumbria and to Sam Gregory, Dawkes' woodwind specialist.
Endnotes
(1)See my 'When Johnny Hodges Doubled', Dawkes Newsletter, May, 2016.
(2) All of the tracks I have mentioned so far can be found on 'Duke Ellington: The Complete 1936-1940 Variety, Vocalion and Okeh Small Group Sessions', Mosaic MD7-235.
(3)All of the tracks I have mentioned so far, apart from 'Blue Reverie', can be found on 'Johnny Hodges: The Complete 1937-1954 Small Group Sessions', Vol. 1, 1937-1950, Blue Moon, BMCD99955.
(4) Avid's 'JOHNNY HODGES: Four Classic Albums', AMSC 999 and 'JOHNNY HODGES, Second Set: Three Classic Albums Plus', AMSC 1040, contain several albums recorded by Hodges' septets during the leader's time away from Ellington.
(5) 'Back to Back' and 'Side by Side' plus fifteen small-group bonus tracks all of which feature Hodges can be found on the double CD 'Duke Ellington and Johnny Hodges: Back to Back/Side by Side', Poll Winners Records, PWR 27355.
(6) This septet can be heard on 'Johnny Hodges at Sportpalast, Berlin', Pablo 2CD 2620. 102.
Some sources used
John Clement, Notes for 'The Complete Verve Johnny Hodges Small Group Sessions, 1956-61', Mosaic MD6-200.
James Lincoln Collier, Duke Ellington(Michael Joseph, London, 1987).
Richard Cook and Brian Morton, The Penguin Guide to Jazz on CD, Fifth Edition (Penguin Books, London, 2000).
Sidney Finkelstein, Jazz: A People's Music(The Citadel Press, New York, 1948).
Max Jones, Talking Jazz(Macmillan, Basingstoke, 1987).
Humphrey Lyttelton, The Best of Jazz 2: Enter the Giants(Robson Books, London, 1981).
Steven Lasker, Notes for Mosaic's 'Duke Ellington: The Complete 1936-1940 Variety, Vocalion and Okeh Small Group Sessions'.