Live @ Dawkes III – Vive Le Saxophone!
23rd November 2012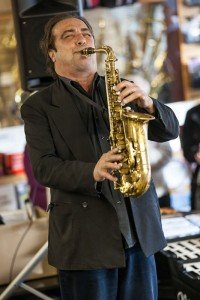 The third 'Live @ Dawkes' on Nov 10th 2012 featured a fantastic Jazz quartet consisting of Selmer saxophone artist Greg Abate, and a crack hot rhythm section of Geoff Eales on Piano, Dave Richmond on Bass, and Clark Tracey on Drums. The chaps took to the stage at 2pm and let rip with a 1hr 20min tour de force of some classic jazz charts and a sprinkling of lesser known originals and new tunes. The Alto playing of Greg Abate was a joy to hear, with ample dexterity and a polished sound he thrilled all the crowd with some dazzling playing.
This small group was a departure from the last two Live @ Dawkes events that featured a big band, the next event planned is actually a Clarinet Day so it's not all Sax related in the future! There was a broad mix of ages in the crowd, and I'm pretty sure we're the only music shop to have had a live professional band playing inside the sales desk on a cloudy November saturday!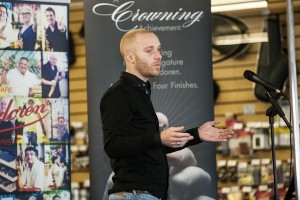 This was the culmination of what had been a very Sax orientated day. At 12am Vincent Kerherve (Product Specialist & Artist Liaison) from Vandoren Paris gave a presentation detailing some of the Vandoren history and methodology. Naturally talk turned to reed production and Vincent kindly took some questions from the crowd and I think many people found it fascinating to learn more about this procedure and even some tricks and tips to reed preservation and optimisation. We must thank Vincent and Vandoren for their support and I know many of the customers visiting on the day got some one on one time with him to discuss reeds and mouthpieces and we've had lots of people feedback to us that they found it very useful from that point of view.
At 1pm we welcomed local professional musician and teacher Peter Ripper to the stage to present a history of Selmer Saxes througt the eyes and experiences of a working professional musician. With an unparalleled knowledge of the Selmer history and a display featuring every model they have ever produced (with only one exception!) this really was a thorough but ligh thearted overview of the Selmer history with plenty of anecdotes about how these wonderful saxes have intertwined with Peter through his professional career.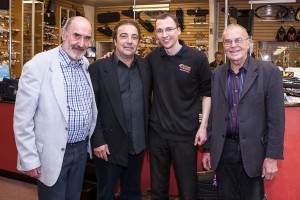 Of course there were some special offers on the day and plenty of people took up the great savings on Selmer Saxes and all Vandoren products. It was also great to see so many young people in the crowd, we originally started theses 'Live @ Dawkes' events to make sure kids and teenagers get to see high quality live music and get some inspiration…but us adults need inspiration too, so everyone is welcome!
CLICK for VIDEO CLIP – Live@Dawkes III feat Greg Abate; Alto Sax