Music Stands…How to choose
13th October 2010
Choosing a music stand…….
It shouldn't be difficult. Come into Dawkes Music, buy a stand, and tick it off your list of Things To Do. But then you survey the vast array of different stands and your heart sinks, and your mind goes blank. So how do you choose a suitable stand ? Well, here is my guide on how to make a choice from the most popular, basic music stands that we keep at Dawkes Music (find us map).
First question to ask – does it need to be easily transportable? If it needs to be carried regularly to school or rehearsals then you probably want to look at a lightweight stand with a case. We keep three lightweight models: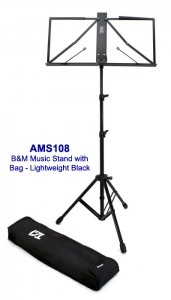 – The Barnes and Mullins MS450 (AMS 108). The plastic legs are strong and substantial, and the desk (the bit that holds the music) is made of metal. It also has the very useful wire arms which secure the pages in place. At 47cm in length when folded up it's not the smallest of stands, but it is the lightest at just 882g, including the case. This stand also has a unique quick release mechanism for adjusting the angle of the desk. The carrying case is very substantial and well made and has a shoulder strap. This is a great stand if you need to take it with you when you are already burdened with other stuff to carry. Comes in a black finish. £23.30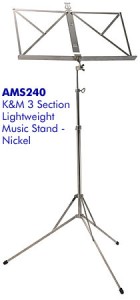 – The K&M 101 (AMS 240) is very compact – only 38cm folded, and weighs only 1033g. It doesn't have a case but it's small enough to slip into a bag or backpack. The legs are quite slim but it's strong and stable. It doesn't have the wire arms to secure the pages. We sell lots to education authorities/schools etc. Nickel Finish. £23.00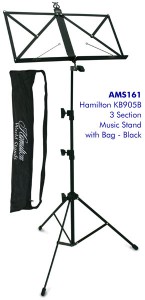 – The Hamilton KB905B (AMS 161) is very similar construction to the K&M 101, but this stand does have the wire arms to secure the pages, and comes with a lightweight case. Weighs just 1007g including the case. It is 47cm when folded, the same as the Barnes and Mullins MS450. £13.55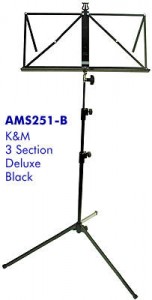 If you plan to keep the stand at home or at one location and only occasionally use it elsewhere, then a good buy would be the K&M 100/1 (AMS251). It is a good compromise in terms of weight verses sturdiness. It weighs only 1309g and is 49.5cm when folded, and is very stable. It comes in an array of different colours, which makes it very popular with children in particular. It doesn't come with a case or have the wire page secure arms but it is certainly the most durable of the stands listed here. £25.55
Lastly the Barnes and Mullins MS20 (AMS 104) is a monster at 1645g including case, and at 52cm when folded. It is sturdy due to extra support on the legs and well made. It comes in black, blue, chrome, purple or pink, This stand will stay the course when lesser stands have long since given up and fallen apart. £16.30
There are, or course, bigger and better stands, at bigger and better prices, but for your first purchase, any of the stands mentioned will do a first class job of holding up the book or score as you or your offspring get on with the job of producing music of unsurpassed grandeur and sublime beauty……..
Roger, Sales Dept 13/10/10 (view our full range here)