NAMM – Final Day News…Bach 42B Trombone, Yamaha YSL897Z Trombone, Eric Marienthal & Gordon Goodwin…
17th January 2011
So the final day of our NAMM show experience for Dawkes was packed full of more new products and artists.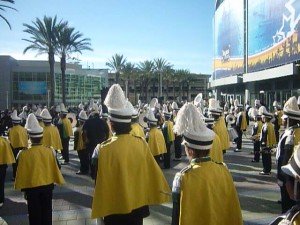 The day started with a pre-show performance by a High School Marching band. Not something we have many of in the UK, it was great to see 60 or so kids playing without any printed music, in formation and also bursting into dance routines halfway through! You have to say this style of band is quite inspirational, all are included and all play and practice regularly. You would imagine many skills are learnt in this environment, not just musical skills, perhaps a variant of this program would be a breath of fresh air for the UK education provision.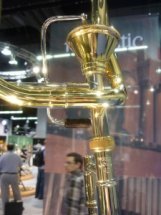 There were a couple of NEW trombones that should be available Summer 2011. Firstly a new design of the classic Bach 42B Bb/F trombone is being launched. An all new rotor system and valve are the main differences from the current model, but various braces and fittings have also been tweaked. Keep posted for updates on stock coming in over the summer.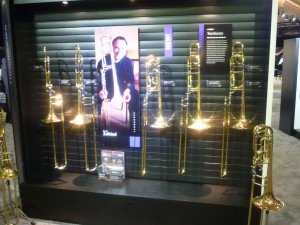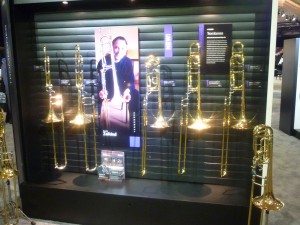 Yamaha have launched a New Jazz style Tenor Trombone which features a small dual .490-.494″ bore. Designed in conjuction with top artists including Andy Martin and Al Kay the new YSL-897Z promises " a focused tonal core, balanced resistance for searing speed and warmth for even the lushest of ballads"…Again, stock should be arriving Summer 2011.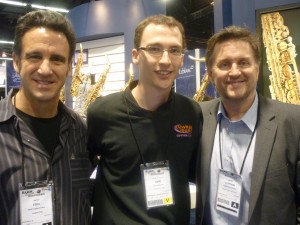 Also caught up with Eric Marienthal and Gordon Goodwin who were performing on the Alfred Music stand. Both are vastly experienced and established musicians who have also created a range of books to help with players exploring the Jazz genre. We were treated to some pretty spectacular playing and it's nice to see the dedication from these players to help the younger (or indeed older!) generation of players finding their way with the Jazz language. The new Gordon Goodwin Big Phat Band album comes out April 2011. See previous interview with Gordon Goodwin here
All in all a good show with some great new products to look out for. Be sure to sign up for the Dawkes Newsletter to always hear the newest details, special offers and exclusive multimedia content.
Sam – 16/1/10