Yamaha Neo Tenor Horn YAH-803S – New Product
[youtube]http://www.youtube.com/watch?v=qIE2gIwgqro[/youtube]In a market place that has both a loyal and knowledgeable following any new Brass Band instruments are often poured over and scrutinized for any potential benefits. The new NEO range from Yamaha is launched with the arrival of the much anticipated YAH-803S Tenor Horn. Why Tenor Horn first? Well, you could argue the other manufacturers have somewhat overlooked this instrument and developments and releases haven't been as common and talked about as Cornet or Euphonium for example. Also Yamaha had a partnership with Sheona White the great soloist and respected figure in the field, why not try and improve this often overlooked instrument.
Selmer MkVI Alto Repair – Emergency!
It's Wednesday morning, the phone rang and I happened to pick it up to hear a somewhat distressed sounding musician friend, either he'd just missed out on the gig of a lifetime that paid huge £ (do they still exist?!)…OR, and as it turns out this was it, he had knackered his very expensive Selmer Saxophone! After suffering a tumble over some PA equipment he dusted himself off and took one look at his Selmer MarkVI Alto and doubtless had 'kittens'…see for yourself:
Bass Flute – Have a sit down!
Well, we waited eagerly (at least the flute players here did!) for the arrival of our Jupiter Bass Flute – 1125ES…seen for the first time last year 'stood up' at a trade show.
Brass Instrument Repairs – The Weird and Wonderful!
Here at Dawkes we get a broad range of brass instruments coming to our workshops for repair and improvement. Two instruments have been in recently that caught our eye and are certainly worthy of wider mention. Firstly we had a request by a football mad Trombonist: He wanted his Bach 36 Strad Trombone relacquered in the colours of his beloved West Ham Utd (good job they stayed up – ed), so always keen for a challenge we worked with the relacquering team to match the colours faithfully. (more…)
Buffet B12 Clarinet – Years of Service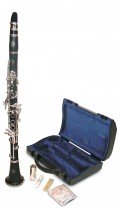 The Buffet B12 has, for as many years as I can remember, been THE student clarinet that we all refer to as the industry standard. The recent passing through our hands of one of the limited edition clear perspex models got us thinking that it may be time to pay tribute to this great instrument and its heritage.