When Johnny Hodges Doubled…
10th June 2016
Join Jazz aficionado Peter Gardner as he takes us back to 1938 & that famous Carnegie Hall Concert with many of the Jazz greats…
On the evening of 16th January, 1938, Benny Goodman and His Orchestra played before a packed house at New York's Carnegie Hall. Billed as 'The First Swing Concert in the History of Carnegie Hall', it was not the first time jazz had been played in what Down Beat called the "sanctum of long-hairs", but it was the first time an entire Carnegie concert had been devoted to such music.
According to Metronome's George T. Simon, on the evening in question Benny Goodman's band, having taken "full possession of sedate, solid Carnegie Hall… proceeded to enthral several thousand bristling and whistling swing cats and mystify several hundred long-haired symphony hounds who deigned to put in a rather smug appearance" and since "several thousand enthusiastic cats…were much more vociferous in voicing their approval than a few hundred mesmerized hounds…the Goodman concert was considered to be literally a howling success". Goodman also made sure that, in addition to his band providing his fans with the music they expected, his guest stars for the memorable evening, drawn principally from the orchestras of Count Basie and Duke Ellington, were without parallel. So, when Goodman started to jam on 'Honeysuckle Rose' the personnel read like a list of poll-winners: guests Harry Carney, baritone, Lester Young, tenor, Johnny Hodges, alto, Buck Clayton, trumpet, Count Basie, piano, Freddie Green, guitar, and Walter Page, bass, played alongside Goodman and three stars from his own orchestra, Harry James, trumpet, Vernon Brown, trombone, and Gene Krupa, drums. And the impact of such racial mixing on such a prestigious stage should not be overlooked.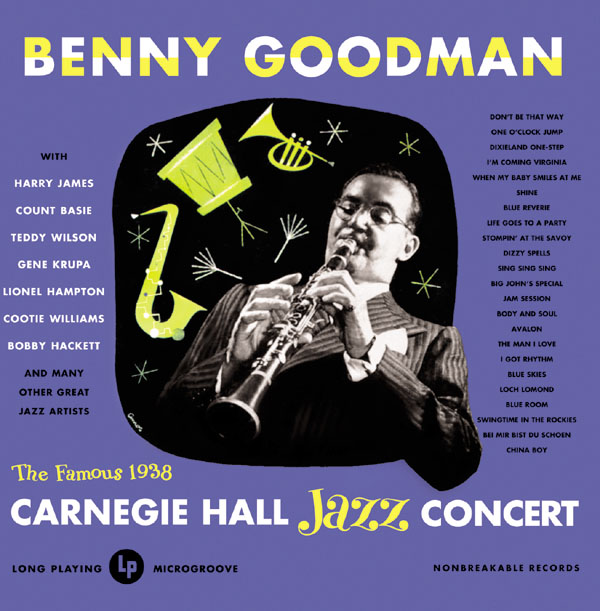 Recorded using a single microphone that dangled from the ceiling, the acetate discs of the famous concert remained with Goodman, apparently unplayed and part of his household clutter, until, probably in 1950, he moved out of one apartment and his sister-in-law moved in and found them. Eventually released by Columbia, though well short of even the audio standards of the 1930s, the recordings still provide us with a wonderfully evocative account of that New York evening of nearly eighty years ago.
Listening to those recordings to-day makes one envious of a time when skilled musicians, not teen-aged warblers, could generate such excitement in an audience, and one particular track, which seems out of kilter with much of the evening's frenzy, always sounds exceptional. In the first half of the concert Goodman tried to present various reminders of the first twenty years of jazz, but the music of Ellington posed a problem. As Goodman tried to explain later, much of the Duke's music "sounds pretty tame when it is played by anybody other than the original musicians. For example, when we wanted to do an example of his style in "Twenty Years of Jazz" section at our Carnegie Hall Concert, it didn't sound like anything until we asked Hodges, Carney and (trumpeter) "Cootie" (Williams) to sit in and play their original parts in 'Blue Reverie'" (Goodman and Kolodin, 1939, p. 248). But when the three Ellingtonians, supported by Goodman, Vernon Brown and Goodman's rhythm section, played 'Blue Reverie', they produced what John Hancock succinctly describes as "an absolute gem" (Hancock, 2008, p. 95).
Cootie Williams and His Rug Cutters (one of several Ellington small groups that appeared in the 1930s) had recorded 'Blue Reverie' twice in early March, 1937. Ellington and Carney are credited as the tune's composers and the studio versions and the Carnegie performance have a similar structure, but the concert version is by far the most assured and impressive: the opening arranged section leads into a twelve bar blues and Hodges, majestic on soprano saxophone, takes the first chorus, followed by Jess Stacy, who seems to falter a little, before the richly sonorous Carney and a growling Cootie lead us into the arranged final segment. Goodman doesn't take a solo, letting the three Ellington stars take the plaudits, and of the three Hodges on soprano was, in the words of one famous reviewer of the Carnegie evening, "nothing short of stupendous" (John Hammond, Tempo Magazine, Feb., 1938, quoted in Hancock, 2008, p. 95).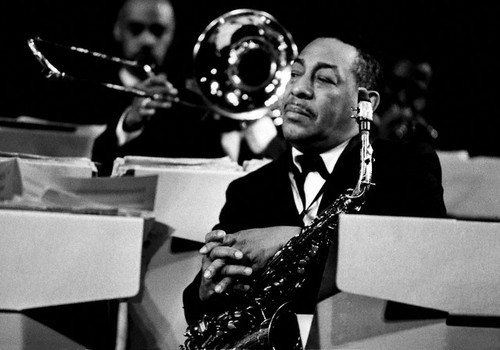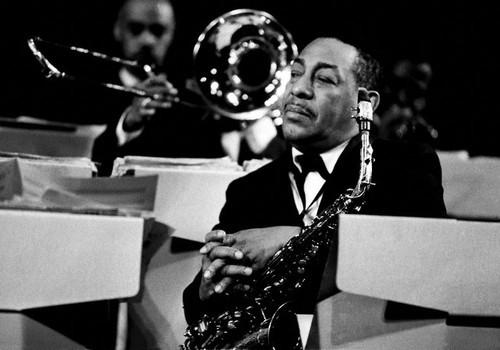 Johnny Hodges (above) had one of the most beautiful sounds on the alto saxophone that anyone has ever produced: it was warm, moving and instantly recognisable, and for nearly forty years he was one of Ellington's principal soloists. Yet, what often seems to be forgotten, even by those who are still captivated by Hodges' bluesy eloquence on alto, is that he was also a wonderful soprano saxophonist. In his early days Hodges had been taught the soprano by the formidable New Orleans master, Sidney Bechet, and it is said that even at Carnegie Hall Hodges was still playing the instrument Bechet had given him many years before. But, whereas Bechet was forceful, passionate and domineering, Hodges' soprano playing was a gentle extension of his approach to the alto. The great authority on mouthpieces for reed instruments, Ed Pillinger, once suggested that soprano players may need to decide whether they want to sound like an oboe or a saxophone. When Hodges played the soprano, it was always a warm and rounded member of the saxophone family.
Hodges had joined Ellington in 1928 and during the 1930s, when the band was extraordinarily busy, Hodges would find himself playing lead alto or leading the saxophone section on soprano and soloing on both instruments. This, he said, was a "heavy" load, and in November, 1940, on his own composition, 'That's the Blues, Old Man', he made his last recording on soprano. It wasn't, however, the last time he was heard on soprano.
In the autumn of 1950 the clarinettist and soprano saxophonist, Bob Wilber, was leading a band at the Storyville club in Boston. Hodges and some members of the Ellington orchestra were in the audience and, as Wilber recalls, despite the fact that the last time Hodges had played the soprano was "some ten years earlier…Johnny was literally pushed onto the bandstand. He picked up my soprano…and saw it had a soprano reed on it. He asked me, "Gotta clarinet reed?" I pointed to an open box of reeds sitting on top of the piano. Without saying a word, he removed the soprano reed, reached into the box and took out one at random. He didn't bother looking at it or wetting it or anything. He simply stuck it on the mouthpiece, tightened the ligature, put the horn to his mouth, and started playing the blues – slow and stately, with that beautiful tone. It didn't have the earthiness of Bechet's blues, but you could hear the influence, the soaring lyricism. I was absolutely amazed…" (Wilber, 1989, p. 52).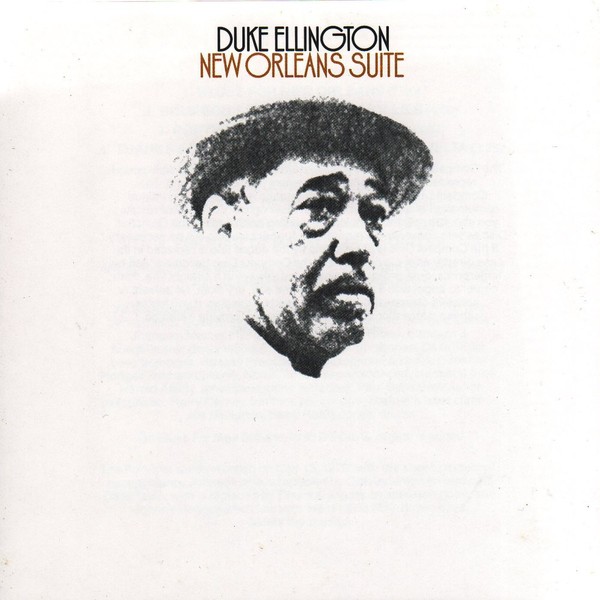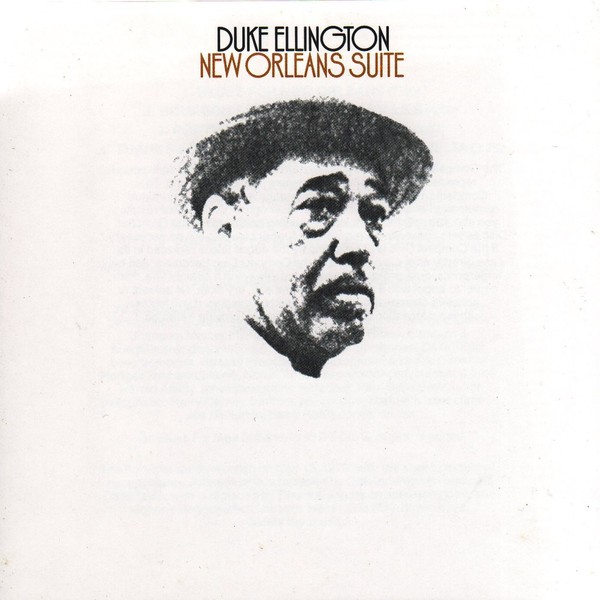 On 27th April 1970 Duke Ellington took his orchestra into the National Recording Studios, New York, to begin recording his New Orleans Suite. At the end of the session there were four parts left to record. Each of those parts was dedicated to a great New Orleans performer. One was entitled 'Portrait of Sidney Bechet' and the solo on this piece was to be played by Johnny Hodges. The next recording session was set for 13th May. The Duke hoped that Hodges might turn back the years and be persuaded play soprano on the 'Portrait' of his old teacher, but on 11th May Ellington received a telephone call to say that Hodges had died suddenly from a heart attack. One of the most endearing voices in jazz, on both alto and soprano, would sing no more.
Saxophone students who regard the long, pyrotechnical solos of recent saxophone stars as the norm will find Hodges' approach something of a shock. In place of miraculous technical feats, we have a unique and moving tone, control and effortless ideas. Instead of unrelenting streams of notes that threaten to pound us into submission, we have economy, elegance and gentle swing. Where others shout and harangue, Hodges invites and seduces. He succeeded wonderfully, but rarely seemed to try.
Peter Gardner
June, 2016
Acknowledgement:
I am particularly grateful for the help of David Nathan, Archivist, National Jazz Archive, Loughton Library, Trapps Hill, Loughton, Essex, IG10 1HD.
Some sources used:
Stanley Dance, Notes for 'Duke Ellington, New Orleans Suite', Atlantic, 1971.
Benny Goodman and Irving Kolodin (1939) The Kingdom of Swing (Stackpole and Sons, New York).
Jon Hancock (2008) Benny Goodman: The Famous 1938 Carnegie Hall Jazz Concert (Prancing Fish, Shrewsbury).
George T. Simon, 'Benny and Cats Make Carnegie Debut Real Howling Success', Metronome, Feb., 1938.
Bob Wilber (1989) Music Was Not Enough (Bayou Press, Oxford).
Some recommended CD sets arranged by price:
Benny Goodman, 'The Complete Carnegie Hall Concert', 2 CD set, Jasmine.
Three Classic Albums Plus: 'Duke Ellington with Johnny Hodges, Coleman Hawkins, Count Basie' (Two of the albums are 'Back to Back' and 'Side by Side'), 2 CD set, Avid. These CDs feature Johnny Hodges, but not on soprano.
Duke Ellington and Johnny Hodges, 'Back to Back/Side by Side – 15 bonus tracks', 2 CD set, Poll Winners Records, Released June, 2016. Again these CDs feature Hodges, but not on soprano.
Johnny Hodges, 'The Jeep is Jumpin'', 4 CD set, Proper.
Duke Ellington, 'The Complete 1936-1940 Variety, Vocalion and Okeh Small Group Sessions', 7 CD set, Mosaic.