Yamaha Trumpet Offers – December 2017
1st December 2017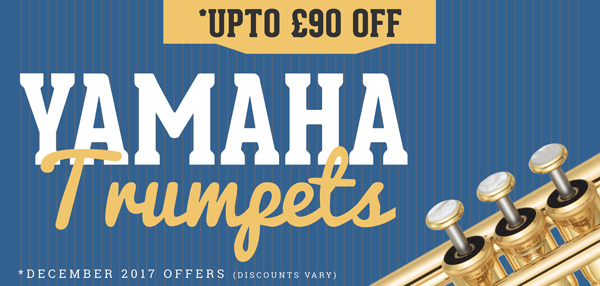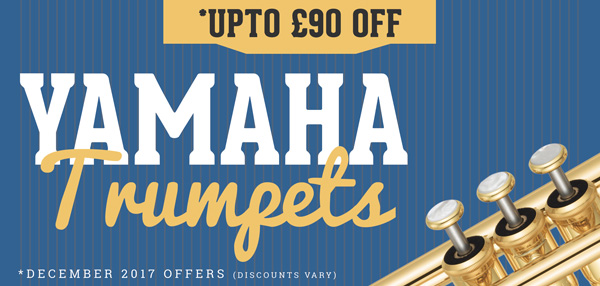 We have some exclusive offers on the full Yamaha Trumpet range throughout December 2017. Check out the codes, discounts and more info below:
Code: TRUMPET40 – Get £40 off any Yamaha 2/3/4 Series Trumpet
Code: TRUMPET65 – Get £65 off any Yamaha 5/6 Series Trumpet
Code: TRUMPET90 – Get £90 off any Yamaha 8/9 Series Trumpet
The codes are valid online and in-store until Dec 31st 2017. Why not take a look at some of the models in more detail below and check out our videos testing the instruments and chatting more about them. Let us take you through the whole range…

Yamaha 2/3/4 Series – £40 extra discount:
Yamaha produce and excellent and reliable range of student and first step intermediate Trumpets. All have the highest standards of build quality and are the most recommended models by players and teachers alike.
The YTR-2330 (available in lacquer or silver) is ideal for new beginners because of its lightweight design, adjustable 3rd slide finger ring and ease of play. For the slightly more advanced player, or perhaps adult beginner, they may prefer the YTR-3335 (in lacquer or silver) as it has a reverse lead pipe design. This puts the resistance a little further back and can allow the player to have a more open sound.
Finally the classic YTR-4335 (in lacquer or silver) is a very popular model for players looking for their first upgrade at Grades 3/4. It has a gold brass bell and lead pipe which offers a warmer, broader tone and the monel valves offer long lasting high speed performance.
Use code TRUMPET40 to get £40 extra off at the online checkout or in-store.
Why not check our our video with top Trumpet pro Philippe Schartz as he chats with Thomas Lubitz, the Senior Research & Design Manager for Yamaha Europe, and they discuss the Yamaha beginner range…

Yamaha 5/6 Series – £65 extra discount:
The Yamaha 5 & 6 series offer exceptional performance at an affordable price. The YTR-5335 (in lacquer or silver) was introduced around six or seven years ago and has proved to be very popular with our customers. The sub £1,000 price point for an instrument that is made in the main Japanese Yamaha factory makes it a very attractive buy for the advancing player at Grades 5/6-.
The YTR-6335 (in lacquer and silver) is a classic model that was once at the top of the Yamaha pro Trumpet range. With a one piece yellow brass bell it has a clarity and immediacy of tone. This is a very versatile instrument for all manner of styles from classical to big band.
The Yamaha YTR-6310Z (in lacquer and silver) was a revolutionary model for the company when it was first released. Designed in conjunction with top US pro Bobby Shew it has an innovative 'step-bore' design where the internal bore size modulates through various points of the instrument. This, coupled with the lightweight design allows for a very flexible, responsive and resonant instrument aimed at jazz, commercial and pop players.
Use code TRUMPET65 to get £65 extra off at the online checkout or in-store.
Yamaha 8/9 Series – £90 extra discount:
The top professional range of Yamaha Trumpets are now widely accepted as serious contenders in the marketplace. With a full range including lightweight, reverse lead pipe models, gold brass, lacquer and silver plate. Why not check out this video with top pro Philippe Schartz and Thomas Lubitz (Head of R&D, Yamaha) as they discuss the Xeno (8335 range) in more detail:
There are various models and letterings within the range, check out our de-coding list below!
Yamaha YTR-8335 Xeno – The classic Xeno design available in lacquer or silver plate. This has a standard lead pipe, standard weight, monel valves. Extremely versatile and still the most selected variant.
Yamaha YTR-8335R Xeno – This is the 'reverse lead pipe' model. Here the main tuning slide legs sit on the outside of the incoming lead pipe. In reality this sets the resistance point a little further back on the instrument until it reaches the next 'join' in the brass. Some players prefer this, others prefer the standard. At this level it's about the player preference. These are also available in lacquer (8335R) or silver plate (8335RS), and with a gold brass bell in lacquer or silver plate (8335RG or 8335RGS).
Yamaha YTR-8335G Xeno – This is the standard Xeno design (as per 8335 classic) but with the addition of a gold brass bell. The gold brass has more copper and less zinc in the core brass, this added copper adds warmth and breadth to the tone at the slight compromise of less projection. This model is available in lacquer (8335G) and silver plate (8335GS). As mentioned above, the G models are also available in reverse lead pipe (8335RG and 8335RGS)
USE CODE TRUMPET90 to get £90 off any of the Xeno models until Dec 31st 2017 (online and in-store)

There are also a range of 'Custom' models in the 8 series, these have been designed alongside specific top players. Once again we can catch up with Philippe and Thomas as they discuss these 'Custom' models in more detail:
These 'Custom' models are more niche to a specific type of sound or flexibility so we encourage you to try them and see how they compare for you against the standard Xeno. Our specialists can help determine if these models would be relevant to your playing style and musical endeavours:
Yamaha YTR-8335LA – This is the most popular of the 'Custom' Xeno models and it was designed alongside the amazing Wayne Bergeron. As a top LA based commercial and jazz pro Wayne helped design a Trumpet that could easily soar across a Big Band in the lead position but equally felt at home in the smaller group settings. (available in lacquer or silver)
Yamaha YTR-8310Z – An updated and arguably upgraded version of the original YTR-6310Z Bobby Shew model. This again is designed for the jazz player wanting the ultimate flexibility, but we would say commonly the 8335LA is slightly more popular. (available in lacquer or silver plate)
Yamaha YTR-8340EM – This 'Custom' Eric Miyashiro model is slightly bonkers (in a good way!). The 5.25″ bell and multi-bore set-up make it quite an instrument to handle and again we find for most peoples everyday use the 8335LA is the best option…that is unless you're Eric Miyashiro and who could argue with his playing!
USE CODE TRUMPET90 to get £90 off any of the Xeno 'Custom' models until Dec 31st 2017 (online and in-store)
Finally, there are the 9335 'Artist' models that sit atop the range. Developed in conjunction with some of the finest players in the New York and Chicago Symphony orchestras. Here's Philippe and Thomas with more info…
Yamaha YTR-9335NY – Only available in silver plate, the 9335NYS features the MB2 Malone lead pipe that is a little more open than the CH lead pipe (MB1). Combined with various other design features this gives the NY a little more flexibility perhaps. Like the CH it also has the French bead on the bell which improves the resonance and precision of note placement. The tuning slide has a flatter curve vs the CH model which again varies the resistance. The braces on the NY have also been moved vs the CH model. It's important to think about all of these aspects as complimentary to each other to give an overall balance.
Yamaha YTR-9335CH – Also only available in silver plate, the 9335CH has the MB1 Malone lead pipe and it has a very centred and focussed sound. The taper of the bell thickness, and valve group and brace positions also vary from the NY and thus add up to give a different response and flexibility. There is no right or wrong for players at this level, it's about trying them and seeing what works best for your style.
USE CODE TRUMPET90 to get £90 off any of the Xeno 'Custom' models until Dec 31st 2017 (online and in-store)
Code: TRUMPET40 – Get £40 off any Yamaha 2/3/4 Series Trumpet
Code: TRUMPET65 – Get £65 off any Yamaha 5/6 Series Trumpet
Code: TRUMPET90 – Get £90 off any Yamaha 8/9 Series Trumpet