Brass Repairs at Dawkes Music
Here at Dawkes Music we have 4 highly skilled brass repairers on site. The team are on hand to help with any brass related repairs by appointment from Monday-Saturday 9.30am-5.30pm.
Our qualified brass repairers can help with servicing and repair work on host of Brass instruments from Soprano Cornet, down to BBb Tuba. We can help advise on maintenance and general care, as well as completing 'on-the-spot' repairs and major overhauls.
Repair Appointments: How It Works
Our Repair Department work on an appointment system for any in-store repair assessments. You can choose the day and time of your in-store appointment using our online booking tool via the button below.
When you come in for your appointment a member of the Repair Team will assess your instrument and let you know if it's something that can be repaired 'on-the-spot' or if it will need booking into our diary. If the instrument needs to be booked in, they will agree a date with you, and you can either leave the instrument with us until that date or return it nearer the time.
Book Repair Appointment
Please Note: This is not a courier collection booking for remote repair assistance. If you'd like us to collect your instrument via courier, please call us on 01628 630 800 or via the contact us page.

Why Use Dawkes?
For over 50 years we have offered a premium repair service to musicians all over the UK. Whether it's a youngster needing an emergency fix before an exam, or a seasoned professional wanting a customised overhaul, our team can help support your playing.
Here at Dawkes our ethos is to Create, Inspire and Support musicians and our brass repair workshop is on hand for you 6 days a week. We are proud professional members of the National Association of Musical Instrument Repairers (add link) and play an active role in the repair community. NAMIR was founded in 1993 to help ensure and promote a high quality of craftmanship within the repair community in the UK.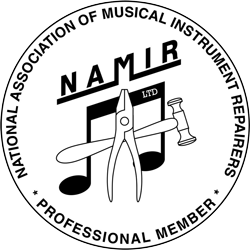 Our aim is to support your musical journey, and our team of experts in the workshop pride themselves on the high quality of their work.
Dawkes Music are very proud to be professional members of the National Association of Musical Instrument Repairers.
NAMIR promotes a high standard of workmanship and customer care and was formed in 1993 to provide a dedicated craft association for the profession of musical instrument repair.





OUR REPAIR SERVICES
We offer a full range of repair services from quick on-the-spot emergency fixes, to full overhauls and customisation work.
On-The-Spot
Our on-the-spot option allows you to have minor issues solved promptly, often while you wait. The team can diagnose and quote you for any further work that may be required.
Piston Brass Instrument - Servicing
Over time piston brass instruments build up corrosion and dirt inside which causes valves to stick, slides to seize and the instrument can become stuffy to play.
We are able to carry out routine internal cleaning as well as involved servicing work which typically means making the valves and slides run as smoothly as possible. We are able to improve, if not totally restore, the profile of almost any dent, and re-solder areas where stays or braces have broken.
Our wide stock of spares allows for replacement of consumable parts such as felts and corks which will help to keep the instrument mechanically quiet and reliable. Depending on your specific requirements we can be flexible within our service suggestions.
A typical piston brass service includes:
Dismantle and de-grease
Lap in and clean valves and casings
Polish slide legs
Remove accessible dents as best possible
De-scale slides and valves as necessary
Internal clean (body, slides and valves)
Replace valve springs and guides if required
Re-felt and oil valves
Grease slides
Replace water key corks and springs if required
Test
Prices for piston brass servicing will vary between Trumpet, Tenor Horn, Baritone, Euph or Tuba as well as considering the specific requirements of each individual instrument. We can offer a full external polish of a silver instrument for additional cost. Please enquire for pricing.
Contact Us
French Horn & Rotary Valve Servicing
French Horns often require servicing of the rotary valves, which are enclosed and therefore do not typically receive a lot of home maintenance. The very small bore and sensitive nature of the instrument means clear internal passageways are crucial, and so internal build up can have dramatic effects.
Linkages can become rattly, strings can become weak or loose and bumpers can wear through or go missing. The large, vulnerable bell flare can easily crease if dropped or knocked. We can also add waterkeys if required.
A typical French Horn service includes:
Disassemble and de-grease
Disassemble rotors
Remove accessible dents as best possible
Lap in rotors
Polish slide legs
De-scale rotors as slides as necessary
Internal clean (body, slides, valves)
Re-assemble and lubricate rotors
Re-string rotors (if applicable)
Replace rotor bumpers
Replace waterkey corks
Grease slides
Test
Prices for French Horn servicing will vary between single, double and number of rotors as well as considering the specific requirements of each individual instrument. We can offer a full external polish of a silver instrument for additional cost. Please enquire for pricing.
Contact Us


Trombone & Slide Servicing
Trombones have unique servicing requirements. The playing slide being vulnerable to dents and bends means that the main goal is to achieve the best slide action possible. It is normal to pick up minor dings, but sometimes disasters can happen causing noticeable and visual distortion of the legs.
A deep, chemical clean and some very specific repair processes allow us to restore playing slides to their silky-smooth best. We are equipped to replace leg tubes where necessary and will always advise on a solution when deeper issues could restrict the end result.
Similarly to other brass instruments services, we can carry out any additional dent work and soldering as necessary according to the requirements of the instrument.
Trombones with rotary valves can become very rattly or 'sticky' over time. Whether they are strung, linkage, Thayer Axial-Flow, Haggman or indeed any other style of rotor - we are equipped and able to renovate them to run smoothly and quietly.
A typical Trombone / Rotor service includes:
Dismantle and de-grease
Polish tuning slide legs
Remove and clean rotor
Lap-in rotor
Remove accessible dents from bell and slides as best possible
Internal clean (body, rotor and tuning slides)
Re-assemble rotor and lubricate bearings
Replace bumpers if necessary
Replace string if applicable
(Re-string rotor to correct tension and position)
Grease tuning slides
Remove dents from outer slide as best possible
De-scale outer slide
Clean inner and outer playing slides internally
Re-align playing slide and remove any bows in legs
Replace water key cork
Replace water key spring if necessary
Test
Prices for Trombone servicing will vary between Alto, Tenor, Bb/F, Bass and below as well as considering the specific requirements of each individual instrument. We can offer a full external polish of a silver instrument for additional cost. Please enquire for pricing.
Contact Us

Re-lacquered Trombone in West Ham Utd Colours

Amber Lacquer & Nickel Finish
Refinishing (Lacquer, Silver Plate and Custom Options)
If a well-loved instrument has lost a lot of it's external finish, it can be worth restoring it to its former glory. We can facilitate re-lacquer and re-plating work on all instruments and find this kind of involved work to be exciting and fulfilling. We carry out the initial preparation in our workshop, which involves filing, sanding and polishing the base metal to mirror finish. This requires many hours of skilled dent work, labour and concentration before sending the instrument to our trusted finishing company. Any rotten or very damaged parts would be replaced, as this kind of work gives us an opportunity to make the results long lasting and transformative.
Lacquer is baked on in a kiln and is typically clear in colour, so the base metals of the instrument will create different tones. Depending on the desired end result, the instrument could be restored to original condition or customised with colour tinting or textured finishes. We can offer matte lacquer, as well as black, bright colours or a 'vintage' tint. Combining different finishes on one instrument is also possible, just let us know what look you want to create! Silver or Gold plating is typically a high-gloss finish but a matte lacquer finish on top will create a beautiful satin sheen. It is currently very popular for existing finishes to be stripped, creating a 'raw' brass instrument which is surprisingly inexpensive and can transform the resistance and tone.
Once the instrument has received its new coating, we receive it back and carry out a full, high-quality service as standard. We aim to get the instrument as close to good as new as possible, so will always provide new consumables (bumpers, corks, felts, springs, guides) for an improved feel. We can usually offer an estimation for initial enquiries via e-mail, please get in touch if you'd like to learn more.
HOW TO FIND US
Dawkes Music Ltd is located in Berkshire just 10 minutes from the M4, 15 minutes from the M40 and 20 minutes from the M25. We are also in close range of Heathrow (15-20 mins in the car) and Gatwick (60 mins in the car). We have free car parking directly outside the shop. London Paddington is just 30-40 mins on the train.
ADDRESS: Dawkes Music, Reform Road, Maidenhead, SL6 8BT
CONTACT US