In Store Visiting Info - Please Read
UK's no.1 Woodwind & Brass Specialists | Established 1966 | Free Delivery on selected lines & Fast Delivery | Order Online 24/7
Woodwind Repairs at Dawkes Music
At Dawkes we employ a team of 6 on-site qualified woodwind repairers. The Dawkes Music Instrument Repair Workshop is open by appointment from Monday-Saturday 9.30am-5.30pm.
We repair all Brass and Woodwind instruments including Flutes, Clarinets, Saxophones, Oboes and Bassoons. To keep your Instrument in good working order, we recommend that you have it maintained at regular intervals and checked at least every 2 years.
Repair Appointments: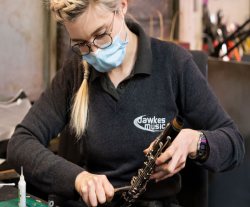 Repair Department:
Instrument Repairs
Looking to get your Wind or Brass instrument repaired or serviced? Book an in-store appointment with our workshop to have your instrument assessed.
30 min repair appointment in-store
Your instrument will be assessed by a specialist Technician
'On the spot' work may be possible, or we will advise booking in for further work
Please Note: This is not a courier collection booking for remote repair assistance. If you have an instrument to send to us for quote/repair we suggest using the Royal Mail Home Collection service. You can purchase the postage on their site and then arrange for Royal Mail to collect the item directly from your home, or you can take it to a local post office. More details and booking can be found on the Royal Mail Collection Site. Please contact us before sending in any instruments so we can advise on current waiting times.
Why Use Dawkes?
Dawkes Music & Windcraft Ltd has based all of its business and core values around the highly skilled area of woodwind and brass repairs. Now with over 50 years of successful business and continuous growth, the company boasts the largest team of repairers in the UK, and an enviable reputation amongst players, teachers and music suppliers.






OUR REPAIR SERVICES
We offer a full range of repair services from quick on-the-spot emergency fixes, to full overhauls and customisation work.
On-The-Spot
Our on-the-spot option allows you to have minor issues solved promptly, often while you wait. The team can diagnose and quote you for any further work that may be required.
Checkdown
A "Checkdown' is our first level of service and is suitable for newer instruments or those that have had ongoing servicing work within the last 2 years. In a Checkdown the following work is completed:
Reseat pads as necessary
Replace pads as required (any pads that need replacing will be at extra cost as discussed)
Adjust regulation to playing order
Replace missing corks/felts
Lubricate noisy keywork
Test
Contact us for pricing
Contact Us
Service
A 'Service' involves a full strip-down of the instrument which results in a quieter, smoother action. Additional cleaning and mechanical steps are introduced compared to a Checkdown.
It is designed for instruments that are taking regular use and may not have been recently stripped and serviced. In a Service the following work is completed:
Dismantle
Clean body
Polish keywork
Remove old oil from mechanism and screws
Replace key corks as necessary
Re-assemble
Re- lubricate
Re-seat pads as necessary (If pads need changing this will be at extra cost)
Regulate to playing order
Check tenon corks (If tenon corks need replacing this will be at extra cost)
Adjust vent heights as required
Adjust spring tensions as required
Test
Contact us for pricing
Contact Us


Full Re-Pad
When more than half of the pads and other materials are old, worn or damaged it may be time for a full re-pad.
We will strip down the whole instrument, and remove old oil, do any body or keywork adjustments needed, polish up silver plating and reassemble the instrument from scratch with all new materials. Often referred to as an overhaul, this will bring the instrument back to as close to new as possible.
A Re-Pad offers the instrument a clean slate and gives you a chance to start again with brand new pads, corks, felts and set up. This also means you have the opportunity to explore other combinations of pads and materials. We can offer Roo-Pads on Saxophones, Gore-Tex pads on Clarinets or an all synthetic set up to name a few options. Please let us know if you'd like to hear more about our alternative pads and set up when booking in your repair.
Dismantle
Clean body
Polish keywork
Remove old oil from mechanism and screws
Assess level of toneholes and resurface if needed
Remove accessible dents
Replace all tenon corks if present
Replace all key corks/felts
Replace all pads and seat
Re-assemble
Re-lubricate
Regulate to playing order
Adjust vent heights as required
Adjust spring tensions as required
Test
We offer a wide range of pad and material choices
Further customisation is available
Contact us for pricing
Contact Us
HOW TO FIND US
Dawkes Music Ltd is located in Berkshire just 10 minutes from the M4, 15 minutes from the M40 and 20 minutes from the M25. We are also in close range of Heathrow (15-20 mins in the car) and Gatwick (60 mins in the car). We have free car parking directly outside the shop. London Paddington is just 30-40 mins on the train.
ADDRESS: Dawkes Music, Reform Road, Maidenhead, SL6 8BT
CONTACT US
Abi Taylor
Abi came to Dawkes Music in 2008, through a trial apprenticeship under (then) manager Gary Hobdell. She gained a wide range of experience through working with and studying under a number of excellent woodwind and brass repairers, including in-house and external training. She is a hardworking technician, with an impressive knowledge of parts, instruments, supplies and techniques. She is committed to taking the time to investigate and resolve the most subtle of faults, and will strive to ensure every player leaves our shop with confidence in their instrument. Abi is also our resident Bassoonist, and particularly enjoys taking on Bassoon servicing work.
Ivan Smith
Ivan joined us in 1992 after receiving City & Guilds Certificate from Merton Technical College. Ivan is the only member of our team that didn"t originally play a wind instrument; he is a Jazz Drummer, but turned to the path of woodwind and is now one of the very pillars of our Workshop team. Ivan has patience like no other, and combined with his long experience, good will and persistence he can handle the most challenging woodwind repairs. A familiar face for our regular customers, he is faithfully entrusted with vintage saxophone overhauls on a regular basis. His supportive and calm demeanour makes him a role model and inspiration for his fellow repairers.
Sunniva Hellerud
Sunniva joined us in 2014 after receiving a Diploma in Musical Instrument Technology from Lincoln College, Newark Campus. She left her native country of Norway to study wind instrument making and repair in the UK, and is now a full time qualified woodwind and brass technician. She studied flute making and advanced tool making as part of her course, and is more than comfortable around lathes, drills, and milling machines. Always enthusiastic and up for a challenge, her can-do attitude and passion for the industry makes her an asset to our workshop, particularly as she is on the committee for the National Association of Musical Instrument Repairers. She enjoys the small victories of repairing and is fluent in Norwegian, English, Danish, and flute.
Ana Guerreiro
Ana joined us in 2016 after receiving a Diploma in Musical Instrument Technology from Lincoln College, Newark Campus. Originally from Lisbon, Portugal, she has a long standing relationship with woodwinds since playing Clarinet with the Portuguese Army band for 7 years before becoming a technician. She is careful and intuitive and has taken on every challenge thrown her way since joining Dawkes, as well as using her invaluable playing experience and knowledge of the clarinet to inspire and support our customers. Driven by an appetite for perfection, Ana is a dedicated repairer as well as enjoying teaching some adult Clarinet and Sax lessons here at Dawkes.
Ryan Collins
Ryan joined us in 2019 having graduated from Lincoln College, Newark Campus with a diploma in Musical Instrument Making and Repair. He spent his spare time at college hand making additional tools, equipping him with extensive engineering experience and a thorough understanding of materials. He particularly enjoyed making a Clarinet from scratch, which is now a complete and playable instrument. Many years ago Ryan was inspired by a visit to a repairer who serviced his Trumpet along side him, motivating him to pursue this craft. His self-punishing, diligent scrutiny maintains a high standard of finishing and serves him well as a repair technician. Before attending Newark he also spent some time working at an Accordion repair shop learning basic Accordion repairs. He is a French horn player (the one true "horn" - according to Ryan) and currently plays in a local Orchestra.