Woodwind Repairs
New Repair Enquiries:
If you have an instrument that is in need of repair, we are still available to help, but through a remote service. i.e. You cannot bring the instrument to the store, but we can arrange a courier collection (£15) or you can arrange your own delivery via RoyalMail or a chosen courier. When we receive the instrument, we will assess the damage and required work and give you a quote via email or telephone. If you choose to go ahead with the work we will then give you a timescale based on current available slots.
Upon completion of the work we will contact you and arrange for the instrument to be returned via courier (£8.95). We do appreciate some people living locally would prefer to drop the instrument in, but we don't feel it's responsible to encourage unnecessary travel and thus the courier pick-up/return option is what we can offer at this time.
At Dawkes we employ a team of 6 on-site qualified woodwind repairers. The Dawkes Music Instrument Repair Workshop is open every weekday from 9.30 - 5.30, and on Saturdays from 9.30 - 4.30. We repair all Brass and Woodwind instruments including Flutes, Clarinets, Saxophones, Oboes and Bassoons. To keep your Instrument in good working order, we recommend that you have it maintained at regular intervals, and at least checked every 2 years.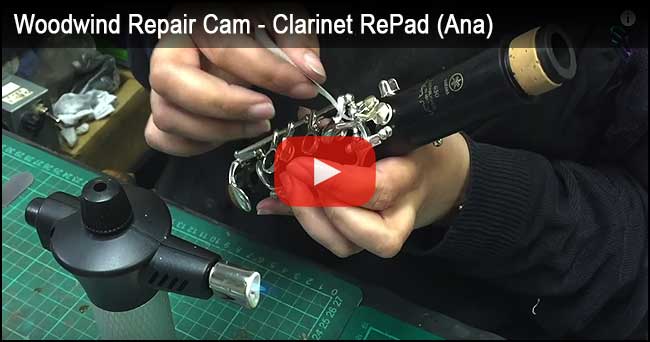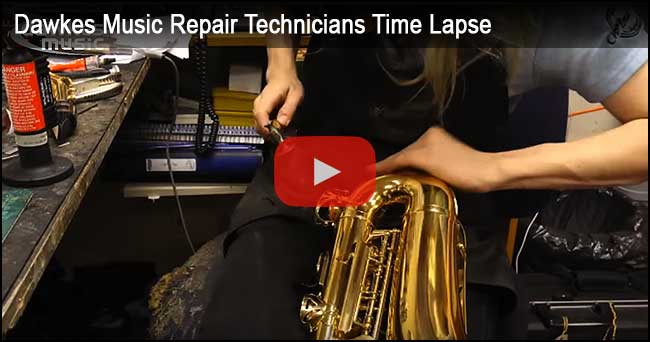 Contact Us
If your Instrument needs attention, we can provide an assessment while you wait; just bring it along. If it requires a minor repair, we may be able to correct the issue while you wait. If your Instrument needs to be left with us for more involved repair, it can be booked onto our diary. All our repairs are guaranteed for 3 months as there is usually a settling in period for new pads and corks. Instruments purchased from us qualify for a 10% discount on all Repairs (subject to verification). This does not affect the standard 12 month guarantee.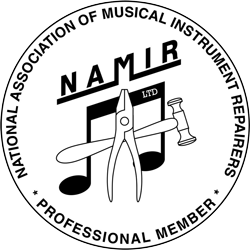 Dawkes Music are very proud to be professional members of the National Association of Musical Instrument Repairers. NAMIR promotes a high standard of workmanship and customer care and was formed in 1993 to provide a dedicated craft association for the profession of musical instrument repair.
What people say about our Instrument Repairs
We use Feefo to collect independent reviews of our repair work.

| Date | Review | Rating |
| --- | --- | --- |
| 2020-04-17 | ABI WAS EXCELLENT SHE DONE WONDERS WITH MY CLARINET | |
| 2020-03-17 | A complete overhaul of my daughter's flute. Not cheap but better than buying a new flute and after 7 years, it is back to playing really well. | |
| 2020-03-10 | Great quality relacquer. | |
| 2020-03-03 | I recently had my tenor sax serviced. The communication and service was top notch and the workshop staff are excellent! Highly recommended. | |
| 2020-03-02 | great service but weeks waiting list for repair | |
| 2020-02-24 | Excellent value for money | |
| 2020-02-21 | Alto Yamaha 230 saxophone. A beautiful upper student model. Solid | |
| 2020-02-17 | Did a great job | |
| 2020-02-03 | Great job on the service for my son's Saxophone. | |
| 2020-01-31 | Anna seriviced my instrument with such attention to detail. It sounds and feels so much better now. | |
How to get your Instrument repaired
If you are able to visit the workshop, we can visually assess your instrument and give you an accurate quote for the work required. If it is something simple which we can do within 30 minutes; we may be able to do the work while you wait. More involved work may need to be booked into our diary. You can either leave the Instrument with us or bring it in at least a day before the work is booked. Our diary turnaround can be very seasonal, with busy periods usually aligning with school holidays. If you are unable to bring your instrument in to us for assessment, we can arrange a courier to collect it from you at a cost of £15. We would then assess it on arrival, and contact you with a quote. We can then return it once complete at a cost of £8.95.
Contact Us
Meet the Workshop Team
At Dawkes we employ a team of 6 qualified woodwind repairers. With repairing at the heart of the business, we can offer well over 60 years of combined in-house experience, and a strong team of well qualified technicians not scared of getting their hands dirty. To view information on each member of the team, roll over and click the staff member.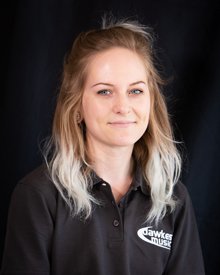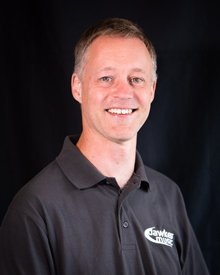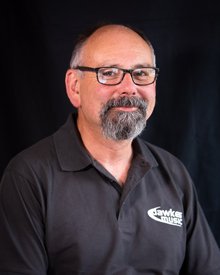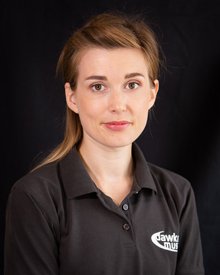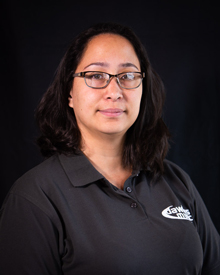 Workshop Gallery
We have put together a gallery of the more interesting jobs we have encountered in the woodwind workshop.
Please click to open the gallery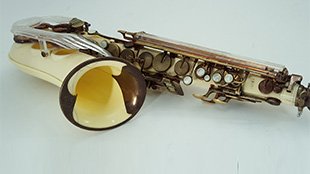 Grafton Alto Saxophone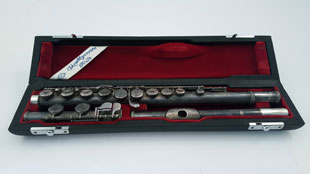 Miyazawa Flute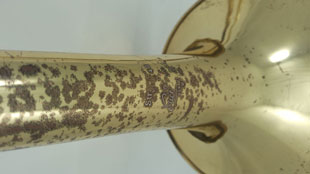 Strad Trombone Re-lacquer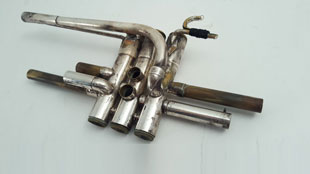 Schilke Eb Trumpet Re-plate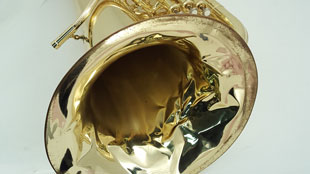 Tuba Bell Repair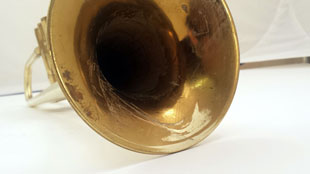 Getzen Severinsen Trumpet Re-lacquer
This Selmer Mark 6 Tenor Saxophone had some really serious damage when it was put into the hold of an aircraft. The main stack was really badly bent and the Saxophone did not play. We were looking at one very sick Saxophone... The impact had upset the alignment of the pillars, and the pads were not seating on the tone-holes. Take a look at the before and after pictures below.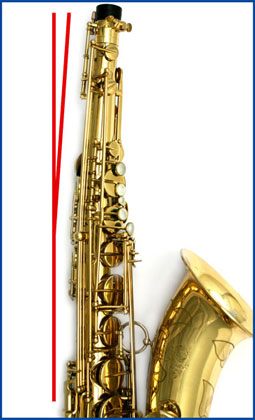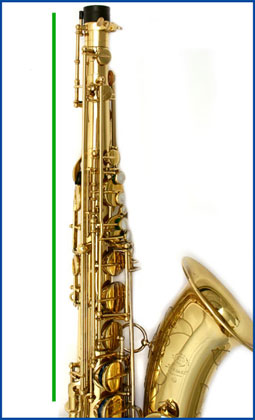 Repairing it was quite a challenge! Firstly, we straightened the body and removed the dents. Next, we removed all the keywork and set the pillars back in the correct place. Then we straightened the keys so that the rod screws passed through them without them binding and changed some of the upper pads.
The Selmer Mark 6 Tenor Sax is owned by a professional Saxophonist. When he got it back, he was amazed with what we had achieved. Here's what he said about us:
"I'm so very grateful for the amazing job you and the team did with my VI. I was almost afraid it was too serious to repair (!!), so to see it back in perfect working order is just fantastic - thank you ever so much!!" Richard Shepherd - Jazz Saxophonist - Ronnie Scott's Jazz Orchestra, Richard Shepherd Boptet, Frank Griffith Big Band
This Selmer Mark 6 Alto Sax was in the Workshop last week for a full Overhaul.
The pads were really worn and were not sealing at all making it difficult to play. The picture below shows the condition of the old pads, compared to some new ones.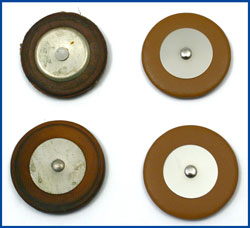 The pictures below show the Mark 6 stripped down (left), and fully Overhauled (right).
We don't normally see vintage Saxophones in such good condition. This one was really mint and had its original lacquer, 'crocodile skin' imitation case and no dents.