G is for great – or is it? New G-Reeds for Saxophones…
You may have noticed, if you were in the market for new reeds (or even your trusty usual ones!) and were perusing our website, that some new ones have popped up under our synthetic reed tab. Enter, G-REEDS!
Hailing all the way from Argentina, G-REEDS boast both the ease of playability and durability of synthetic reeds that have been about for a while, with the added consistency one really requires.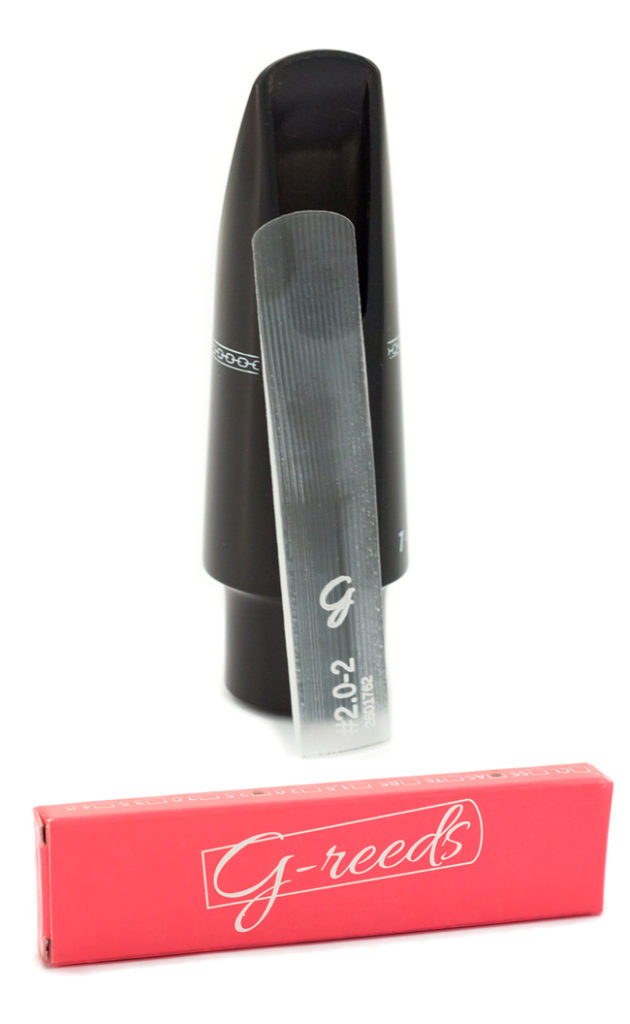 As reed players, we all know that complete perfection is difficult to achieve when it comes to set-up – choosing the right brand and strength for your playing is like stepping through a minefield. G-REEDS have tried to make it easier for synthetic reed users by sourcing their production development through science – so you know it can be trusted! This is what the company have to say:
"We developed G-REEDS from scratch, without any kind of reverse engineering, nor by using existing products as a reference. After many tests we found a material which fulfils all of the requirements we defined at the beginning. We created a mathematical model which allows us to estimate the reed tone (brightness/darkness) for a given material's physical properties. Based on that information we developed a geometry which generates the desired tone.
For the entire development process we used GNU Linux and open source software. This was for philosophical reasons; and also due the high quality of the available software tools, sometimes surpassing expensive commercial tools.
We received valuable help about using polymers from the Department of Plastics of the INTI (National Institute of Industrial Technology, Argentina).
With the technical information we obtained during the research process and the conclusions of the early development stages, we developed a Python application for calculating and generating every reed geometry. This software allows us to modify key parameters and to get reeds with the desired tone and response properties, or to create new models quickly."
There are a lot of long words there, but what they're fundamentally saying is that G-REEDS claim excellence by being made using mathematical and geometrical processes. Behind something as creative as musical performance, is something scientific…
Like all reeds, G-REEDS come in different strengths, and they also come in a number of different models, to suit different styles of playing. You can choose your model that suits you, and then choose the strength you require.
(For tenor reeds: model 1, model 2, model 3)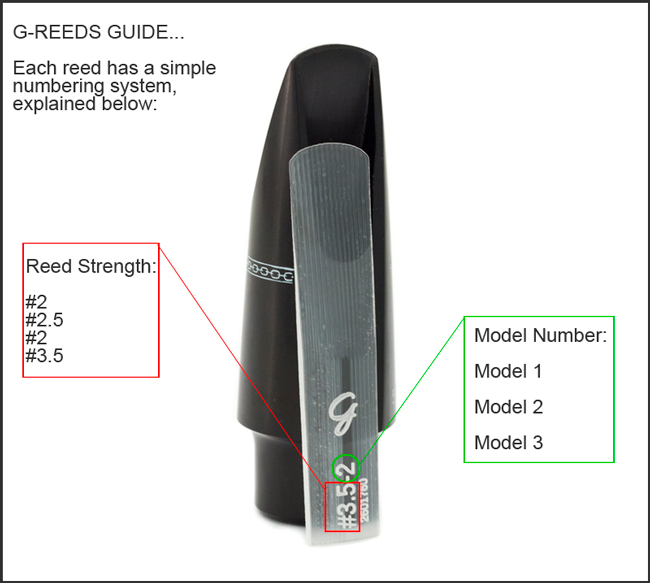 We are definitely  impressed with entire range due to their ease of play and consistency, perhaps even more so over other brands. When playing they feel very natural and with a smooth sound, and almost like cane reeds – without the huskiness some cane reeds produce, so if you treasure the feel of normal reeds but wanted to branch out and experience the effortlessness and resilience of synthetic reeds, then we suggest you try these.
One thing we did notice on trying these out was that they do play fairly soft; e.g. if you're used to a particular strength of cane reeds, size up when trying these. They were also definitely easier to blow over the mid- to bottom octaves, requiring a slightly tighter embouchure as you reach the highest notes.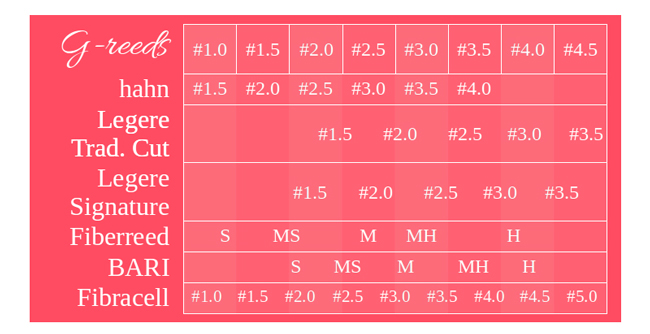 But on a lighter note (pun unintended!), these new recruits get a thumbs up from us when it comes to opening your wallet. The good news is you won't have to shell out as much cash for them as, for example, Légère reeds. There is no bad news, unless you expect to pay pennies…but at £19.99 for an alto reed, that's pretty affordable and the cheapest around when it comes to quality synthetic options.
So what's stopping you?! Why don't you give these a go and let us know what you think – We happily welcome all feedback on our stock.
Tags:
alto sax
|
G-Reeds
|
legere sax reeds
|
new G reeds
|
Reeds
|
synthetic sax reeds
|
tenor sax
"Faz" by Peter Gardner
The number of great clarinet players who were born or learned to play in New Orleans when jazz was in its infancy is quite amazing.  Johnny Dodds, Edmond Hall, Albert Nicholas, Omer Simeon, Leon Roppolo, Jimmy Noone, Barney Bigard, Sidney Bechet and Irving Henry Prestopnik are just some that come to mind. If the last of these is not too familiar, maybe you know him under the Mediterranean name for 'beans', possibly acquired as a term of commendation, or because in his early days he only played from music in a prim and proper or 'fah-so-lah' kind of way.  Still, whatever its etymology, 'Fazola' replaced the east European name of his father, 'Henry' was dropped and for most of his adult life he was known as Irving Fazola or 'Faz'.
Born in New Orleans in December 1912, Fazola's first music lessons were on the piano, but he soon switched his attention to the saxophone and then to the Albert system clarinet.  For a while he dabbled with the Boehm system, though he soon went back to the Albert system and he would play Albert clarinets for the rest of his life, frequently doubling on alto saxophone and occasionally trebling on baritone.  By the time he was in his late teens he had developed what John Chilton calls "three dominant interests that went with his passion for music, they were eating (his greed was so indiscriminate that he became known to all his pals as 'The Goat'), drinking (at that age…Faz's favourite tipple was gin, with beer chasers) and finding girls."  From his teenage years Faz had "an energetic interest in female company that never dwindled".  Those who knew Fazola well have also stressed that he could be fiery-tempered and aggressive and that his speech was littered with oaths and curses.
Fortunately art doesn't have to reflect life and by the time Fazola was in his twenties his clarinet playing was a thing of beauty.  He had a soft, full, round, liquid sound in all registers, his initial difficulties with improvising were a thing of the past and he had become an inventive and melodic soloist, and he swung effortlessly.  Fazola's early hero had been the famous clarinettist with the New Orleans Rhythm Kings, Leon Roppolo, but the style that Faz developed was much less assertive than Roppolo's and Fazola's tone was never strident.  And, above all, it was his tone that marked Faz out as special.  'Opulent' and 'creamy' are just two of the adjectives that have been used to describe it.  As for similarities, the sound that Barney Bigard produced in the 30s and the well-rounded tone of Jimmy Noone come close, though they lacked the richness, the opulence, Fazola could muster.
Not surprisingly Fazola attracted attention from famous bandleaders who were keen to add a star soloist to their reed sections, but for a few years Faz declined their lucrative offers; he was more than content playing, eating and drinking excessively and chasing women in his native city.
Eventually bandleader Ben Pollack lured Faz away from New Orleans. Ben Pollack was a drummer and the bands he led in the 1920s and early 30s included several musicians who would become major stars in the Swing Era: Benny Goodman, Glenn Miller, Jack Teagarden and Harry James all served apprenticeships in Pollack's orchestras.  Once Fazola began to tour with Pollack and had started to make records (1), such as 'Song of the Islands' (1936) and 'Jimtown Blues' (1936), he came to national attention, though the pursuit of fame was never one of Faz's vices; he had plenty of others to take up his time and add to his girth.
A restless man when away from New Orleans, Faz's stay with Ben Pollack soon ended  After a brief spell with Glenn Miller and an even briefer one back with Pollack, Fazola made the most important move of his career, and, in a roundabout way, Ben Pollack would be linked to this new and important development as well. Let me explain.  A couple of years before Faz left New Orleans, a band led by Pollack was touring and had reached California, but the band was not drawing the crowds or getting the promotion or the engagements its sidemen hoped for. Maybe the fault lay with the leader; all Pollack seemed interested in was furthering the career of the love of his life, the band's girl singer, Doris Robbins.  Unhappy at the way things were going, many of Pollack's musicians decided to abandon their leader, to move to New York and to regroup.  However, when 'Pollack's orphans' got together in New York, they lacked a front man, someone to call the tunes, someone audiences would warm to, someone to hold a baton, even if a sideman was actually counting the band in.  After a while, the orphans found a person who fitted the bill.  He was tall, good-looking, had the right kind of personality and sang passably.  He was Bob, the younger brother of Bing Crosby. So, 'Pollack's orphans' acquired a front man and a name.  They became the Bob Crosby Orchestra. In March 1938 Fazola joined Crosby and the period that Faz spent with the Bob Crosby Orchestra and its popular small group, the Bob Cats, would turn out to be the most productive of the clarinettist's short career.
On 10th March, 1938, Fazola recorded Kokomo Arnold's 'Milk Cow Blues' (2) with the Bob Crosby Orchestra, taking a two-chorus majestic and effortless solo before guitarist Nappy Lamare begins his tongue-in-cheek vocal.  Playing behind Lamare's vocal and later exchanging riffs with the trumpet section, we have what I take to be a wonderful clarinet trio of Fazola, Matty Matlock and Eddie Miller.  Few bands have ever been so blessed with such a trio of clarinettists.  Faz seems to be fitting into his new musical surroundings beautifully. A few days later Fazola recorded 'March of the Bob Cats' with the famous eight-piece small group drawn from the Crosby orchestra. As a tune, the 'March' is heavily indebted to 'Maryland, My Maryland' and Fazola's two-chorus solo is a model of coherence and precision, perhaps reflecting his own experience of New Orleans marches.  When he joins in the final choruses, Faz's high note playing demonstrates that clarinettists needn't be fussy to be effective ensemble players.  But Fazola's most famous recording with Crosby wouldn't be made for another seven months.
In October 1938 the Crosby orchestra recorded a tune by its bass player, Bob Haggart, that would be forever associated with Fazola.   I don't know whether 'My Inspiration' was written with Faz in mind, but the tune's opening melody and sentiment fit him like the best of bespoke tailoring.  On 'My Inspiration' Fazola is the only soloist and he begins by playing the first theme with a delicacy that is ideally suited to Haggart's haunting melody.  When the tempo quickens, he solos with relaxation and certainty while the orchestra swings lustily behind him.  Later clarinettists, like Bob Wilber, Kenny Davern and England's Alan Barnes, would play 'My Inspiration' as a tribute to Fazola. During 1939 and at the start of 1940 Faz continued to make memorable recordings with Crosby's big and small bands.
Among the various singers who appeared with the Crosby band, one of the youngest was Katherine Laverne Starks, who changed her name to Kay Starr and eventually became one of the pop world's most successful vocalists.  She toured with Bob Crosby when she was seventeen, with her mother as chaperone, and, apart from singing, the young Kay Starr had another important duty to perform.  She protected Faz's jug and prevented other sidemen from getting their hands on it. "He always called me little sister and gave me his jug to hold when he soloed because he trusted me and knew that I didn't drink."
But drinking on the bandstand was part of Fazola's routine and may have contributed to what has been called 'The Fazola-Conniff tussle'. According to one account, during a live performance, a particular passage in an arrangement required a fast trill from Fazola.  Having visited his jug several times that evening, Fazola's fingers could only move slowly.  The fast trill wasn't even medium-paced, and some of the band, including a young trombonist, Ray Conniff, found this amusing, much to Fazola's annoyance.  Conniff, who would later find international fame as an arranger, was not one of Fazola's favourite people to start with, and his amusement at the sloppy trill led to Fazola exchanging words with him on stage and exchanging punches with him off-stage. Few punches, if any, landed, but the incident prompted Fazola to quit the Crosby band.  As John Chilton has pointed out, Fazola "had never stayed for more than two years with any band" and "it is probable that (he)…would soon have left the band anyway".  So, perhaps the "tussle" was just the excuse that Fazola needed.  Fazola left Crosby at the start of June 1940.
After playing for a while in New Orleans Fazola made a move that still seems surprising.  He joined the Claude Thornhill orchestra. To-day Thornhill is remembered for harmonically progressive arrangements and swing versions of classical pieces. (Canadian Gil Evans, who rose to prominence in the 1950s through his arrangements for Miles Davis arranged for Thornhill in the 1940s.) Apparently Thornhill was delighted to recruit Fazola, who added a rich voice to the reed section and contributed short but delicate dixieland solos to Brahms' 'Hungarian Dance No. 5' (1941) and Schuman's 'Traumerei' (1941) amongst other well known classics (3).
At the start of 1942 Faz was on the move again.  This time he joined Muggsy Spanier's orchestra, this being a big band that Spanier hoped would be a great commercial success. Fazola also recorded with Muggsy's small group, the Ragtimers, and had one "helluva fight" with one of Spanier's arrangers. Brief stays with other bands ensued, but by the autumn of 1943, vastly overweight and suffering from high blood pressure, Fazola returned to his favourite city.  In New Orleans he began to work on the radio, played in clubs, proved to be an inspiration for the young Pete Fountain and in the mid 1940s 'Irving Fazola and His Dixielanders', a seven-piece group, made several recordings for Keynote in New Orleans, including a delicious blues, 'Mostly Faz'(1945).  All of these recordings show that Fazola's musical standards were undiminished.
By now his health was deteriorating.  A man of medium height, some reports say that at times in his later years he weighed over twenty stones and was frequently out of breath.  Yet, despite medical advice, he carried on eating and drinking to excess.  He died in his sleep on 20th March, 1949.  He was only thirty-six.
What I have always taken as one of the endearing qualities in Fazola's clarinet playing,  though some may see it as restrictive, is that he showed great respect for the instrument. He was never harsh or domineering or frantic or concerned with pushing boundaries.  He was concerned with being mellow, melodic and warm, and, despite a tragically short career, the recorded evidence shows he succeeded wonderfully. Sadly appraisals of Fazola's achievements often reveal the extent to which race imbues jazz criticism. 'The greatest white New Orleans clarinettist' and 'One of the great white jazz clarinettists' are the kinds of valuations I have in mind. Maybe we should just say he was one helluva clarinet player.  After all, that's what our ears tell us.
Peter Gardner
February, 2018
Acknowledgements
I would like to thank Steve Marshall, Marshall McGurk, Maryport, Cumbria and Dawkes' woodwind specialist who prepares Dawkes' newsletters, Sam Gregory.
Endnotes
(1) Several of the recordings I mention, including 'Song of the Islands', 'Jimtown Blues', 'My Inspiration' and 'Mostly Faz', are on the Living Era CD,  '"Faz" Irving Fazola' CD AJA 5279.
(2)  'Milk Cow Blues' and 'March of the Bob Cats' are on the Living Era CD, 'Stomp Off, Let's Go! The Bob Crosby Orchestra and the Bob Cats', CD AJA 5097.
(3) 'Hungarian Dance No. 5' and 'Traumerei' are on the Living Era CD, 'Claude Thornhill and His Orchestra, 'Snowfall'', CD AJA 5542.
Some sources used
Vic Bellerby, Notes for ASV's 'Stomp Off , Let's Go!', Bob Crosby Orchestra and the Bob Cats, 1992 (AJA 5097) and ASV's 'Faz', Irving Fazola, 1998 (AJA 5279)..
John Chilton. Stomp Off, Let's Go! The Story of Bob Crosby's Bob Cats and Big Band (Jazz Book Service, London, 1983).
George T. Simon, The Big Bands (Collier  Macmillan, New York, 1974).
John R. Tumpak, When Swing Was the Thing (Marquette University Press, Milwaukee, 2009).
Tags:
clarinet
|
dawkes music
|
irving fazola clarinet
|
Jazz Blog
|
jazz clarinet
|
Jazz History
5% OFF – Top 10 Saxes Offer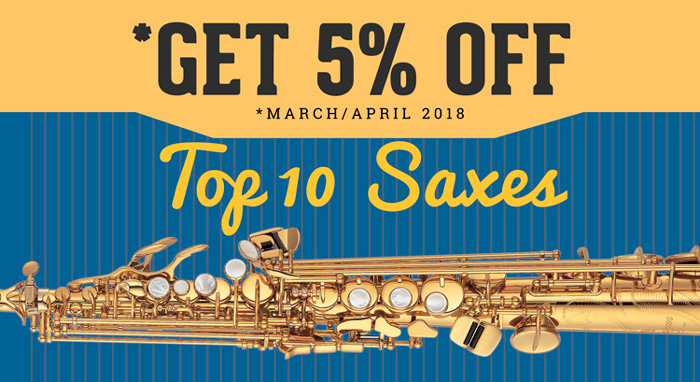 We're delighted to be offering an extra 5% discount off our Top 10 Saxophone models until April 30th, 2018. There is limited stock available across a variety of brands including Yamaha, Selmer & Yanagisawa. So, don't miss this chance to grab a bargain for either a beginner, upgrader or pro player – we've got something for everyone.
Each instrument comes with the following:
Professional Set-up and Pre-Sale check in our Woodwind Workshop
Minimum 1 Year Warranty (others more)
14 Day Approval
Case and Mouthpiece Supplied (unless stated otherwise)
Simply Use Code TOP10 At Checkout Or In-Store To Claim Your 5% Discount.
Yamaha YAS280 & YTS280: The 280 series from Yamaha are amazing beginner or first upgrade models. The quality of build coupled with the ease and excellence of how they play make these the most highly recommended first Sax models. These 280 models are our top selling Saxes simply because you cannot go wrong, and now with the extra discount it's a great time to buy.
YAS-280 Alto Sax: Usual Discount Price £755 – Now £717.25 with code TOP10 (shop now)
YTS-280 Tenor Sax: Usual Discount Price £1225 – Now £1163.75 with code TOP10 (shop now)
Yamaha YAS62 & YTS62: Suitable for a wide variety of playing styles the Yamaha 62 models are arguably the measuring stick we hold all other Saxophones against. The latest models features a 62 Neck which has a slightly narrower bore than the previous model, this ensures the intonation from top to bottom is very controllable and bang in tune. It also gives the 62 a more centred solid sound.
As ever the strength of the 62 comes from the core brass chosen to make it and also the integrated keyposts that run down the whole length of the body and join the key pillars to the main tube. These added brass plates offer solidity to both the build and tone. If you're seeking a quality upgrade without totally breaking the bank this is a great place to look!
YAS-62 Alto Sax: Usual Discount Price £1975 – Now £1876.25 with code TOP10 (shop now)
YTS-62 Tenor Sax: Usual Discount Price £2405 – Now £2284.75 with code TOP10 (shop now)

Yamaha YSS475 Soprano: The YSS-475II Soprano Sax delivers professional qualities at an intermediate price. Much of its design is based upon the more expensive Pro and Custom saxes, and it shares many of the same features. The 475 offers outstanding response, tone, and intonation, as well as a comfortable playability.
Many saxophonists moving from alto or tenor saxophone can sometimes find the soprano sax harder to play. The 4C mouthpiece supplied with the YSS-475II makes the instrument very free blowing whilst the lightweight body makes it easy to hold. The body is designed to give maximum response and good intonation whilst giving the player optimum tone quality.
Usual Discount Price £1635 – Now £1553.25 with code TOP10 (shop now)
Yamaha YAS82Z & YTS82Z: The evolution of the Yamaha Custom Z continues. With a powerful sound and the ability to play fast passages without difficulty, the Z is crafted to meet your highest expectations. They have been re-examined from the neck to the bell and are now equipped with a one-piece bell for increased resonance and the highly regarded V1 neck for the optimal combination of response and control.
If you're looking for a modern classic this new 82Z range is the place to look!
YAS-82Z Alto Sax: Usual Discount Price £3125 – Now £2968.75 with code TOP10 (shop now)
YTS-82Z Tenor Sax: Usual Discount Price £3695 – Now £3510.25 with code TOP10 (shop now)

Selmer Seles Axos Alto: Designed for the advancing and upgrading player the Seles range captures some of the magic of the Selmer sound and feel but at a more approachable price than their SA80 and Reference series. Selmer have developed effective ways of reducing hand involvement and thus costs in this Seles range, making them more approachable for players wanting a high level instrument sub £2500.
We've found this Seles Axos Alto Sax really does have that classic Selmer sound which is rich, full and powerful. The brass used in Selmer Saxes plays a large part in this sound and resonance and they've really encapsulated this in the Seles Axos.
Usual Discount Price £2320 – Now £2204 with code TOP10 (shop now)
Selmer Reference 54 Alto: The Selmer Ref 54 Alto Sax is part of a Reference series that has re-shaped the modern day perception of the Selmer brand. Produced to pay homage to their MKVI Saxophones that began production in 1954, the Reference series was designed to bring a new level of tone and ergonomics to the worlds leading Saxophone brand.
The 54 is a clear tip of the hat to 1954 when the MKVi was first produced and the look of the new instrument oozes class and character. The dark lacquer is deep and rich and the intricate hand engraving really delivers on an aesthetic level but most importantly the sound concept and intonation is spot on
Usual Discount Price £4765 – Now £4526.75 with code TOP10 (shop now)

Yanagisawa AWO1 / TWO1 / SWO1: These new Yanagisawa's replace the old 901 series and have managed to build on their predecessors excellent success. With a whole new internal bore design, different tone hole positions and additional plates for added weight at critical parts of the tube, this new range adds more power and dynamism to the tone.
AWO1 Alto Sax: Usual Discount Price £2295 – Now £2180.25 with code TOP10 (shop now)
TWO1 Tenor Sax: Usual Discount Price £2685 – Now £2550.75 with code TOP10 (shop now)
SWO1 Soprano Sax: Usual Discount Price £2695 – Now £2560.25 with code TOP 10 (shop now)
Yanagisawa AWO2 / TWO2: Boasting all of the new technical developments as mentioned above, these beautiful bronze body Yanagisawa models have a wonderfully rich and elegant tone. The additional copper in the core material adds complexity and richness to the sound and make these bronze models quite unique compared to any other Saxes at this price point. For those looking for an elegance of tone these O2 models should be your first destination.
AWO2 Alto Sax: Usual Discount Price £2860 – Now £2717 with code TOP10 (shop now)
TWO2 Tenor Sax: Usual Discount Price £3175 – Now £3016.25 with code TOP10 (shop now)

Yanagisawa B901 Baritone: It couldn't be a 'Top 10' without including a Bari Sax! And what a Bari to include…the B901 is our most popular Baritone, chosen by players for all genres, the B901 has amazing ergonomics (it's like playing a Tenor) and has a well balanced tone from top to bottom. There's plenty of rich, fat, oozing low end and the higher register has a sweetness that is often missing on Bari's. If you want to scratch your Bari 'itch' now's the time to do it…
Usual Discount Price £4575 – Now £4346.25 with code TOP10 (shop now)
Wood Stone New Vintage AF Tenor: The Wood Stone 'New Vintage' Tenor Saxophones are the result of years of technical expertise and know-how from the wonderful technicians at Ishimori, Japan.
The Ishimori repair centre/shop in Japan is regarded by some of the worlds finest sax players as THE mecca of Saxophone repair and customisation. Out of the years of experience of these highly skilled Technicians comes the Wood Stone 'New Vintage' Tenor Sax; a culmination of their technical expertise, coupled with the meticulous study of vintage saxes of years gone by with the application of modern design and acoustical advances.
The AF model is an antique finish, this gives the Sax a dark, warm tone that is equally resonant and rich throughout the whole range.
Usual Discount Price £4395 – Now £4175.25 with code TOP10 (shop now)

Tags:
alto sax
|
Bari Sax
|
Sax Discounts
|
Sax Offers
|
Soprano Sax
|
tenor sax
|
Top 10 Sax Offers
5% OFF – Top 10 Clarinets Offer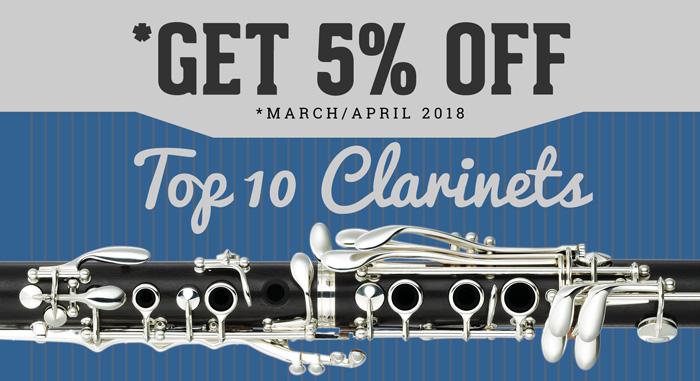 We're delighted to be offering an extra 5% discount off our Top 10 Clarinet models until April 30th, 2018. There is limited stock available so don't miss this chance to grab a bargain for either a beginner, upgrader or pro player – we've got something for everyone.
Each instrument comes with the following:
Professional Set-up and Pre-Sale check in our Woodwind Workshop
Minimum 1 Year Warranty (others more)
14 Day Approval
Case and Mouthpiece Supplied (unless stated otherwise)
Simply Use Code

TOP10

At Checkout Or In-Store To Claim Your 5% Discount.

Windcraft WCL-100: The fantastic Windcraft beginners Clarinet is a great value entry level instrument for any new player. The instrument is carefully checked and set-up in our workshop prior to sale and comes with a 5 year warranty. Designed to be easy to play and realible to own the WCL-100 is a great first clarinet.

Usual Discount Price: £199 – Now £189.05 with code TOP10 (shop now)

Yamaha YCL-255: Arguably the greatest beginner model ever produced. The Yamaha 255 is very easy to play, has a beautiful tone and is extremely well made. The choice of many Teachers and Players across the world, the Yamaha is light to hold but handles like an upgrade instrument.

Usual Discount Price: £465 – Now £441.75 with code TOP10 (shop now)

Uebel Etude: With a rich tradition in clarinet manufacturing the Uebel clarinets offer a warm and full tone. This Etude model is a great value option for anybody making the first upgrade from a cheap beginners model, or indeed someone starting out but wanting to jump straight to a better instrument. The clarinet body and bell are made of ABS but the barrels (two supplied: 65mm and 66mm) are wooden which adds some depth and quality to the tone.
Usual Discount Price: £565 – Now £536.75 with code TOP10 (shop now)
Buffet E12FL: This new model Buffet was recently added to the range as a next step up from an E11 but at a level just below the E13. The Buffet E12FL model features the extra Eb lever key, made clear by the extra L in the model code. This provides an alternative fingering that is only usual found on more expensive models.This is an ideal first wooden clarinet for any advancing player.
Usual Discount Price: £1078 – Now £1024.10 with code TOP10 (shop now)
Yamaha YCL-650: The YCL-650S is excellent value for money, providing the player with a professional quality clarinet at a much lower price. It contains many of the features and playing characteristics of the custom series clarinets including undercut toneholes, resonance chamber in the bell and many of the benefits only seen on handcrafted instruments.
Usual Discount Price: £1095 – Now £1040.25 with code TOP10 (shop now)
Backun Protege Cocobolo: An affordable professional instrument, the Protege Bb Clarinet is the next logical step between beginner and Artist models. With its uncompromising tone, impeccable intonation and a unique acoustical design, the Protege redefines what an aspiring player needs in a clarinet. This model is made of Cocobolo wood which adds a certain sweetness and depth to the tone, the keys are finished in bright silver plate.
Usual Discount Price: £1695 – Now £1610.25 with code TOP10 (shop now)
Buffet R13: Developed in 1955 under the guidance of Robert Carree, the R13 clarinet quickly became the legendary choice of professional musicians. The R13 impresses with its rich and focused sound, its power in all registers and its flexibility. The R13 is suitable for all types of musician, symphony or chamber music, soloists, teachers, those in marching bands, students and amateurs.
Surely the most popular clarinet in the world Buffet R13s can fulfil any musical requirement in any environment. The measuring point for all others to be compared against.
Usual Discount Price: £2436 – Now £2314.20 with code TOP10 (shop now)
Yamaha YCLCSGIII & YCLCSGIIIL: Assisted by top UK professional Michael Collins and other European Yamaha artists this new model oozes quality and is meticulously produced to the highest standards.
Both the bell and barrel have been redesigned from the original CSG clarinet, these changes add more warmth and resonance to the instrument. The CSGIII also benefits from new sleeker key modelling, redesigned tonehole positions and design, and correct use of leather and cork pads at various points of the instrument. All these improvements add to the projection and feel of pro quality.
CSGIII Usual Discount Price: £2565 – Now £2436.75 with code TOP10 (shop now)
CSGIIIL* Usual Discount Price: £2605 – Now £2474.75 with code TOP10 (shop now)
*L model has Low E/F Pitch Correction Key Included

Buffet RC Prestige: Numerous improvements have been made to the famous RC Prestige, now its already remarkable tone is even better: the shape of the bell plays a major role in adding warmth and focus. Carefully chosen quality materials, the talents of the best craftsmen, cutting-edge technology and unparalleled skills come together in the RC Prestige.
The body is produced from the finest selected, dried and tested wood. It has a high precision bore and the undercutting of tone holes is carried out according to BUFFET CRAMPON strict specifications. The keywork is nickel silver, pre-plated in copper, then silver plated on top. This is an extremely impressive instrument suitable for the most demanding professional requirements.
Usual Discount Price: £3412 – Now £3241.40 with code TOP10 (shop now)
Buffet Tradition: The new Tradition has been inspired by a 1960s design while taking into account the needs of modern musical repertoire and performance practice, this brand new cylindrical bore compliments the R13 and RC bore families, adding a new acoustic dimension to the Buffet offerings.
Featuring a cylindrical bore design, the new clarinet harkens back to the purity of sound produced by the BC20, with a tone hole placement inspired by the Tosca design. The result is an instrument that presents a clear, focused, rich sound suitable for any acoustic environment and an even scale for consistent intonation throughout all registers.
Usual Discount Price: £3412 – Now £3241.40 with code TOP10 (shop now)

Tags:
Clarinets
|
dawkes music
|
Top 10 Clarinet Offers
Learn To Play Day – Success Story #1
In preparation for this years national 'Learn To Play Day' we are chatting with some new players who started their musical journeys at a previous Learn To Play event. Whatever your age, there's nothing to stop you picking up an instrument and achieving your musical dreams! Over to you Heather…
Heather – Saxophone
Following a chance conversation with a fellow participant on a pottery course,  where I related that I had always wanted to learn the saxophone, I discovered that  it was now quite affordable to hire a musical instrument on a monthly basis.
Armed with this nugget of information I started trawling the  web in early 2016 for information to realise my  re-awakened dream.   However  it was not until I found the 'Learn to play day' link on Dawkes website for March 2016 that I had the courage to visit a music shop  with a view to trying out an instrument."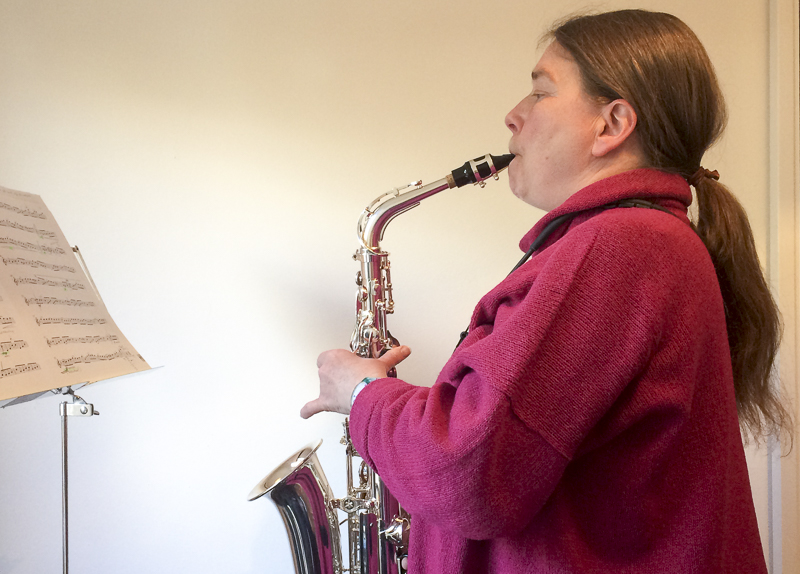 I booked myself in for two sessions; one for the clarinet and one for saxophone mainly on the grounds that the former was smaller and possibly less likely to annoy the neighbours if I did take it up. When the day came any fears I had were rapidly dispelled as each group was small (about 5-7 people as I recall),  most of the participants were adults and it felt very relaxed as the tutor showed us how to prepare a reed and to handle the instrument.  Almost before we knew it we were attempting the simple tunes of 'Hot Cross Buns' and 'Three Blind Mice'.
I tried the clarinet first and then the saxophone session. I found the notes slightly easier to produce on the saxophone and the note fingering is at first similar to a descant recorder, reviving some memory from the only instrument I had played as a child.
After the sessions we were free to browse and try the instruments in the showroom. I initially planned on hiring an instrument – but ended up spending the whole afternoon in the shop and became smitten with a silver plated alto sax that I finally purchased in the closing minutes of the day.
I was lucky enough to find a teacher  (through Dawkes) living not far from my home and have been taking weekly lessons  ever since.  After about 3-4 months I could play just about enough to join in the monthly  'My Music' session at Dawkes and even played with them for some pieces in the Henley Bandstand in the Summer. I (and my teacher) have worked 'our' way through most of one learner book and as well as some additional short pieces such as some James Rae short jazz  works. I am now beginning to attempt some longer pieces. Among the current ones I have one piece that everyone knows on my practice list –  "The Girl from Ipanema". It is still an early work in progress, but I am further  on than I might have thought  when first playing 'Hot Cross Buns in March 2016.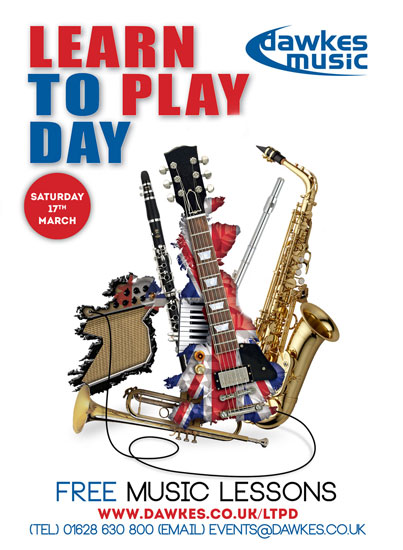 Tags:
Heather Sax
|
LTPD
|
LTPD Success #1
|
LTPD Success Stories
Learn To Play Day – Success Story #2
In preparation for this years national 'Learn To Play Day' we are chatting with some new players who started their musical journeys at a previous Learn To Play event. Whatever your age, there's nothing to stop you picking up an instrument and achieving your musical dreams! Over to you Jinny…
Jinny – Clarinet
I saw an advertisement in the local paper in March 2012 inviting adults and children to take advantage of The National Learn to Play Day which was being supported by my local Woodwind Shop, Dawkes Music of Maidenhead.
I decided it was an opportunity (not to be missed) to try playing a clarinet, how would it feel? Will I manage to get a note out of it?
I went along quite early on the Learn To Play Day; everyone in Dawkes Music was welcoming and the atmosphere was friendly and encouraging.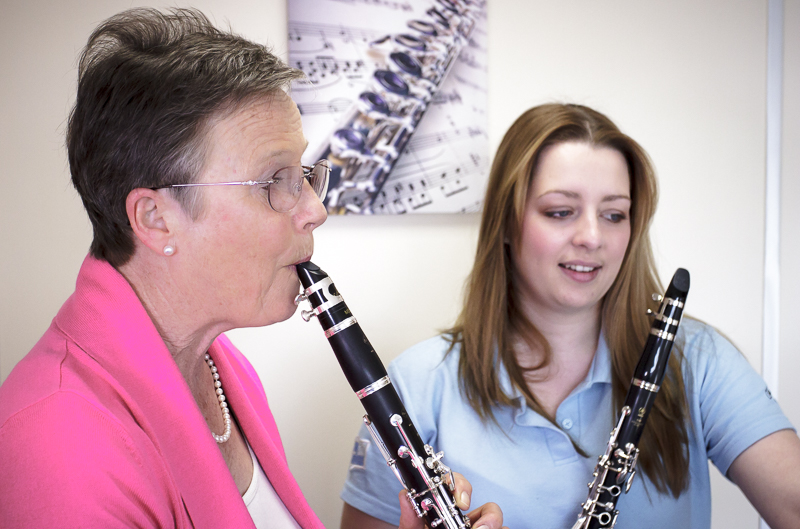 I had a 20 minute session (with the clarinet set up for me) with one of the staff and I'm still playing the clarinet 4 years later. Having achieved a few notes during the Learn to Play Day session I was completely hooked! With a hired clarinet from Dawkes (not expensive) I started weekly lessons in the April of 2012, joined the Dawkes/MyMusic monthly Sunday play group/band in the autumn and joined Windsor Community Orchestra in January 2013.
I am now working towards my Grade 5, which I plan to take in the Summer this year. It's been great meeting other people who are enthusiastic about playing their favourite instrument, saxophones, oboes, flutes; well good for them but the one for me is definitely the clarinet!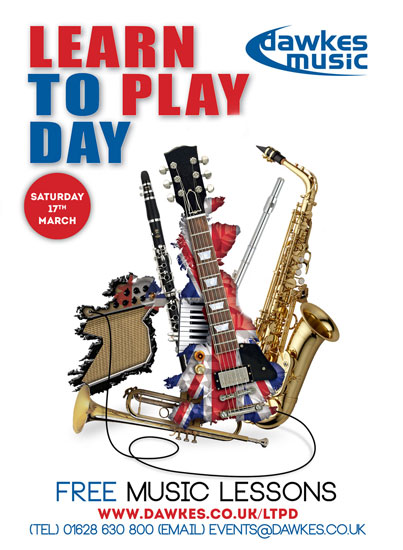 Tags:
clarinet
|
Jinny - Clarinet
|
LTPD
|
LTPD Success #2
|
LTPD Success Stories
|
Play The Clarinet
Learn To Play Day – Success Story #3
In preparation for this years national 'Learn To Play Day' we are chatting with some new players who started their musical journeys at a previous Learn To Play event. Whatever your age, there's nothing to stop you picking up an instrument and achieving your musical dreams! Over to you Joshua…
Joshua – Saxophone
When I was eight years old I wanted to play a musical instrument and I was very keen on the Saxophone. My Dad filled in the forms for me to have lessons at school however we received a note from the music teacher at school saying that I might be too small to play. The teacher suggested going to a music shop to try out some instruments to see if I was big enough. I visited Dawkes 'Learn to Play Day', trying out the Saxophone, Flute and Clarinet. The Saxophone was my favourite!
Jon at Dawkes helped me choose my first Alto Saxophone which was a Yamaha 280. I have been playing for about 3 ½ years now and worked very hard with my practising. I have passed my Grade 3, Grade 5 and Grade 6 ABRSM exams all with distinction. I also passed my Grade 5 ABRSM theory exam with a distinction at age 11. I am currently working on my Grade 8 ABRSM and will be taking the exam in the summer of 2016. I am also looking to audition for the Royal College of Music Junior Department.
I currently play in a number of different bands. At the High Wycombe Music Centre I play in the Senior Concert Band, Sax Choir and Big Band One. I am the youngest member of all three bands. At school I play in the First Wind Band and Swing Band. Jon at Dawkes helped me to upgrade my first Alto Saxophone from the Yamaha 280 and I now play a Yanagisawa AWO20. In addition, I play Tenor Sax in some of the bands and again Jon helped me choose which was the best instrument for me. I have a Yamaha YTS62 Tenor Saxophone.
I have played for the Woman's Institute (WI), Rotary club, taken part in the Wycombe Orpheus competition as well as playing at the Albert Hall with the High Wycombe Music Centre. The highlight of playing the Saxophone was performing at Ronnie Scotts Jazz Club which was amazing! I can't wait to get a chance to go back again!
Joshua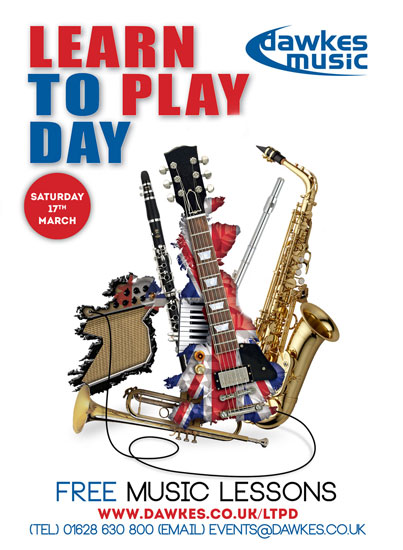 Tags:
Joshua - Sax
|
Learn The Sax
|
LTPD
|
LTPD Success #3
|
LTPD Success Stories
|
Play The Sax
'Jaws'
"I didn't buy an instrument for the sake of the music…I wanted the instrument for what it represented. By watching musicians I saw that they drank, they smoked, they got all the broads and they didn't get up early in the morning.  That attracted me.  My next move was to see who got the most attention, so it was between the tenor saxophonist and the drummer.  The drums looked like too much work, so I said I'll get one of those tenor saxophones.  That's the truth."
Whether playing the saxophone brought the results he hoped for is not recorded.  What we do know is that even if he only saw playing the tenor saxophone as a means to an end, Eddie Davis or, to give him the name he had for much of his career, Eddie 'Lockjaw' Davis would become one of the most recognisable and one of the most musically muscular of tenor players.
As for the nickname 'Lockjaw', whether it came from the way he gripped his tenor's mouthpiece or  from the title of one of his early recordings has been a matter of debate, but the nickname and its abbreviation 'Jaws' certainly stuck.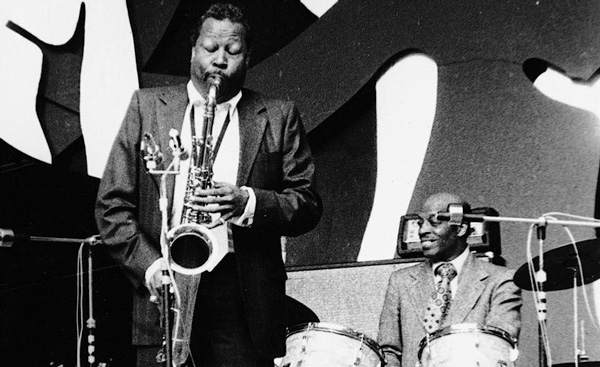 'Lockjaw' seems to have been a man of natural authority and considerable self-confidence.  For several years he worked at Minton's Playhouse, a club enshrined in jazz folklore for its fearsome jam sessions and its role in the emergence of bebop.  But he wasn't just Minton's resident tenor player; the manager of Minton's, Teddy Hill, found it difficult to manage both the club and its bandstand, so 'Lockjaw' had what he called the "policeman's job" of making sure that those musicians, who couldn't cut the mustard, (kindly?) left the stage. If his policing Minton's showed his authority, one of  'Lockjaw's' earliest encounters with Count Basie speaks volumes about his self-confidence. The Basie orchestra was playing at the Savoy Ballroom in New York and 'Lockjaw', as Basie recalled, who was keen to join the Count's band, would sit "right there behind me…near where the piano was" and he "kept saying, 'You need me in this band.' And I said, 'No, I don't.  I don't need nobody.' But he'd say, 'You need me in there.'"  Later in his career, when Lockjaw was enjoying one of his longer spells with Basie, he was also the road manager for the band, and he proved to be one of the best Basie ever had.  "He was tough, but he was fair.  And he was honest…But he could get pretty rough…He wouldn't stand for any stuff from anybody."
In the arts the relationship between the work of art and the personality of the performer or creator is not simplistic, and the art of jazz is no exception; some of the most moving, sensitive and heartfelt playing in jazz has come from individuals who, by most accounts, could be nasty, brutish and distinctly short of those qualities that make someone warm, kind and approachable. However, with 'Lockjaw' I'm sure you heard the man; he played with authority and confidence ("I deliberately handle the horn the way I do, to show I'm its master!") and, to borrow from Basie, with roughness, toughness and honesty.
Born in New York in 1922, Davis bought a tenor sax in his late teens, and, though he was mainly self-taught with the aid of an instruction book, he was playing professionally in a matter of months.  Spells with the bands of Cootie Williams, Lucky Millinder, Andy Kirk and Louis Armstrong preceded his long residence at Minton's.  His early influences were tenor players from the swing era, like Coleman Hawkins and Ben Webster, but Bop and R & B would also have an impact on his style.  By 1958 he was enjoying his second spell with Count Basie and he featured on what was surely one of the best big band albums of the first LP era. (Apparently another LP era is underway at present.) 'The Atomic Basie' consisted of eleven pieces by Neil Hefti and 'Lockjaw' solos magnificently on several tracks.  He is deliciously Websterish on the bluesy 'After Supper', aggressive on 'Flight of the Foo Birds' and even more pugnacious when he solos at greater length on 'Double-O'.  But his supreme moment, I would contend, is on 'Whirly Bird'.  He enters like a lion, not frantic, just   menacing and in complete command. You know this is someone who "wouldn't stand for any stuff from anybody".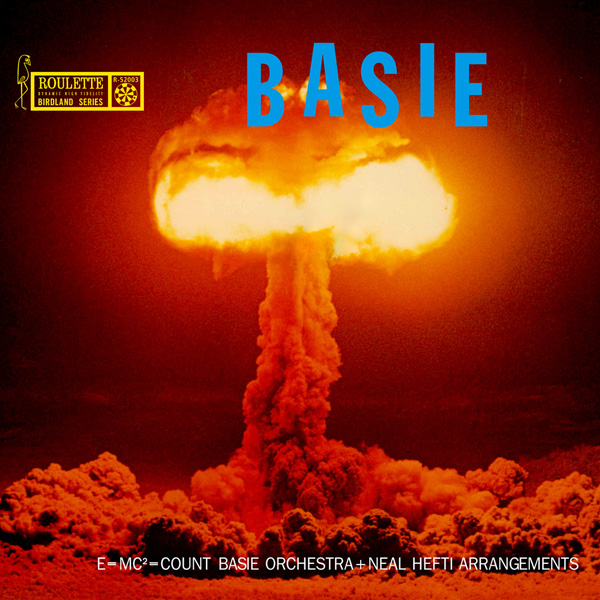 During the 1950s 'Lockjaw' also helped initiate a trend that would attract many followers; he started to play in small groups, normally trios, that featured organists usually playing the Hammond B-3 organ. Tenor-organ groups became a staple of soul jazz and one of 'Lockjaw's' most famous trios had the young Shirley Scott at the keyboard and pedals and Arthur Edgehill at the drums. In 1958, after he had left Basie, 'Lockjaw' along with Scott and Edgehill, and with the addition of George Duviver on bass and Jerome Richardson on flute, recorded two albums, 'Eddie 'Lockjaw' Davis Cookbook', Volumes 1 and 2.  Blues that rock or move seductively are prominent in the Cookbooks, but so are ballads: 'But Beautiful', 'Stardust' and 'I Surrender Dear' are three of the ballads that 'Lockjaw' treats with respect and delicacy, though you always know that hollers and a scream or two are lying in reserve
In 1960 'Lockjaw' joined forces with 'The Little Giant', aka 'The Fastest Tenor in the West', the unquenchable Johnny Griffin, to form a group frequently referred to as 'The Tough Tenors Quintet'.   The group recorded several notable albums for both Jazzland and Riverside, two of the earliest   being 'Battle Stations' and 'Tough Tenors' which, it is tempting to say, did exactly what they said on the labels, though, in fact, the two horn players didn't battle, but inspired one another, albeit robustly.  In the early sixties 'Lockjaw' also shared frontline duties in clubs and the recording studio with the fearsome Sonny Stitt.  If anything bears testimony to 'Lockjaw's' talent and the dependability of his own style, it is that he shared stages, spotlights, studios and microphones with both Griffin and Stitt, two sax players who would walk over anyone with a weakness, and 'Lockjaw' was never bettered and never deviated from his own distinctive brand of virile tenor.  As Scott Yanow observed, 'Lockjaw' "could hold his own in a saxophone battle with anyone".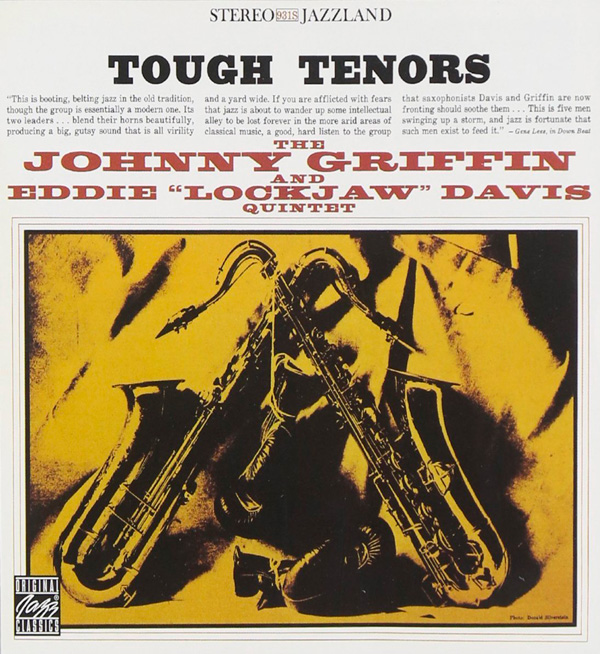 Just a few weeks after making 'Battle Stations' with Griffin, 'Jaws' was the featured soloist on an album that several critics have singled out for high praise. Recorded in September 1960, 'Trane Whistle' involves a big band playing originals and charts by the emerging and immensely talented Oliver Nelson plus two arrangements by Ernie Wilkins. The following year, on Nelson's rightly famous album 'Blues and the Abstract Truth', his composition 'Stolen Moments' would receive its definitive treatment.  On 'Trane Whistle' the tune was heard for the first time on record, though for its first appearance it was called 'The Stolen Moment', with 'Lockjaw' soloing at length over some gentle prompting from the brass section.
The quintet with Griffin toured and recorded extensively, but poorly paid bookings led to its demise  in 1962 and by 1963, 'Jaws', by his own admission, was feeling stale.  At this point in his career he gave up playing and became a booking agent, often booking bands and soloists into the very clubs where he had previously played.  Yet, playing still had a pull and by the mid 1960s he was back playing with Basie where with various breaks, he would stay for the next eight years or so. During one break he was in Europe with the outstanding Kenny Clarke-Francy Boland Big Band playing alongside Johnny Griffin during another break in 1970 he played with Griffin and the Clarke-Boland band's rhythm section  on an album recorded in Cologne called 'Tough Tenors Again 'N' Again'.
After Basie 'Lockjaw' pursued what Cook and Morton refer to as "the journeyman route of wandering freelance" through what remained of the '70s and the early '80s.  Frequently he paired up with trumpeter Harry 'Sweets' Edison, the two horns often engaging in what Cook and Morton call the "good cop/bad cop routine".  No prizes for guessing who the bad cop was.  One of my favourite 'Lockjaw' performances comes from this later period in his career.  It was recorded in Zurich's Widder Bar in March 1982.  With Gustav Csilk on piano, Isla Eckinger on bass and drummer Oliver Jackson, and before what sounds like a small audience, 'Jaws' tackles the Vernon Duke/Ira Gershwin standard 'I Can't Get Started' (1). He begins with a crowd–grabbing introduction, which is followed by a very slow and at times breathy ballad performance topped off with a coda that ends with a scream. This is ballad-playing with muscles.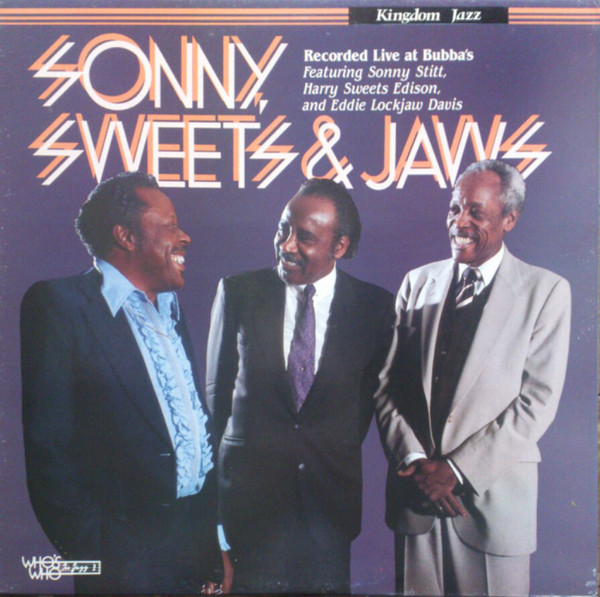 It is said that Eddie 'Lockjaw' Davis appeared on over five hundred albums as leader, co-leader or sideman. He was an active musician until the September of his final year, but in November 1986, he died of cancer.  He was sixty-four years old, though some obituaries said he was sixty-five.  During his life-time many big-toned tenor players had appeared on the jazz scene – Illinois Jacquet, Arnett Cobb, Gene Ammons, Red Holloway, King Curtis, Plas Johnson, Stanley Turrentine are just a few that come to mind – , but none was as readily identifiable as 'Lockjaw'.
Jazz has come a long way – from funeral processions and funky butt halls to conservatories and the ivy covered walls of academia – and this respectability has brought standardised sounds for jazz's instruments. Bechet's vibrato, Johnny Dodds' edge, Pee Wee's growls, Pete Brown's staccato stridency, Webster's breath and 'Lockjaw's' punch, hollers and screams may all be outside to-day's prescribed norms. Musical legitimacy can threaten individualism and make us less receptive to jazz's diversity.  So, before you wet another reed and try to produce an exam-board-approved tone, rebel a little; go and listen to 'Lockjaw'.  He was staggeringly original and also very, very good.
Peter Gardner
February, 2018.
Acknowledgements
I am grateful to Dawkes' woodwind specialist, Sam Gregory, and to Steve Marshall from Marshall McGurk, Crosby, Maryport, Cumbria.
Endnote
(1) I hope this single endnote has some useful information about CDs that contain the recordings, tunes and albums that I have mentioned. 'After Supper', 'Flight of the Foo Birds', 'Double-O' and 'Whirly Bird' are all on 'Count Basie/The Complete Atomic Basie' Roulette 7243 8 28635 2 6. The two 'Cookbook' albums I have mentioned are 'The Eddie "Lockjaw" Davis Cookbook', Vol. 1, OJC20  652-2 and 'The Eddie "Lockjaw" Davis Cookbook', Vol. 2, OJCCD 653-2. Several albums by the Davis/Griffin Quintet can be found on the four CD collection 'Eddie "Lockjaw" Davis/Johnny Griffin Quintet, The Complete Sessions', Jazz Dynamics 001. (The use of 'Complete' in the title for this collection needs some qualification.) 'Lockjaw' can be heard with Stitt on 'Eddie "Lockjaw" Davis & Sonny Stitt, Jaws & Stitt at Birdland', CDP 7975072. 'The Stolen Moment'/'Stolen Moments' is on 'Eddie "Lockjaw" Davis Big Band, Trane Whistle', OJCCD 429-2. 'Lockjaw' with the Clarke/Boland band can be heard on 'The Kenny Clarke/Francy Boland Big Band, Two Originals', MPS 0979. The Davis-Griffin Quintet with the rhythm section from the Clarke/Boland Big Band appears on 'The Eddie Lockjaw Davis-Johnny Griffin Quintet, Tough Tenors Again 'N' Again', MPS 441182. 'Lockjaw' and Harry Edison can be heard on several CDs, including 'Edison's Lights', OJC 804 and 'Harry 'Sweets' Edison/Eddie 'Lockjaw' Davis', Storyville 8225. The version of 'I Can't Get Started' from March 1982 that I refer to can be found on 'Eddie 'Lockjaw' Davis, Live at the Widder', Vol. 1, Divox CDX 48701. An impressive three CD collection is: 'Eddie 'Lockjaw' Davis, 80th Birthday Celebration', 35 Classic Prestige, Pablo, Jazzland and Riverside Recordings, Fantasy FANCD 6063-2. If you want a quick fix of 'Lockjaw' go to YouTube and watch him in 1965 soloing with the Count Basie Orchestra on 'Jumping at the Woodside'.
Some sources used
Count Basie, Good Morning Blues: The Autobiography of Count Basie as told to Albert Murray (Heinemann, London, 1986).
Richard Cook and Brian Morton, The Penguin Guide to Jazz Recordings, Eighth Edition (Penguin Books, London, 2006).
Stanley Dance, The World of Count Basie (Sidgwick & Jackson, London, 1980).
Mike Hennessey, The Little Giant: The Story of Johnny Griffin (Northway, London, 2008).
David H. Rosenthal, Hard Bop: Jazz and Black Music, 1955-1965 (Oxford University Press, New York, 1992).
Arthur Taylor, Notes and Tones, Expanded Edition (Da Capo, New York,1993).
Tags:
dawkes music
|
Eddie Lockjaw Davis
|
Jaws
|
Jazz
|
Jazz History
|
Jazz Saxophone