Clarinets – Why Upgrade?
Imagine you've been playing clarinet for a few years on a trusty plastic beginner model, the likelihood is that at some point you'd very much benefit from an upgraded wooden instrument. But, the big question is "Why? – How do they differ?" It's a common query we are asked. From a distance a beginner clarinet at £300 and a £3,000 pro clarinet don't look massively different. So where is your money going, and why is it important to upgrade?

Straight Soprano Sax vs Curved Soprano Sax – Which is best?
It's a question we are commonly asked here in the shop. Whilst we understand these things can be subjective, we wanted to give you a good starting point and something to compare.
In this video and article, we discuss the differences in feel and sound. We also look at certain model options available to buy or rent.
'Ike's Last Hurrahs'
Accounts of his short life usually stress he made a promising start to his career as a saxophonist, for in his early years he recorded on numerous occasions and became a principal soloist with the Cab Calloway Orchestra.  The second period of his career, which covers most of the 1950s, is seen as a bleak battle with a heroin addiction, few well paid jobs and few recording opportunities. Third, and finally, there is a golden sunset, where our saxophonist was able to make recordings and gave performances that showed him at his best.  Of course, real lives are never this simple or so neatly compartmentalised, and Ike Quebec's was no doubt more complicated than this brief summary suggests, but I also suspect that most who knew Ike would recognise him from the picture we have painted.
Clarinet Playing Advice – Warming Up (Video 3/3)
In the final video of this mini-series, we talk about the importance of warming up. Often overlooked, the warm up should form a strong part of your overall practice time and regime. Nick talks about the books he uses and why it's so crucial to warm up properly, whatever your level and experience.
Clarinet Playing Advice – Alternate Fingerings (Video 2/3)
This is Part 2 of our Clarinet Playing tips series with Nicholas Carpenter (former Clarinet Principal London Philharmonic Orchestra). In this video we discuss SELECTED (not all!) clarinet alternate fingerings. Including throat Bb, long Bb, second register F# and High G…
Gonzalez Bass & Bb Clarinet Reeds – Daniel Rye
We catch up with Gonzalez Reeds pro player Daniel Rye and discuss why he chooses to use the Gonzalez RC Bass Clarinet reeds and the FOF Bb Clarinet reeds.
REPAIR CAM: Axial Flow Valve Disassembly – Bass Trombone
Join Abi in our workshop as she takes apart an Axial Flow valve system on a Bass Trombone. These Axial Flow valves are different to the standard rotor valve system. Abi discusses some of these differences, and also the modularity of this particular model.
Clarinet Playing Advice – Practice Tips (Video 1/3)
In the first of a series of three videos we look at some important points around efficient clarinet practice. With the help of top pro-player Nick Carpenter (former principal clarinet with London Philharmonic Orchestra) we discuss the importance of practice and some helpful tips and suggestions for how to practice efficiently…
Workshop Feature: Making a Bass Clarinet
We're very lucky to have a unique team of experts in our Woodwind Workshop. Their skills cover everything Woodwind & Brass related, and we want to share some of their stories with you…
In this blog, we talk to Ana who joined us in 2016 after receiving her BA Hons in Musical Instrument Craft (Woodwind Making & Repair) from Newark Campus (Lincoln College) – the leading Repair training centre in the UK. This is the story of her Bass Clarinet, yes, the one she actually made from scratch!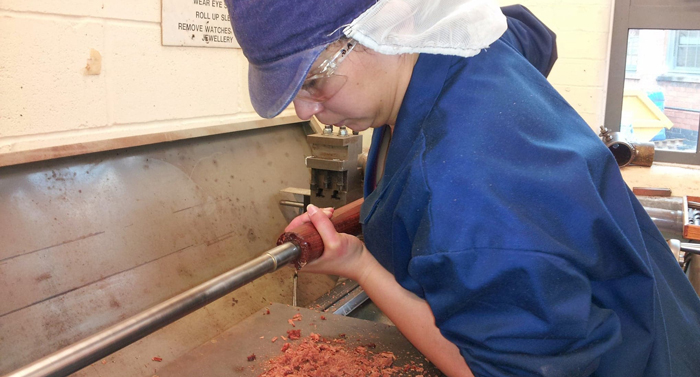 Yamaha Custom Tenor Sax Comparisons
It's a question we commonly get asked: "What's the difference between the 875 and 82Z?" There are some tech differences which we outline below in this blog. These difference go towards the feel and sound on each model.
In this blog we discuss the differences and also feature a video demo of these two models back-to-back, so you can hear the difference.