Brass Repairs
Meet the Team – Jocelyn (Repair Dept)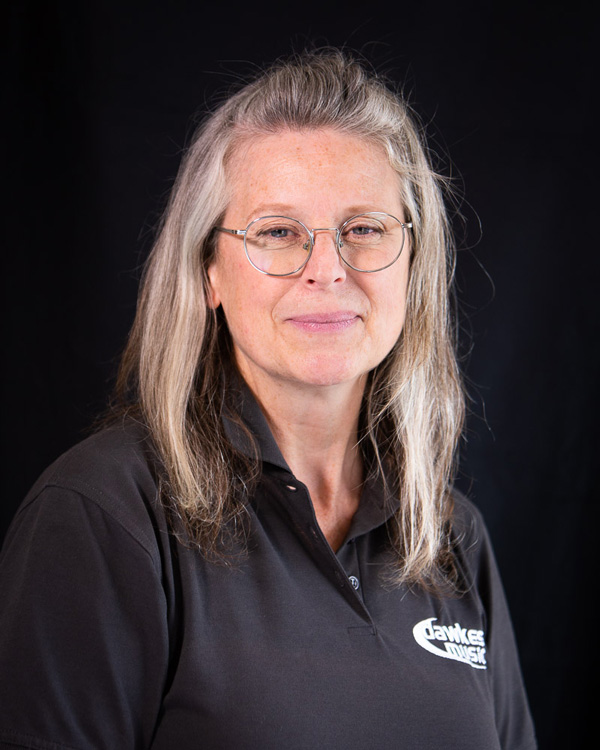 Hi, I'm Jocelyn, one of the Repair Technicians at Dawkes who works on both woodwind and brass instruments.
For as long as I can remember I've always wanted to figure out how instruments work and fix them when they go wrong. After a long career as an accountant in the publishing industry, I decided it was time to pursue my dream. With an eye for detail and meticulousness already in the bag, I trained as a woodwind technician at South Thames College, Merton Campus and joined the Dawkes Workshop team in spring 2014 near the end of my studies, having already attained professional membership of the National Association of Musical Instrument Repairers.
I learned everything I know about brass repair at Dawkes from the esteemed Abi Taylor, so now I am confident to tackle anything which comes our way. I am tenacious and I approach each job with tremendous will and focus. I love the satisfaction of turning an instrument with issues into something which plays beautifully, and I love to see a happy customer.
Instruments are meant to make music, they are expensive and precious things, and I don't want anyone to think they're not a good enough player, when it's their instrument which is letting them down. The vast majority of instruments we see only need an economically-viable repair to get them playing excellently again, so I'm proud to be part of a team dedicated to keeping music alive.
I have played the flute since childhood and since joining Dawkes I have taken grades in both clarinet and oboe, with my eyes always set on the next challenge; something brass next. I enjoy the binocularly-aided hobbies of opera-going and bird-watching, belong to a choir and play whichever instrument is required in a wind ensemble.
---
Here's Jocelyn in action in our 'Flute Set-Up' video…ok, here's her hands at least!!
Meet the Team – Jocelyn (Repair Dept)
Brass Players – Valve Oil Guide
For brass players, especially new ones, one of the most-asked questions regarding accessories is about valve oils and lubrications. It has been a couple of years since the new CLP (Classification Labelling and Packaging) rules were brought in which affected all the regulations around bottling and caused some supply issues with certain brands. So, it is high time we rounded up all of the valve oil that is currently available, examine the top sellers and look forward to a returning old favourite…
Ultra-Pure (ALU048) is one of our most popular oils and is recommended by our workshop for nearly all instruments. It is synthetic, non-toxic, virtually odourless, and lasts a long time on your valves. In short, it is the perfect valve oil!
Denis Wick Advanced Formula (ALU169) oil features a suspension of PTFE, the slipperiest substance in the world. The oil remains on the valves long after other oils would have evaporated, with the PTFE acting like tiny ball bearings to keep valves slick and fast for longer.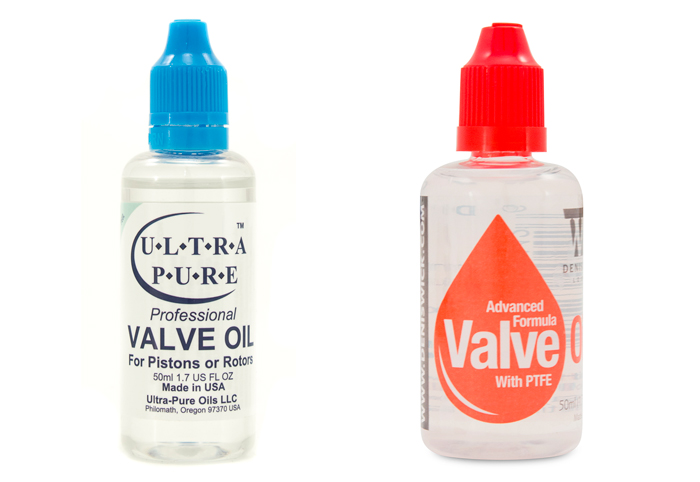 Yamaha produce a range of synthetic oils in Light (ALU008L), Regular (ALU008R) and Vintage (heavy) (ALU008V) viscosities. As synthetic oil, it is slow to evaporate and helps valve to run smoothly and quickly. Valves are manufactured with different tolerance levels, so a thinner oil can help tighter valves run easier, and a vintage oil will keep looser tolerance valves running for longer.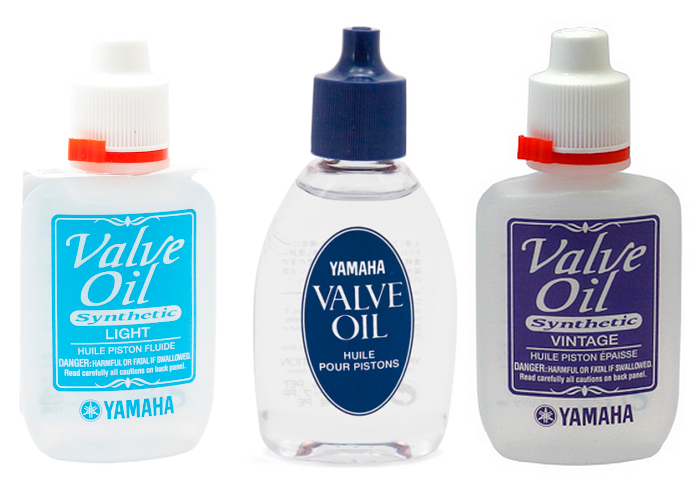 Champion (ALU016) is new to the market and was developed to replace a much-loved "fast" valve oil which is no longer available in Europe. It is thin, light and incredibly quick, and works brilliantly on piston and rotor valves alike.
La Tromba manufacture 2 oils: the T1 (ALU034) and the T2 (ALU039). T1 is silicone-based and is a fantastic all-around oil, working well on piston valves and rotary valves alike. T2 is thinner and faster and is best suited to close tolerance Monel and stainless steel valves. Both bottles have a long precision nozzle.
Superslick (ALU003) is a traditional petroleum based oil, and is suitable for all piston valves. Valves will run smoothly and quickly with the light formula and as one of our lower cost oils, it is a great option for student and professional instruments alike when regular re-oiling is needed!
And finally, Blue Juice (ALU044) makes a long-awaited comeback to the market sporting a brand new and compliant bottle design. Blue Juice is a petroleum based oil with added anti-bacterial properties to help keep the inside of your instrument clean and germ free! Blue Juice's signature blue colour and fast action make it a great oil to use, and it is sure to become as popular again as it once was.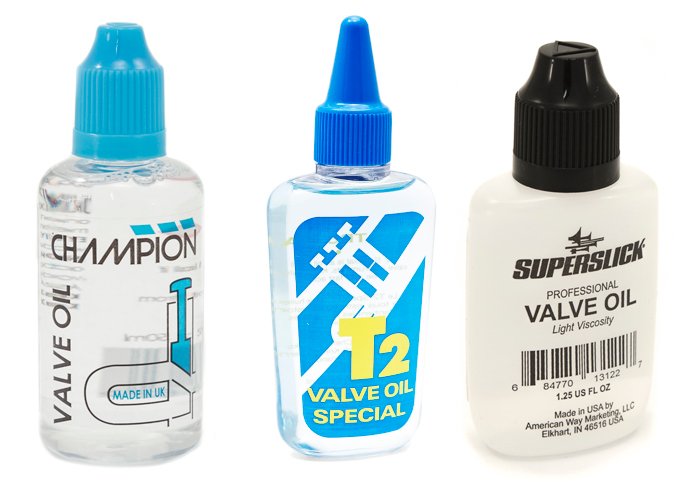 Brass Players – Valve Oil Guide
Other Brass Repairs Posts
Remarkable Repairs
Trumpet Re-Lacquering in the Dawkes Music Workshop
Trumpet Re-Lacquering in the Dawkes Music Workshop
Restoration in the Dawkes Music Workshop
Restoration in the Dawkes Music Workshop
National Association of Musical Instrument Repairers Hold AGM at Dawkes
National Association of Musical Instrument Repairers Hold AGM at Dawkes
Abi in Uganda…supporting Brass for Africa
Abi in Uganda…supporting Brass for Africa
Trumpet DIY Repair Tips – Broken Waterkey spring