From the Bench: Scraping Tools
4th March 2021
Our 'From the Bench' series is brought to you by the workshop team at Dawkes. In each blog they explain why they find certain tools useful and how they commonly use them as technicians. This time, Abi talks to us about scrapers for Wind & Brass instruments…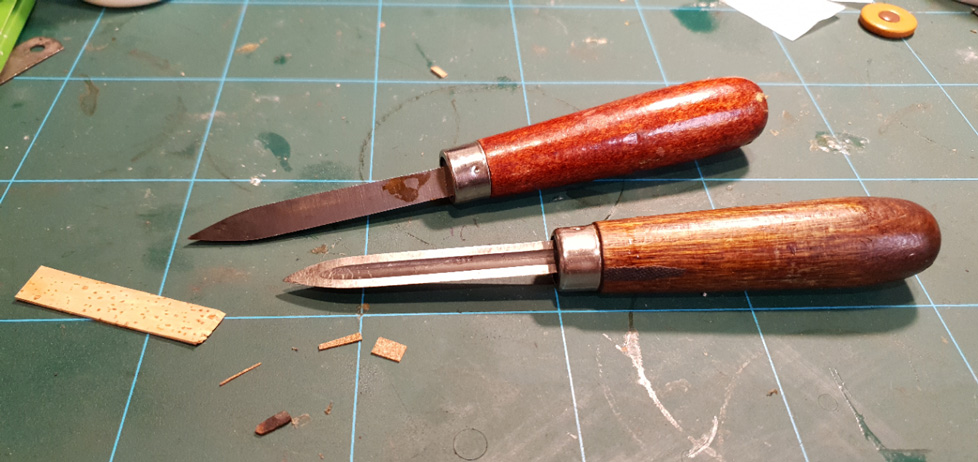 FF13 – FF14 – FF15 – Curved Scrapers
Narrow – 3.4mm width blade – 127mm long
Medium – 4.4mm width blade – 130mm long
Large – 5.4mm width blade – 203mm long
These curved scrapers can be used for a number of applications. The right angled cutting edge makes them fantastic for cleaning up soft solder – by carefully running one of the 90 degree side edges into your soldered point, you can simply push the unwanted excess away revealing a shiny, clean joint.
The wide front edge of the scraper can be used to push/scrape corks away and clean up key work in preparation for re-corking. A combination of the front edge and the right angled sides make these scrapers ideal for removing old tenon corks – by pushing away and into the edge of the recess, a clean finish can be achieved without risk of marking the shoulders.
Which width to go for? The blade width and the overall length of the tool (including handle) increases from small/medium/large – so larger hands will prefer the large tool and small hands will have more control with the small/medium tool. Any of them would be appropriate for the applications described here, we recommend trying all 3 as they will individually stand out in various different situations.
FE38 & FE40 Triangular Scrapers (Solid Sides & Hollowed Sides)
Triangular Scrapers are very versatile and can be used for scraping and cleaning solder edges, removing tenon corks and glue, or as a fine lathe cut-off tool. The strong tip can also be used as a scribe or punch. They are mostly used for scraping away old and broken key corks, but are an all-round useful tool as the blade is so sharp and strong. The shaped wooden handle makes it very comfortable to use, holding it horizontally in your hand allows for a 'potato peeler' action with great control.
These scrapers are available with either solid (FE38) or hollowed sides (FE40) to the blade – the hollow sides reduce weight without compromising any strength. If you prefer the feel of a heavier tool in your hand, the solid edged version will give a little more feedback and the blade is about 10mm longer.
FF16 – Half Round Scraper
This FF16 half-round scraper is primarily used to remove excess solder from inside of tubing. Without one of these you might use a screwdriver, a tapered scraper, or even try to reach sandpaper inside the tube to do the same job. The D-shape cross section of this neat tool gives you 2 cutting edges, and the curved profile makes quick work of tidying up the inside edge of ferrules and round soldered joints.
The long blade will allow you to confidently and precisely reach inside inaccessible tubes, leaving a clean finish. Save valuable 'clean-up' time with this specialised scraper, you'll wish you had one sooner.