GUIDE: How To Test Brass Instruments
16th May 2022
We asked professional brass player Rob Blencowe to create a guide for upgrading players to help them try out new brass instruments. This information is intended for players or parents making their first upgrade. Rob uses a Trumpet to demonstrate but the advice is suitable for all brass instruments.
(more…)
Trumpet Repairs: Bell Recovery
1st March 2022
This poor Trumpet was one of the more extreme dent repair challenges we've taken on. After being accidentally run over with a car(!), this Trumpet seemed to be almost beyond repair. However, we 'never say never' in our brass workshop and this is the story of a minor miracle…
(more…)
Huber Mutes for Trumpet
20th December 2021
We're delighted to be the exclusive UK stockist for the fantastic new range of Trumpet mutes from Huber, USA. These mutes are very unique in their design, production and materials. Find out more below about these fantastic new Huber Mutes for Trumpet players.
(more…)
NEW! Yamaha Custom Trumpets
18th November 2021
Yamaha have just launched two NEW custom jazz Trumpets – the YTR-8335LA and the YTR-8330EM. Designed alongside Wayne Bergeron and Eric Miyashiro respectively, these updated custom models are the ideal choice for the discerning player.
Check out more details about these fantastic two Yamaha trumpets below: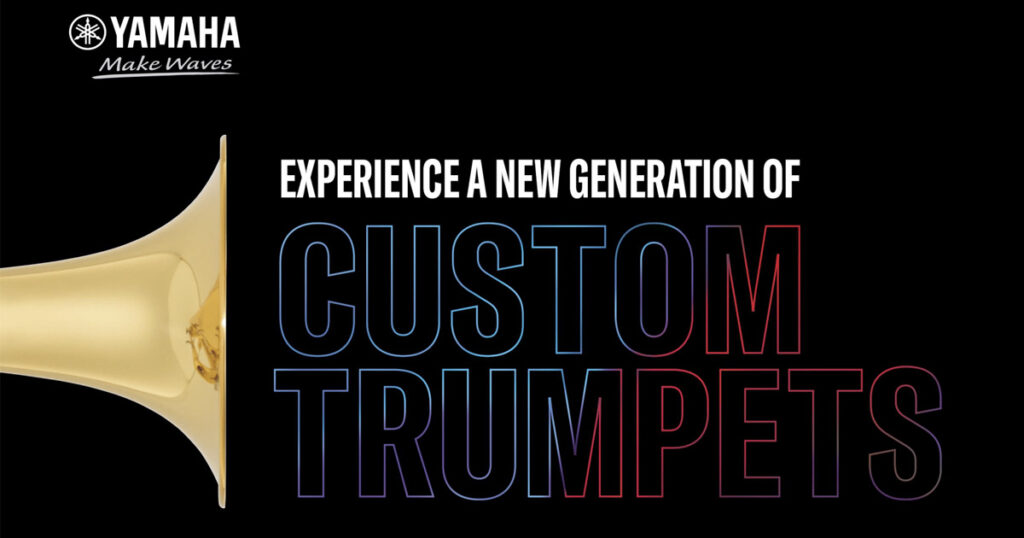 (more…)
Trumpet/Cornet Warm Up – Top 3 Tips for Daily Practice
14th September 2021
We asked professional Trumpet player Rob Blencowe for some top tips on daily Trumpet/Cornet warm ups. Playing a Brass instrument requires a lot of physical exertion so it's important you get your body and mind suitably prepared before each practice or performance session.
Rob has many years of experience playing in the Coldstream Guards and British Army Band Sandhurst where he gets to perform on Trumpet and Cornet. Rob has played all around the world in all sorts of musical scenarios. There's no excuses in front of Royalty or on live TV shows so it's important to be ready to perform when the baton falls!
(more…)
NEW! Yamaha Podcast Series…
31st August 2021
Yamaha have recently started releasing free podcasts with some of their performing artists. These audio interviews cover all aspects of Wind & Brass playing and some of the background stories of the players and their journey to being full-time professionals.
Louis Dowdeswell Trumpet
In this episode UK Trumpet player and big band leader Louis Dowdeswell discusses his musical education, learning from top pro's such as Wayne Bergeron and forging his own career in the modern musical landscape.
Listen for free via the player below or download Yamaha Artist Insights via your favourite podcast app.
Louis has built a huge following online and is well known for his popular YouTube channel where he features popular covers with his big band. He is a busy session musician and is one of the new breed of top players who has carved out a career in the new landscape of multimedia channels.
Louis' Gear Choices:
Louis plays on the Yamaha YTR-6335RC Bb Trumpet of which he says "Simply put, this is the easiest feeling trumpet I have ever played. It's efficiency, great ergonomics, and brilliant design has opened up a whole new set of musical opportunities. Never before have I felt so in control of all aspects of my playing." On Flugel Horn he plays the Yamaha YFH-6310Z.
The Best Accessories for Yamaha Brass Instruments
25th August 2021
If you've invested in a quality Yamaha Trumpet, Cornet or Trombone, it's a sensible idea to keep it well maintained. Choosing and using the best accessories for your Yamaha instrument will help maintain its finish, keep it playing better and support a stronger resale value.
In this blog we'll take a look at the best accessories for your Yamaha brass instrument…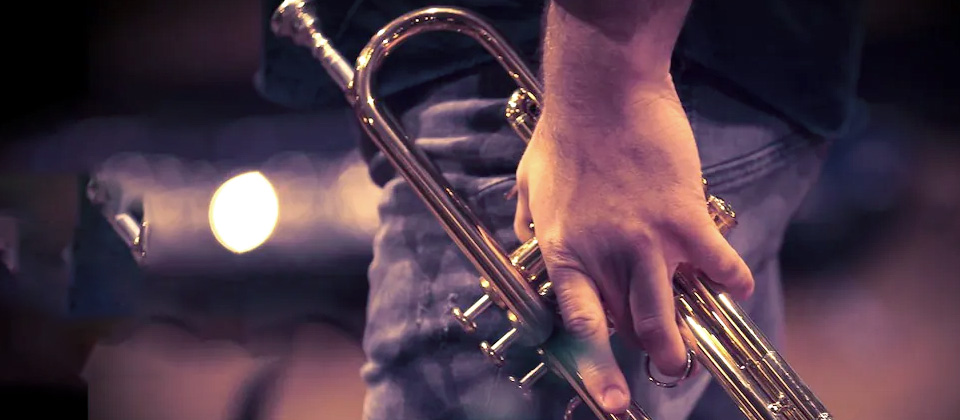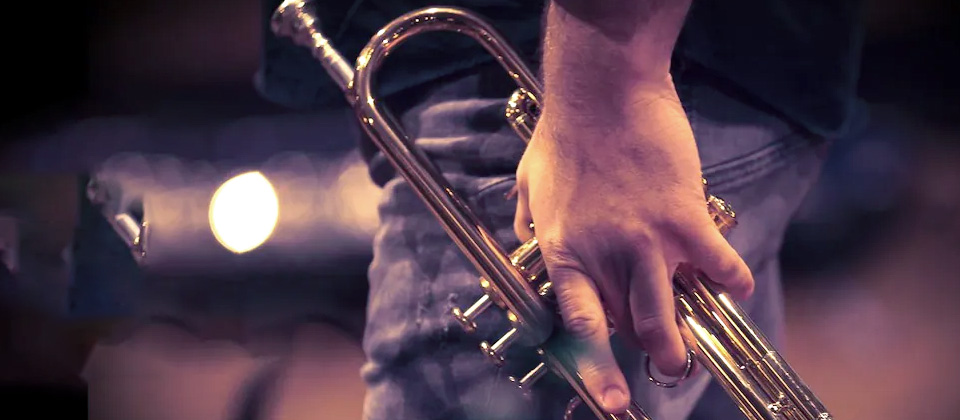 (more…)
The pInstrument Range
17th December 2020
What started with the original Jiggs plastic trombone (the pBone) has now evolved into a full range of plastic musical instruments. From entry level basic pBuzz models to the recently released hyTech Trumpet, the pInstrument range has something for everyone. Whether you are a new beginner or an experienced player. Let's take a look at the range…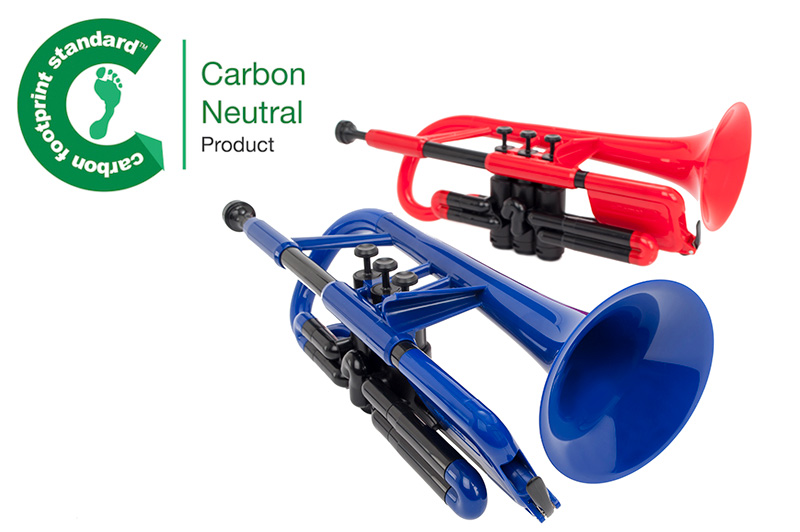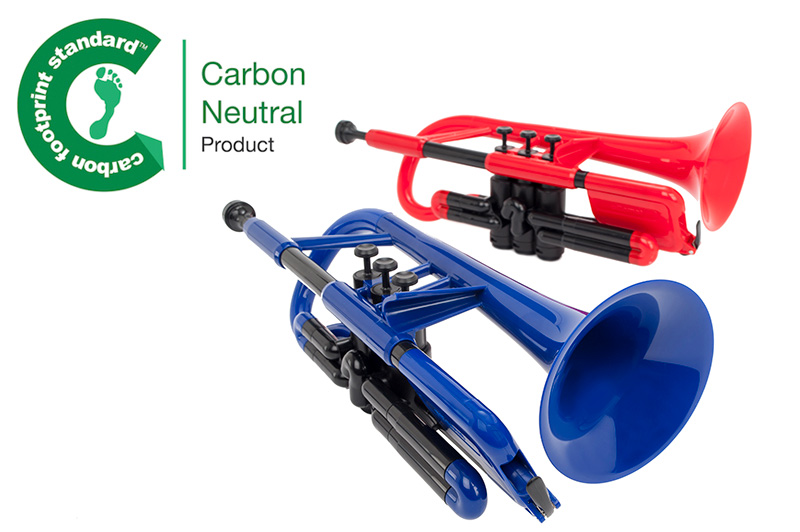 (more…)
Making pInstruments Carbon Neutral
In this latest blog focusing on sustainability within the music industry, we check out the pInstrument range which has recently been awarded official Carbon Neutral Product status…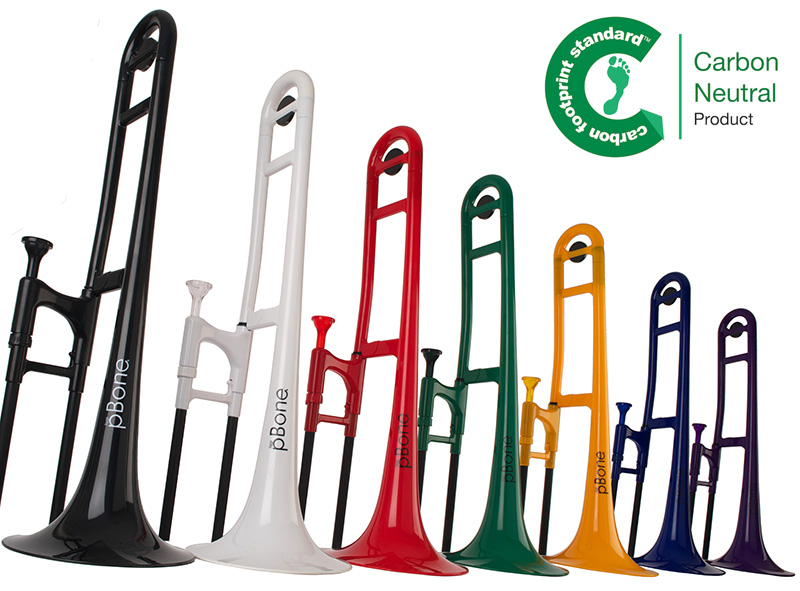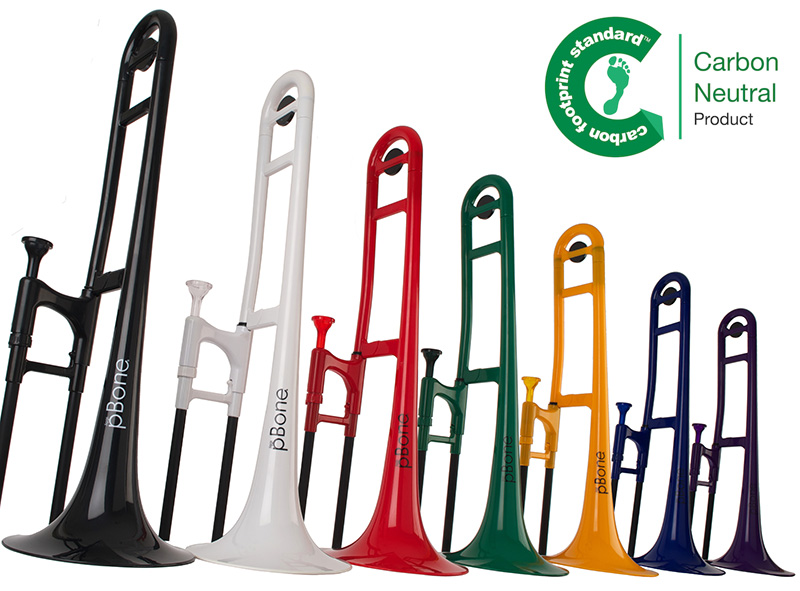 (more…)
Brass Playing Tips | Producing a Good Tone with Georgina Jackson
21st May 2020
In this short video & blog, top UK Trumpet player Georgina Jackson discusses some simple ideas to help improve your tone and approach to playing.
Georgina Jackson is a professional Trumpet player and singer. Working for years with many famous faces, such as Frank Sinatra Junior, Nancy Sinatra & Seal. Georgina learned her trade as a lead trumpet player with touring Big Bands in Concert Halls, on Television and Radio broadcasts. She has even performed at the Proms in London both singing and playing!
(more…)
Trumpets – Stand Your Ground! Stands for Trumpets
21st March 2020
Many trumpet players find themselves doubling – playing more than one instrument at a gig. This ranges from classical and orchestral musicians who might have trumpets in different keys required by the repertoire, to pit musicians playing a part with flugel horn on the same pad. Or maybe you just have a long time to wait before your next entry and don't fancy holding your instrument for so long! Whatever the case, plenty of trumpeters will require a stand for their instrument. Take a look at the options we offer to keep you from putting your instrument on the floor!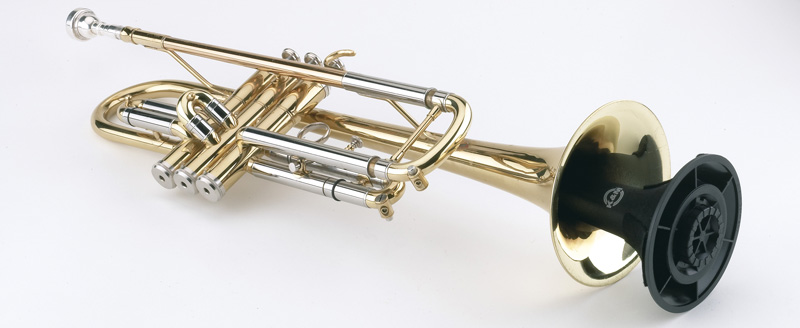 (more…)
The Learning Never Stops – Brass Training Aids
Whether you're an old pro or you've just started your musical journey, training aids are there to keep you on top of the basics! If a brass player can keep their basic technique top-notch, then everything else will fall into place a whole lot easier. Here are a few products we sell that you can use during practice – or even on the go! – to be sure you build and keep a strong foundation to your playing.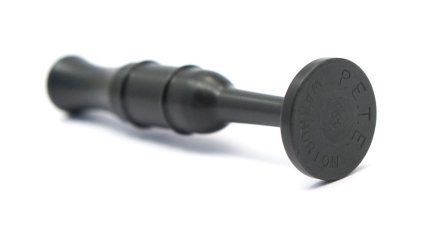 (more…)
Lightweight Legends! Beginner and Student Brass Alternatives
19th February 2020
Continuing from our post on lightweight woodwinds, we also offer a range of lightweight brass instruments. Our selection of alternative brass instruments are great for the mini musician's first instrument. They're also ideal for adults – beginners to professionals – looking for fun, robust alternatives to classic models. Read on to find out more about the pBone, pTrumpet, and pBuzz!

(more…)
Top Trumpet Technique Books
14th December 2019
You might be a student looking at university or conservatoire study, or a high level amateur wanting to advance your technique. Or maybe you're seriously considering a professional career as a trumpet player! In any of these cases, you'll need a good repertoire of studies, exercises and etudes to keep your fingers quick and your chops in good shape. These are just a few suggestions of books we have in stock for advancing your technique…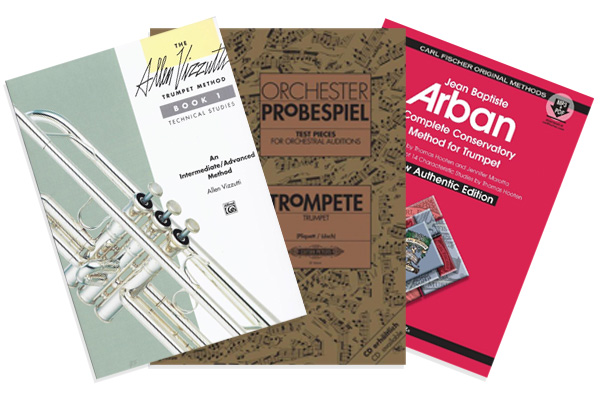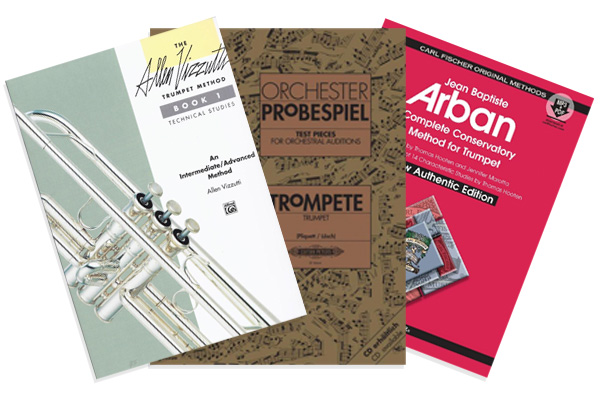 (more…)
Five Trumpet and Cornet Maintenance Essentials
4th December 2019
Having an instrument that works exactly as it should makes playing much more rewarding – and of course, much more fun! Take a look at these accessories that are must haves for keeping your trumpet and cornet in the best condition.


(more…)
Wayne Bergeron Trumpet : Video Interview 2/5
12th July 2019
Ever felt like giving up? In Part 2, Wayne talks about teeth and embouchure challenges that almost ended his career. You won't want to miss this brutally honest journey and how he came back even stronger.
Big thanks to the guys at ChopSaver for sitting down with Wayne to get the insights on his career and history as one the worlds leading Trumpet players
Wayne Bergeron Trumpet: Video Interview 1/5
20th June 2019
In the first of a 5 part series recorded by the team at ChopSaver products, Dan Gosling (the inventor of ChopSaver) sits down with Wayne Bergeron and discusses what happened behind the scenes with the famous LA LA Land solo, his hilarious first gigs when he was a teenager, and how to network with other players.
Big thanks to the guys at ChopSaver for sitting down with Wayne to get the insights on his career and history as one the worlds leading Trumpet players…
Trumpet Mouthpiece Removal – Beware!
28th January 2019
This is a common issue we see in the workshop. Trumpet, or indeed any Brass mouthpieces, get stuck in the instrument due to dirt and moisture. Getting stuck is inconvenient but not terminal. There are a couple of removal tools (more on that later) and any good Repairer can do it within moments. However, what's not a good idea is to try removing it yourself…with brute force!
This is a cautionary tale of what can go wrong and a video showing how we have to fix the aftermath…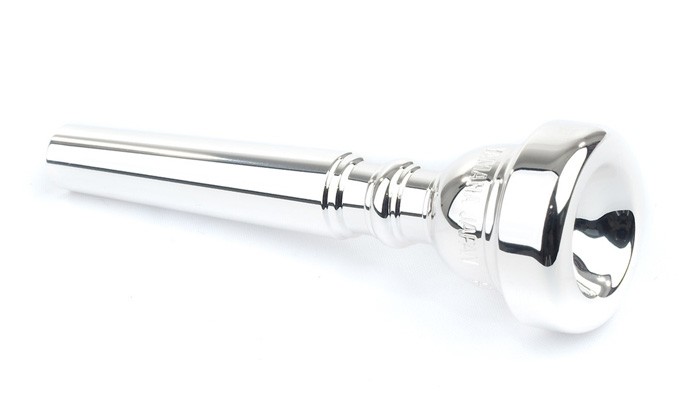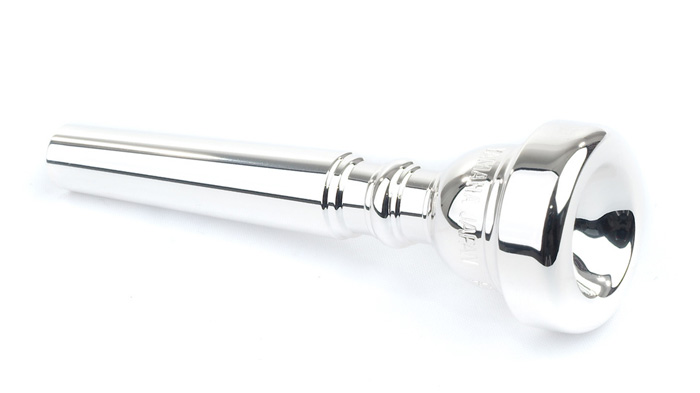 What is a Cornet and how does it Compare to a Trumpet?
23rd January 2019
If you don't play a brass instrument or are not part of a band, you can be forgiven for getting a little confused over the different types of smaller instruments – especially as they can sometimes look very similar. Take a cornet and a trumpet for example, people often think they are one and the same, when in reality there are a number of subtle differences between the two.
(more…)
Brass Mouthpieces – An Overview
30th October 2018
Why so Important?
All brass players wonder at one time or another whether or not making a change to their mouthpiece will help. Could it give them more range, more volume or a bigger sound? A change in the mouthpiece can yield fantastic results to the player. You can achieve faster, higher and louder from just a small change.


Brass Players – Valve Oil Guide
2nd August 2018
For brass players, especially new ones, one of the most-asked questions regarding accessories is about valve oils and lubrications. It has been a couple of years since the new CLP (Classification Labelling and Packaging) rules were brought in which affected all the regulations around bottling and caused some supply issues with certain brands. So, it is high time we rounded up all of the valve oil that is currently available, examine the top sellers and look forward to a returning old favourite…
'Bagpipe Lung' – Cleaning Care Advice & Gear for Wind Instruments
23rd August 2016
Many of you will have seen the recent article and report warning players of so-called 'bagpipe lung' infections. So, what's the truth behind the situation and what can you do to ensure you keep your instrument clean and safe…
Trumpet Re-Lacquering in the Dawkes Music Workshop
22nd December 2015
This Bach Stradivarius Trumpet has had a new leadpipe fitted as the red rot on the underside rendered it un-preppable for relacquer.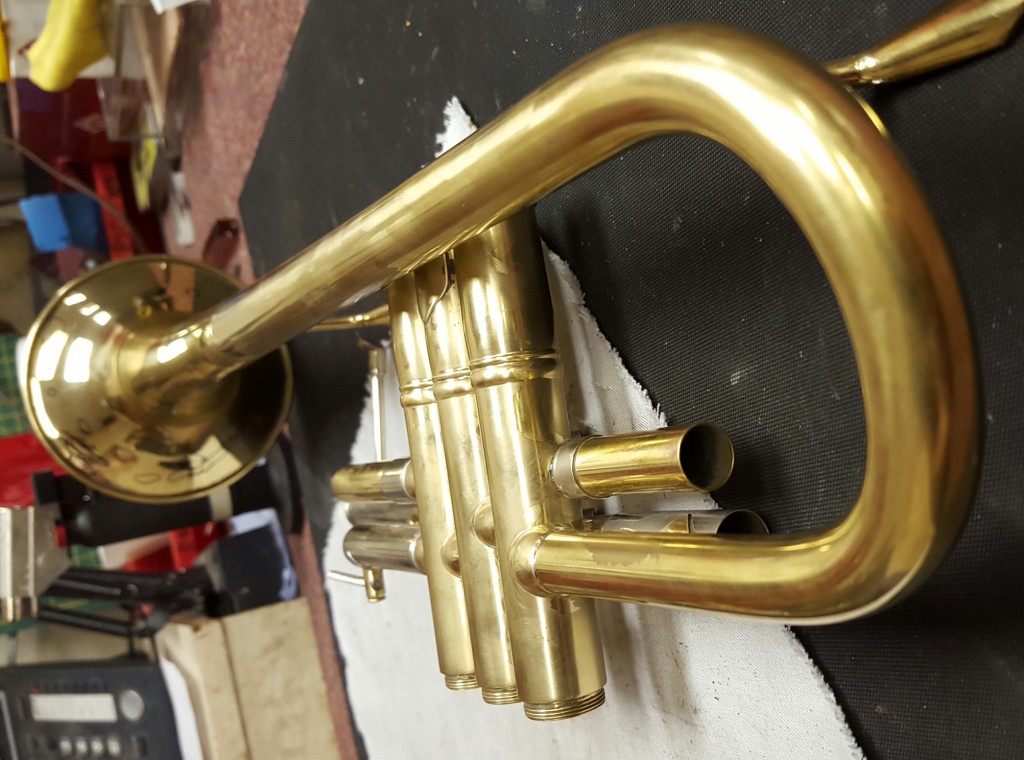 If metal is too rotten, it will not be able to withstand the invasive filing, sanding and pressure of the re-surfacing work. During the preparation of the surface, all dents and scratches have to be removed and the metal is filed and polished to a mirror finish. This is the most important stage as any remaining imperfections will show up tenfold under new lacquer.
Brass Mouthpiece Advice & Info…
18th July 2014
Many brass players will tell you that you can search for that elusive perfect mouthpiece, but never find it. Truer words have probably never been spoken but the benefits of trying to find a good compromise can be enormous. If you are looking to improve the squeakiest of lead trumpet parts, the mellowest of flugel tones or the meatiest bass trombone pedals, the chances are we have something to suit!
Allen Vizzutti Video Series – Episode #4 (How to approach the jazz idiom)
26th March 2014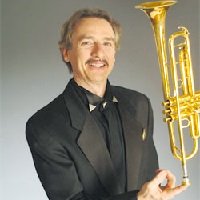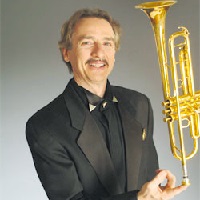 Top US Trumpet professional Allen Vizzutti spent some time with us discussing all things Trumpet related.
As part of his video tip series we present #4 – 'how to approach the jazz idiom'
Trumpet DIY Repair Tips – Broken Waterkey spring
19th February 2014
Problem: Waterkey spring has broken!
This minor problem is easily repairable, all that is required is the correct parts, possibly a tool and some patience. It may not seem like a minor problem at the time, as the instrument will no longer be airtight and it will squeak and be wildly uncontrollable. Firstly identify the broken spring, and there can often be more than one. The water key will be flapping and have no tension to it.
Allen Vizzutti Video Series – Episode #3 (performance anxiety)
Top US Trumpet professional Allen Vizzutti spent some time with us discussing all things Trumpet related.
Trumpet DIY Repair Tips – Stuck Mouthpiece
29th January 2014
PROBLEM: MOUTHPIECE IS STUCK
This is a problem for pretty much all brass players at one time or another. It can be caused by a dirty mouthpiece shank, or dirt in the mouthpiece receiver. It can also be caused by the mouthpiece taking a knock and getting shunted a little too far into the receiver. Depending on how stuck the mouthpiece has become, this is a repair you can attempt at home, but can often require a repair technician.
Allen Vizzutti Video Series – Episode #2 (Warm up advice)
Top US Trumpet professional Allen Vizzutti spent some time with us discussing all things Trumpet related.
'Trumpet-Fest' – Live @ Dawkes Event (Sat Nov 16th – Report)
4th December 2013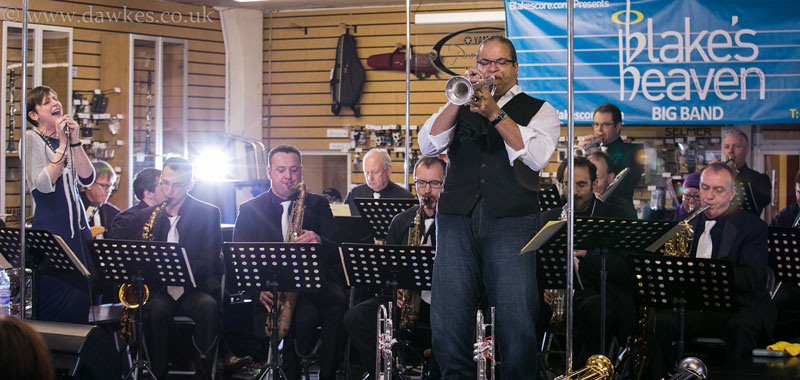 Many thanks to all who attended 'Trumpet-Fest', a fun time was had by all and plenty of Trumpet bargains got snapped up including some of the NEW Cannonball Lynx Trumpets!
Allen Vizzutti Video Series – #1 Early Trumpet Influences
28th November 2013
We were delighted to welcome Allen Vizzutti into our store one afternoon in October 2013, as part of a European tour we were able to grab some time and sit down and chat about all things Trumpet and Allen's extensive playing career and experience.
Breaking News! EBJO will be Live @ Dawkes…Sat Nov 16th @ 1.30pm
8th November 2013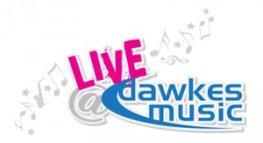 We're delighted to announce that East Berkshire Jazz Orchestra (EBJO), run by local youth music provider Berkshire Maestros, will be playing Live @ Dawkes as part of our Trumpet-Fest celebrations on Satruday Nov 16th.
£2000 Pro Trumpet Tests…
18th July 2013
Tues July 18th 2013 – Pro Trumpet Test:
We were joined today by a young man on work experience, one of the tasks we ask these visitors to do is to try some instruments and write a quick review about how they get on. On this occasion Lewis is a Trumpet player so we locked him in a room with 5 of our most popular instruments and this is what came out…
Ultra Pure Valve Oil
20th July 2012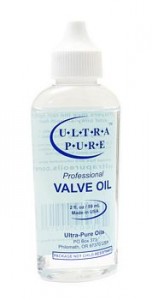 Endorsed by some really big names; Wynton Marsalis, Alison Balsom, Arturo Sandoval our very own Matt Sanders to name but a few! ULTRA Pure oil is a new type of synthetic oil. It is non-toxic and odourless making it the perfect choice for younger players, there is also no trace of the nasty "taste" some oils leave inside the instrument.
Yamaha Trumpets – New Models
7th March 2012
Yamaha trumpets have always been well established. In the beginner range the Yamaha YTR-1335 especially had a good following with Trumpet teachers as it offered the beginner trumpet player a good sounding, in tune option. Best of all the Yamaha student trumpets were always very reliable, less time for Teacher/Parent to spend having to get the instrument adjusted or fixed etc. That said, it's a design that had been around for a while. Now, as part of an overall student and intermediate re-design the Yamaha student brass range has changed, for the better…
Wayne Bergeron (Top US Trumpet Player) visits Dawkes… Sat March 10th
4th February 2012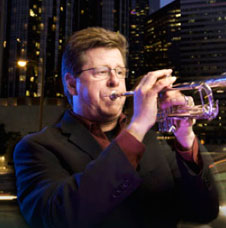 Top US Trumpet 'superstar' Wayne Bergeron will be in-store at Dawkes on Saturday March 10th (10am-Midday). Wayne will be on hand to talk all things trumpet, technique, high notes etc and discuss his vast experience as the worlds #1 lead trumpet player.
ChopSaver Lip Balm – Product Review
26th May 2011
It's been a busy couple of weeks in the brass band world, with the run up to the Spring festival and now in the last week before the Masters. We have been rehearsing solidly most nights for the last 3 weeks and along with my personal practice, and an instrument and mouthpiece change, my lips have taken quite a beating.
Secondhand York Euphonium and Schilke S32 Trumpet – 16/4/11
16th April 2011
This past week we have received a couple of excellent professional quality instruments into our secondhand stock…
NEW – Yamaha YTR-5335G Trumpets…
22nd January 2011
It's new product time again, and this time it's the Yamaha YTR-5335G Trumpets, available in Lacquer and Silver Plate. Complementing Yamahas range from 1335 all the way up to 9335 the only real gap in the range was between the YTR4335 and YTR6335…thus the new model.
Madejski Academy Music Trial Day
6th October 2010
Thursday 30th September, John Madejski Academy, Reading- Matt Sanders, Brass Dept