ChopSaver Lip Balm – Product Review
It's been a busy couple of weeks in the brass band world, with the run up to the Spring festival and now in the last week before the Masters. We have been rehearsing solidly most nights for the last 3 weeks and along with my personal practice, and an instrument and mouthpiece change, my lips have taken quite a beating.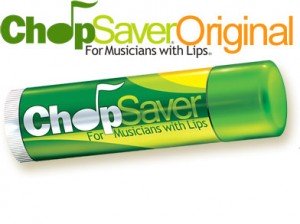 After leaving a 6 hour rehearsal last Sunday aching I decided to dig out the tube of ChopSaver bought a couple of months ago. Applying after that rehearsal I didn't expect a lot but when I got up on Monday my lips didn't feel bruised as I expected and when I played at Lunch, they actually felt a little fresher than the day before. I have been putting the stuff on every day since and now no sign of dry or sore lips at all!
The list of players using this now is like a who's who of the pro music world, manufacturers would kill to have this as a list of endorsees – view players
Anyone who has used Vaseline or any other petroleum based treatments knows that the mouthpiece sliding around can be a real issue and it can build up on reed instruments. ChopSaver is non-greasy so it can be used while playing.
There are 2 types of ChopSaver currently available, original and Gold. Original is perfect for any general use. Gold contains a sunscreen and gives SPF 15 protection, perfect for those up-coming park jobs over the summer and the Whit Friday Marches!
You can find it on our website under mouthpiece accessories
Matt – Brass Dept (26/05/2011)
* For more info please see the ChopSaver website