General Finance Information
Dawkes Music is pleased to offer finance options for a wide range of products over £300.
Many of these are available on 0% APR and you can apply online or in store.

Here are some finance examples for some of our most popular Instruments
Yamaha YAS-280 - Alto Saxophone
12 monthly instalments of
£66.83
Buffet E13 - Bb Clarinet
Amount of Credit
£1,323.00
12 monthly instalments of
£110.25
Yamaha YTR-4335GSII - Bb Trumpet
12 monthly instalments of
£53.55
Our finance is powered by Klarna, one of Europe's leading payment providers. All online applications are quick, easy and instant. Finance is only available to UK residents and all applications are subject to a credit check. Please note we can only deliver goods to the registered address used in any finance application.
Finance Calculator
The online Finance calculator (see below) is shown on selected pages and helps you to quickly see what you can afford to purchase and repay. Deposit amounts can be 10% or 25% - use the online finance calculator to choose what's best for you. You can find the specific figures on individual item listings. Please see the FAQ section for more info.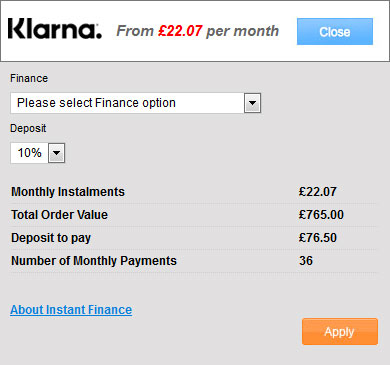 FAQ
Q: How Can I apply?
A: You can apply online by visiting the individual product pages, or you can apply in our Maidenhead store.
Q: Is a deposit required?
A: Yes, a 10% or 25% deposit is required.
Q: What can I purchase?
A: Most items we sell above £300 are available on finance. Please check individual product pages to see finance options for each particular item.
Q: What length of repayment is available?
A: It does depend on the product but most items are available on 12 or 24 month repayment plans.
Q: How are my monthly payments paid?
A: All monthly payments are paid by direct debit from your personal bank account. Typically the first payment will be due one month after the date of the finance agreement and subsequent monthly payments will be due every month for the length of your term on that day of the month.
Q: Can I pay my agreement off early?
A: Yes. You have the right to repay all or part of the credit off at any time. Simply contact Klarna and they will send you your settlement figure. The settlement figure and date is calculated in line with the Consumer Credit Act.
Q: Can I get advice on which instrument is best for me?
A: Yes. Our experienced team can help you chose the best instrument for yourself or a family member etc. Please call us on 01628 630 800 for the UK's best Woodwind & Brass advice.
Klarna Finance
Dawkes Music Limited acts as credit broker/intermediary and not as a lender. Dawkes Music Limited is authorised and regulated by the Financial Conduct Authority, Consumer Credit Licence Number 0652934. Credit is provided by Klarna Bank AB, which is authorised and regulated by the Swedish Financial Services Authority, with limited supervision by the Financial Conduct Authority.