Trombone
REPAIR CAM – Trombone Slide Leg Replacement
A local band recently brought this Trombone in for assessment and repair. Unfortunately they had got a large cleaning cloth stuck down the inside of one of the inner legs and in the process of trying to remove it the slide had become buckled and damaged. The slide damage, coupled with the extremely stuck cloth meant that the only solution here was to order in a replacement inner slide leg and remove the old one to be replaced.
'Bagpipe Lung' – Cleaning Care Advice & Gear for Wind Instruments
Many of you will have seen the recent article and report warning players of so-called 'bagpipe lung' infections. So, what's the truth behind the situation and what can you do to ensure you keep your instrument clean and safe…
Brass Mouthpiece Advice & Info…
Many brass players will tell you that you can search for that elusive perfect mouthpiece, but never find it. Truer words have probably never been spoken but the benefits of trying to find a good compromise can be enormous. If you are looking to improve the squeakiest of lead trumpet parts, the mellowest of flugel tones or the meatiest bass trombone pedals, the chances are we have something to suit!
ChopSaver Lip Balm – Product Review
It's been a busy couple of weeks in the brass band world, with the run up to the Spring festival and now in the last week before the Masters. We have been rehearsing solidly most nights for the last 3 weeks and along with my personal practice, and an instrument and mouthpiece change, my lips have taken quite a beating.
NAMM – Final Day News…Bach 42B Trombone, Yamaha YSL897Z Trombone, Eric Marienthal & Gordon Goodwin…
So the final day of our NAMM show experience for Dawkes was packed full of more new products and artists.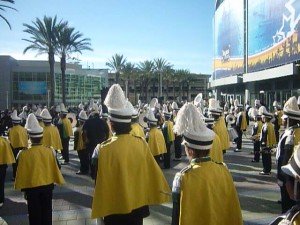 The day started with a pre-show performance by a High School Marching band. Not something we have many of in the UK, it was great to see 60 or so kids playing without any printed music, in formation and also bursting into dance routines halfway through! You have to say this style of band is quite inspirational, all are included and all play and practice regularly. You would imagine many skills are learnt in this environment, not just musical skills, perhaps a variant of this program would be a breath of fresh air for the UK education provision.