Linda's Learning Lessons – Breathe!
4th November 2019
Proper use of breath support is essential for woodwind and brass instruments. Well, without air, they wouldn't make a sound!
Playing slowly through passages helps me become more aware of my breath. It makes me release the air in a more controlled way, ensuring I engage my core muscles to help support my breathing.
"Proper breathing is just as important as proper technique."
Playing various scales was a challenge to begin with. I was advised to take a big breath at the beginning, and another before I come back down the scale. This seemed like too much to think about as well as reading the notes, making sure my fingers were placed correctly, giving the note its full value…!
Someone else advised me instead to breathe when required and try not to think about it… At the time, the latter was more useful as I could nurture the technique separately. Now, as I've developed a better understanding of what I can do, both are relevant and helpful bits of information.
Initially, I concentrated too much on the breath marks in my pieces suggested by my teacher. At first it was distracting, but they're there to provide direction on sensible places to breathe in order to support the passage or phrase of music. Eventually, it became second nature as my lung capacity and breath support improved.
"Always remain conscious of how you use your air."
When I warm up to play with scale and tone exercises, I make sure I'm aware of how my use of air affects the volume – or dynamics – of my playing. It will also affect tuning, so I always have my tuner to hand.
"Life is air. Flute is air."

Krzysztof Kaczka
Trying New Instruments
31st October 2019
Whether you're a student looking for a first upgrade or a professional on the market for something different, trying new – and second hand – instruments can be a difficult task. At least, if you don't know what you're looking for! We'll give you a few pointers on things to focus on to get the most out of your trial sessions.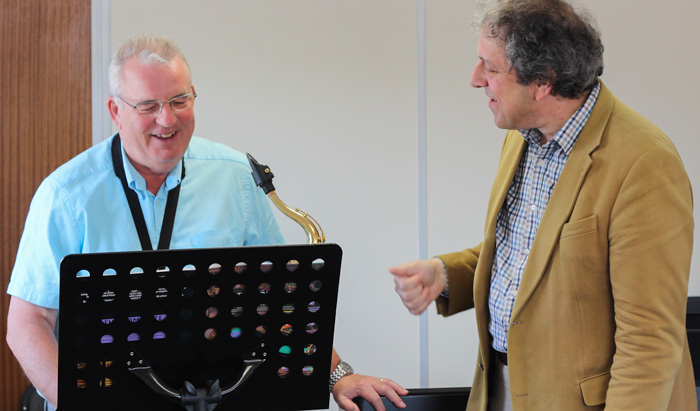 (more…)
Yamaha Technician Visit
24th October 2019
We were delighted to welcome selected product designers and technicians from Yamaha EU to our workshop here at Dawkes recently. These visits are very useful for both parties to discuss the latest developments in instrument manufacturing and design…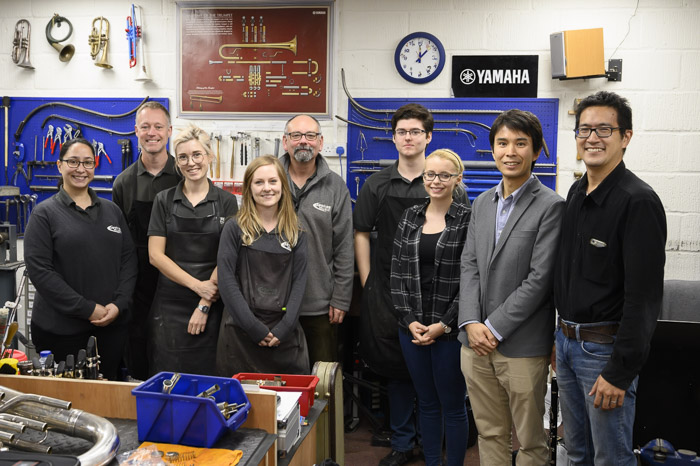 (more…)
Linda's Learning Lessons – Start Slow
21st October 2019
As an adult learning a new skill, it is very easy to get frustrated at yourself for not making faster progress than expected! I feel this frustration can lead to the opposite of progress, and trying to learn something fast only leads to later problems.
"Don't run before you can walk…"
When I first began playing the flute, there were some hurdles that I felt were extremely hard as it was all new. Reading music, finger positions for each note, breathing in the right place, and so on. Now, they seem like a distant memory.
Also remember that you're using your body in a whole new way. The muscles in your face, your posture, and use of breath are engaged in almost entirely unfamiliar ways. If you feel uncomfortable, take a break!
Dawkes produced a couple of wonderful videos with Nick Carpenter, demonstrating and explaining his tone exercises and practice routine.  One point made was concentrating on the details in moving from one note to the next. Doing so quietly then getting louder, with different rhythms, short notes and long notes, helps develop a sensitivity to these details. But what I found most fascinating was his comment…
"Play at the speed of no mistakes."
Practice pieces by focusing on getting all the notes in the right place. Testing this in practice made each piece more enjoyable to play! I was able to give each note its full attention. I had to engage my core strength to support the airflow, and I picked up on the mistakes I was making a lot more easily.
"Practicing little and often is one of the most effective ways to develop techniques and become accustomed new skills"
Early Jazz: New Orleans & the birth of a musical style
13th October 2019
New Orleans has always been a hot spot for things that are quirky, different and intriguing. One of the many new movements to come out of the city, and perhaps one of things to make the city most famous is, of course, jazz music.
Jazz is found all over the world now, but it's origins are focussed in New Orleans and most people credit New Orleans as the birthplace of jazz music and the place where early jazz matured and developed into its own unique style.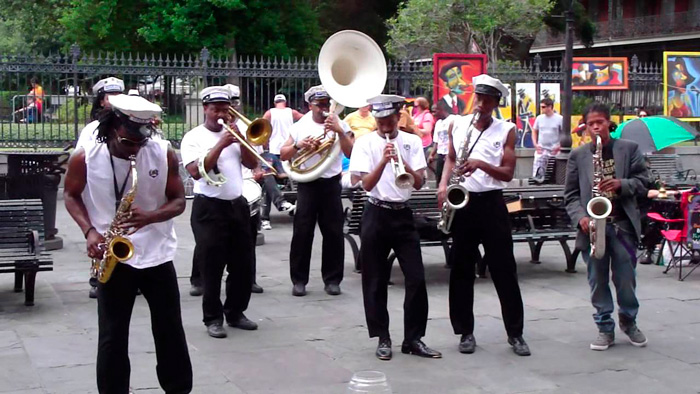 (more…)
Which Instruments are used in Jazz Music?
10th October 2019
As with all different genres of music, Jazz music tends to use a certain selection of instruments, known for blending that perfect jazz-style sound that has made the jazz genre so popular and well loved. Jazz is certainly known for a specific sound and style – and that's what makes the music so well loved.
However, because the genre of jazz music is so flexible and unpredictable, it's a genre that generally tends to be quite experimental with instrument choices. This means that a lot of modern jazz try to vary their instrumental choices – saying that though, there does tend to be a few instruments that feature in the majority of jazz bands, so we'll discuss these below in more detail.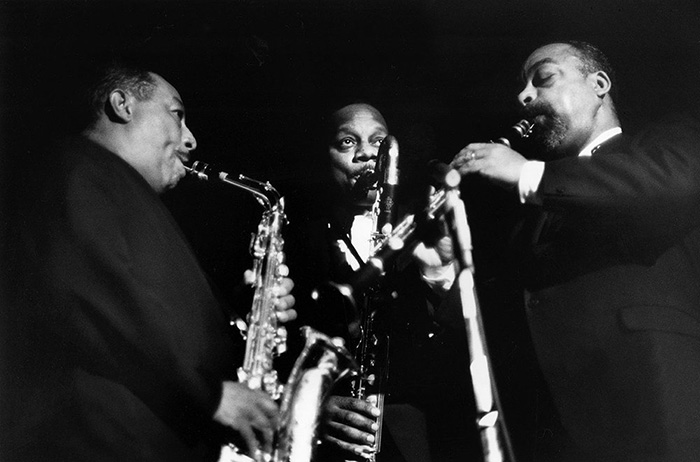 (more…)
Linda's Learning Lessons
7th October 2019
Linda is a sales specialist at Dawkes, and has been learning the flute for two years. Despite her background as a singer, taking on the flute was a whole new venture! In Linda's Learning Lessons, she'll discuss what she's taken away from learning an instrument as an adult.
(more…)
Our Pick: Top 5 Brass Bands in the World
6th October 2019
Brass bands are the ultimate in uplifting, joyful music. Brass bands are known for filling the streets with amazing music and uplifting the spirits of people passing by. Brass bands have a special place in our hearts and we love the music they make, and how they make us feel.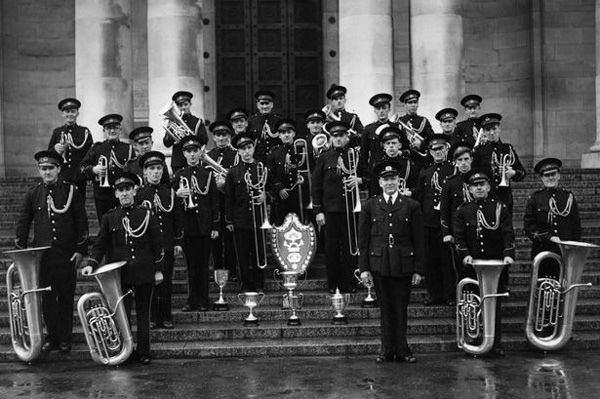 (more…)
What's the difference between Jazz & Blues?
1st October 2019
To the musical novice, Jazz and Blues may seem very similar and can easily be mixed up. The truth is, the two genres do have many similarities, but the core, origins and stylistic choices of the music styles are actually very different.
Here we'll discuss some of the main differences, and what makes both of these styles of music unique in their own right.
Thinking about what makes music, music – the cultural history, the origins and the instruments used are perhaps the most influential aspects. Here are some initial differences.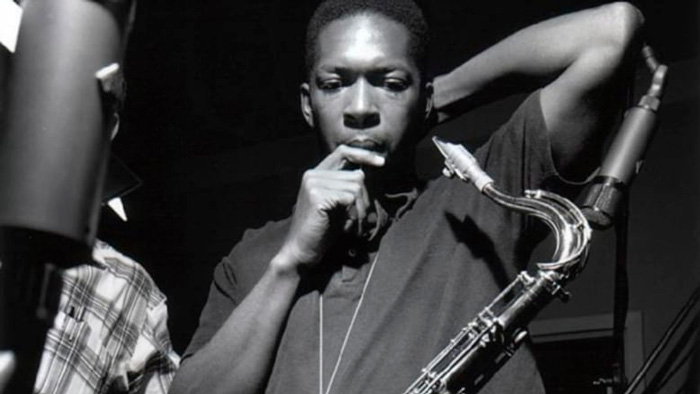 (more…)
Clarinet Playing Advice – Warming Up (Video 3/3)
23rd April 2019
In the final video of this mini-series, we talk about the importance of warming up. Often overlooked, the warm up should form a strong part of your overall practice time and regime. Nick talks about the books he uses and why it's so crucial to warm up properly, whatever your level and experience.
Workshop Feature: Making a Bass Clarinet
28th February 2019
We're very lucky to have a unique team of experts in our Woodwind Workshop. Their skills cover everything Woodwind & Brass related, and we want to share some of their stories with you…
In this blog, we talk to Ana who joined us in 2016 after receiving her BA Hons in Musical Instrument Craft (Woodwind Making & Repair) from Newark Campus (Lincoln College) – the leading Repair training centre in the UK. This is the story of her Bass Clarinet, yes, the one she actually made from scratch!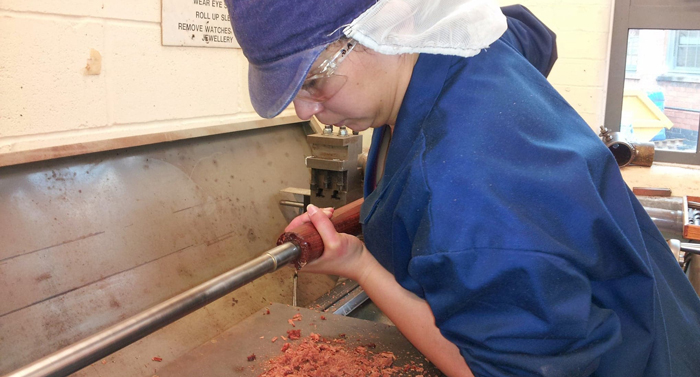 Brass Instruments in the Orchestra
23rd January 2019

Brass instruments in the orchestra traditionally fall into the four categories of horns, trumpets, trombones and tubas.
A typical combination of such instruments in a full symphony orchestra is four horns, two trumpets, three trombones and one tuba. However, the exact numbers in a given orchestra has been known to vary considerably according to historical period, geographical location and composer preference.
As their name suggests, brass instruments are unsurprisingly made of brass. They essentially resemble very long pipes that widen into a bell-like shape at their ends. The pipes are curved and twisted in many different ways, to enable them to be held and played more easily.
So, whether you are interested in a trombone, French horn or tuba, what do you need to know about the brass instruments in the orchestra to make the most informed buying choices?
Ultimate Guide: What is an Orchestra?

The term 'orchestra' means many things to many people, so it is probably most instructive to look first at the dictionary definition.
Dictionary.com, for example, provides various answers to the question "what is an orchestra?", with the first being "a group of performers on various musical instruments, including especially stringed instruments of the viol class, clarinets and flutes, cornets and trombones, drums, and cymbals, for playing music, as symphonies, operas, popular music, or other compositions."
However, the same site also posits that in a modern theatre, the term 'orchestra' may refer to the space reserved for musicians, usually the front part of the main floor. It adds that in the ancient Greek theatre, the orchestra was the circular space in front of the stage, allotted to the chorus.
Ultimate Guide: What is a Wind Orchestra or Ensemble?

If you are a music lover, chances are you will have heard some form of orchestral music, be that at the theatre, at live music events, or even on TV and film soundtracks. But what is an orchestra? Well, put simply, an orchestra is a group of musicians who play a range of instruments together to create live music. They differ from a marching band in that they are designed for concerts and seated performances. (more…)
Buyers Guide: New Instruments
21st January 2019
Buying a new instrument (or indeed second hand!) should be an exciting prospect. Your choice should help you progress as a musician and help propel you forward. For over 50 years we've helped musicians at all levels choose equipment. From new beginners aged 5, 6 and 7 through to top professionals who tour the world as musicians.
With all that experience we wanted to put together our ultimate guide to testing new instruments.
Woodwind Instruments in the Orchestra
15th November 2018
The name 'woodwind' for this family of instruments refers to the wood from which these instruments were once exclusively made, as well as the need to blow air – or 'wind' – into them to produce a sound.
Woodwind instruments in the orchestra are no longer solely made of wood, with metal and plastic also now being used.
An orchestra's wind section can consist of various combinations of such instruments as the piccolo, oboe, flute, clarinet, cor anglais (literally French for 'English horn'), bass clarinet, E-flat clarinet, bassoon, contrabassoon and saxophone.
Below, we have sought to answer some of the most common woodwind orchestra queries that our customers here at Dawkes Music have.
Are Saxophones Part of the Orchestra?
It's fair to say that the saxophone has long had a mixed relationship with the classical music world – such that you may be much more likely to hear one in a jazz recording than an orchestra. This is despite the saxophone somewhat filling an otherwise vacant gap between woodwind and brass instruments.
So, what are the factors in saxophone history that have contributed to the instrument's slightly 'outsider' status among classical musicians – and what is the saxophone orchestra's potential in the 21st century?

The Dawkes Music Story – About Jack Dawkes (part 2/2)
8th November 2018
This is the second part of our look back at the life of our founder Jack Dawkes. In the first blog Jack discussed his early life, time spent distance learning composition in WWII trenches(!) and leaving to become a working musician. In this second blog Jack talks further about his playing career and subsequent progression into Instrument Repairs and provision…
The Dawkes Music Story – Jack Dawkes (part 1/2)
2nd November 2018
Here at Dawkes we're proud to be a family business, in fact the fourth generation has just started working with us full time! We wanted to share some of this history through the words of our founder Jack Dawkes over two blogs.
In this first part Jack looks back at his early life including his first musical studies and his time in WWII including the Normandy campaign…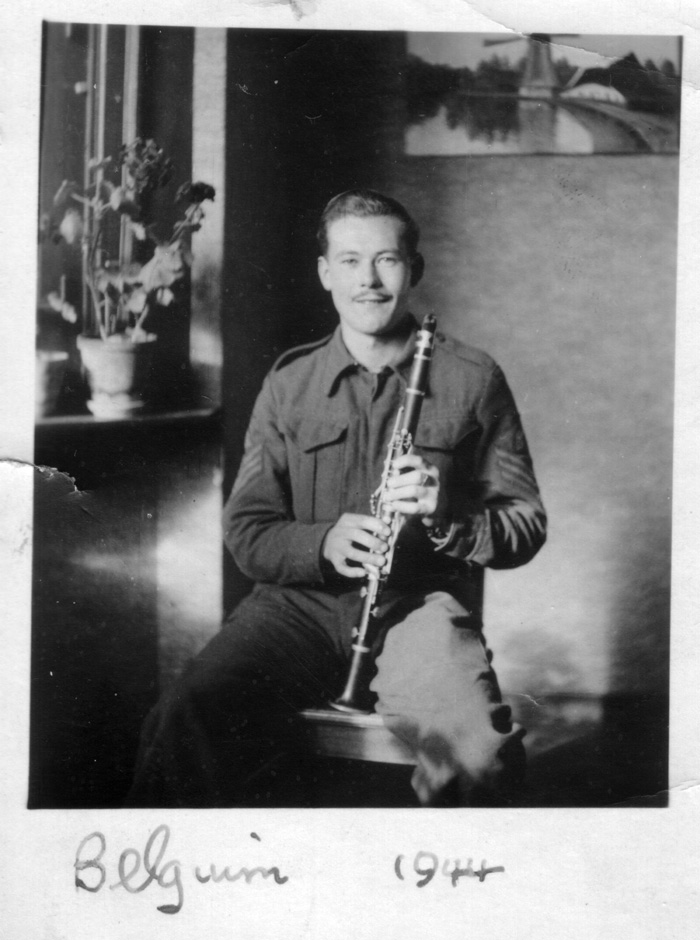 ACOUSTIC ROOM – UNIQUE FACILITY AT DAWKES MUSIC
30th October 2018
Here at Dawkes, we are always delighted to present you with the opportunity to come in and test run new (or used!) equipment. Whether that is a mouthpiece, instrument, or something from our wide range of accessories. What may be of interest to you is that our Acoustic Room is a facility where you can really hear the difference certain equipment makes to your sound.
In this room you can test out different equipment in a variety of acoustic environments. These can be changed at the push of a button, essentially simulating many 'real world' acoustic scenarios live. You can test and compare equipment and playback the results. You'll finally be able to hear what your audiences hear. More importantly, you can make sure you're happy with what YOU hear.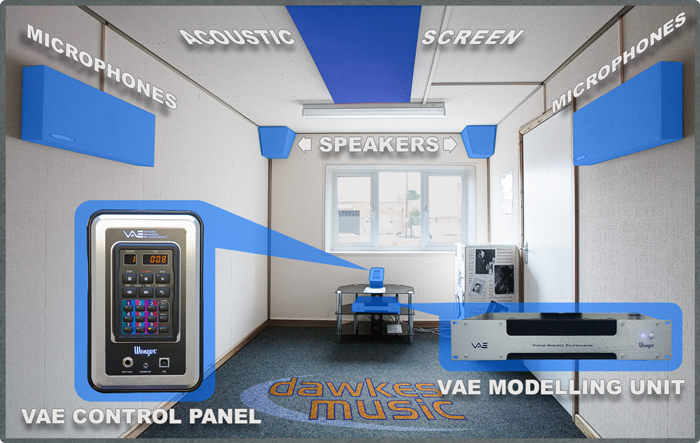 Brass Mouthpieces – An Overview
Why so Important?
All brass players wonder at one time or another whether or not making a change to their mouthpiece will help. Could it give them more range, more volume or a bigger sound? A change in the mouthpiece can yield fantastic results to the player. You can achieve faster, higher and louder from just a small change.

Meet the Team – Ana (Repair Dept)
16th August 2018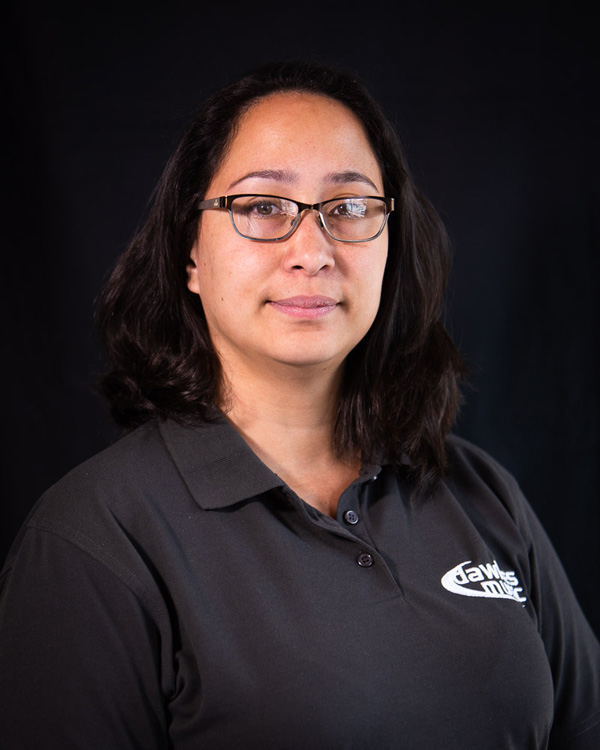 About Ana:
Hi, I'm Ana! I moved from Lisbon, Portugal to England to study a 3 year Woodwind Instrument Making and Repair Course at Newark College. This is an internationally known course that is recognised and valued among the industry. I believe for that reason I was accepted to join the team at Dawkes Music Workshop. Also the passion I bring to put my knowledge and skills into each repair.
Meet the Team – Jocelyn (Repair Dept)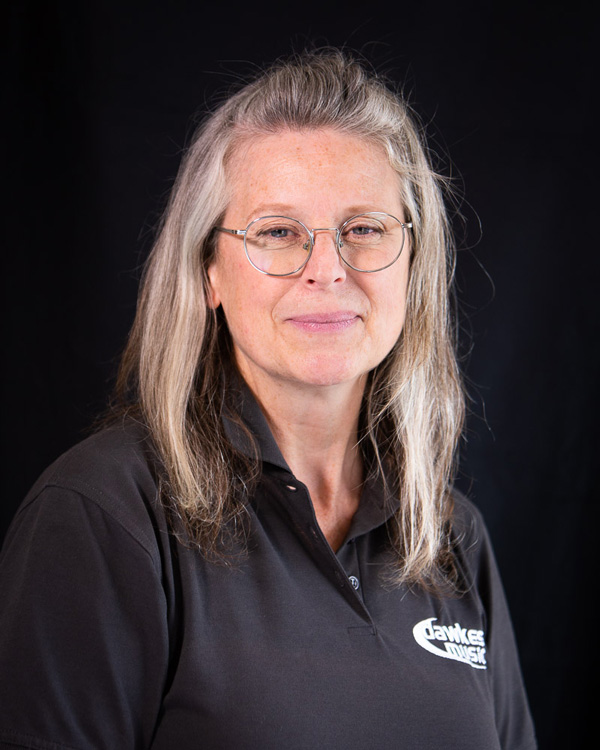 About Jocelyn:
Hi, I'm Jocelyn, one of the Repair Technicians at Dawkes. I work on both woodwind and brass instruments.
Meet The Team – Linda (Customer Service)
10th August 2018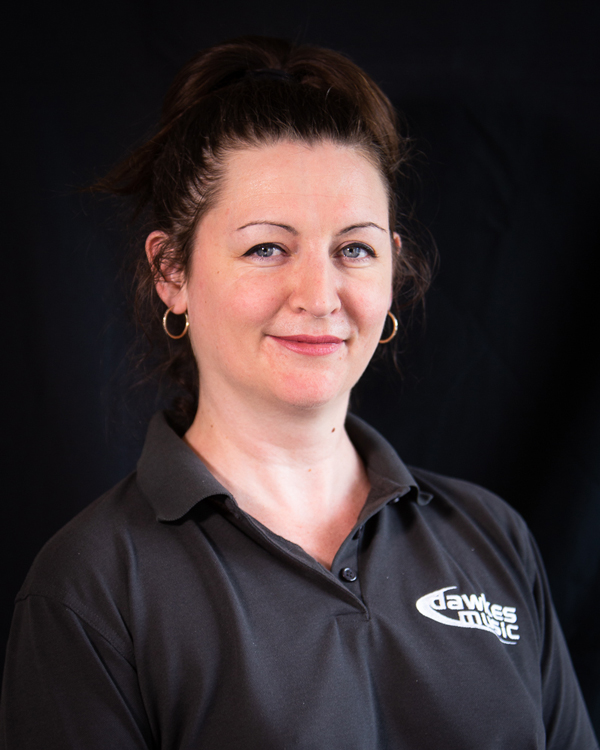 Hello! My name is Linda and I work in the customer service and sales department at Dawkes Music. My life would be incomplete without music! I've been singing and dancing for as far back as I can remember.
Meet The Team – Matt (Brass Dept)
2nd August 2018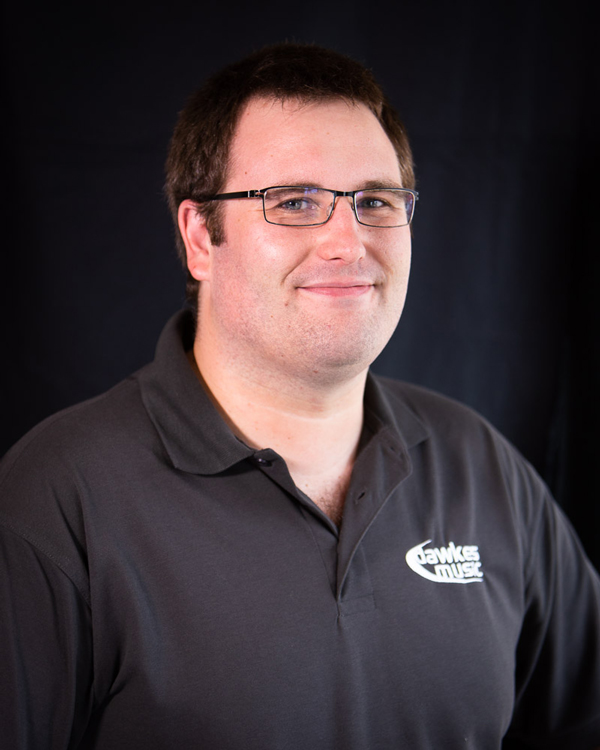 Hi! My name is Matt and I am a Brass Instrument Specialist here at Dawkes Music.
Learn To Play Day – Success Story #1
3rd March 2018
In preparation for this years national 'Learn To Play Day' we are chatting with some new players who started their musical journeys at a previous Learn To Play event. Whatever your age, there's nothing to stop you picking up an instrument and achieving your musical dreams! Over to you Heather…
Learn To Play Day – Success Story #2
In preparation for this years national 'Learn To Play Day' we are chatting with some new players who started their musical journeys at a previous Learn To Play event. Whatever your age, there's nothing to stop you picking up an instrument and achieving your musical dreams! Over to you Jinny…
Learn To Play Day – Success Story #3
In preparation for this years national 'Learn To Play Day' we are chatting with some new players who started their musical journeys at a previous Learn To Play event. Whatever your age, there's nothing to stop you picking up an instrument and achieving your musical dreams! Over to you Joshua…
Learn To Play Day – Live Music (Flute Duet – 2.30pm)
22nd June 2017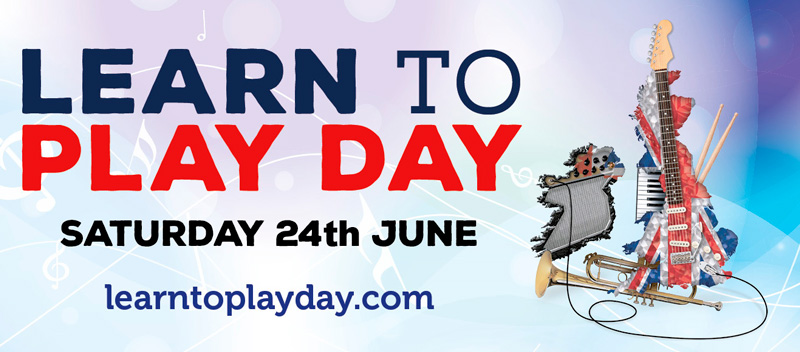 We've got some more inspirational live music for you as part of our LTPD celebrations this Saturday 24th June. At 2.30pm we will hear some wonderful flute duets from two talented flautists Victoria Dawkes and Suzanne Poulter. Here's a little bit more about them both:
Learn To Play Day – A Family Day Out
7th June 2017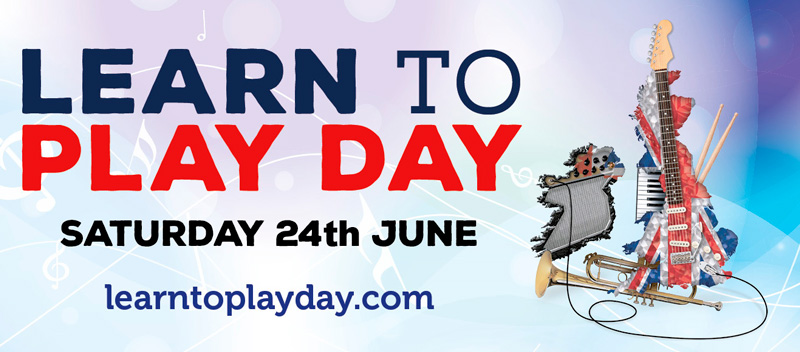 What is Learn To Play Day?
We're very excited to be taking part in the National 'Learn To Play Day' again this year. Each time we offer FREE taster sessions on Saxophone, Clarinet & Flute to anyone coming through our doors on Saturday June 24th.
Each year we give lots of free taster sessions to adults and children, it really is a fun day out for all the family in a supportive and relaxed environment. So far we've given over 300 free lessons in LTPD history, and many visitors have gone on to get involved in playing an instrument (read some our 'Success Stories' here).
Learn To Play Day – Live Music (Sforzando! Sax Ensemble)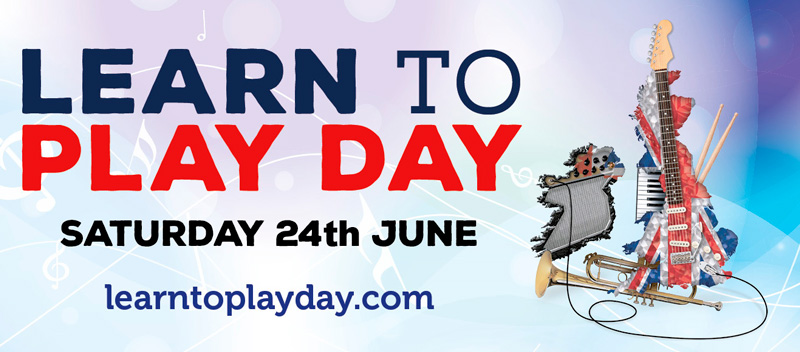 As part of our Learn To Play Day celebrations we're delighted to feature some Live Music throughout the day. This is all free and serves to inspire and encourage visitors to take part and pick up a musical instrument. It's not all about the professionals either, there are many adult and children's groups in our community at various levels of experience and expertise.
Learn To Play Day – Live Music (MyMusic Adult Group)
26th May 2017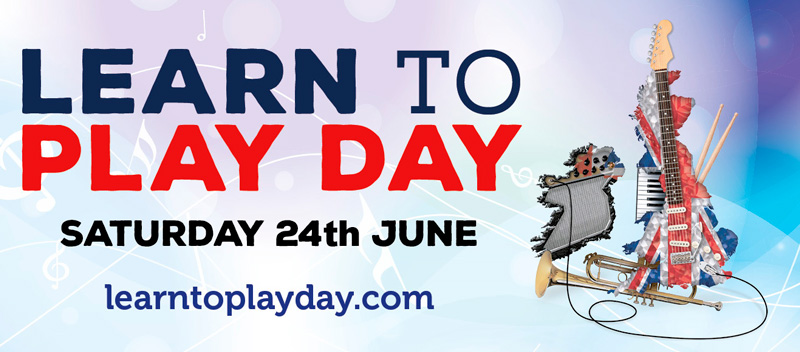 As part of our Learn To Play Day celebrations we're delighted to feature some Live Music throughout the day. This is all free and serves to inspire and encourage visitors to take part and pick up a musical instrument. It's not all about the professionals either, there are many adult and children's groups in our community at various levels of experience and expertise.
Education Support
4th October 2016
Dawkes Music strives to support musicians throughout their journey, and from the very beginning.  A couple of events we were present at in September are perfect examples of how we are always here to help create, support and inspire musicians of all ages.
Music Education Expo (2016)
23rd March 2016
For the first time, this year Dawkes Music took a stand at the Music Education Expo at London Olympia at the end of February. We were aiming to raise awareness of our products and services within the music teaching community. With an estimated attendance of 2500-3000 teachers, we were feeling confident that we could have lots of conversations about activities such as our 'Hands on' instrument sessions for schools, our Teacher Loyalty Scheme, the new Education Workshop series, our expertise in instrumental repair/ maintenance and the availability of repair days, as well as our range of beginner and intermediate instruments – all with a view to create, inspire and support new young musicians.
Award Winners! Dawkes scoop 'Best Classical Music Instrument Shop' award…
26th November 2014
We're delighted to have been voted by the public as the 'Best Classical Music Instrument Shop' for the UK in 2014.
Having been previous winners in 2011 & 2012 we were excited to get the award back to our shop in 2014. We'd like to thank everybody that took the time to vote for us, we do appreciate it very much and we hope we can continue to fulfill your musical needs throughout 2015 and beyond!
Learn to Play Day 2013 (Live @ Dawkes IV)
30th March 2013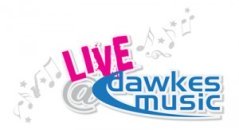 Saturday March 16th saw this years National Learn To Play Day land in style at Dawkes. As one of over 80 retailers taking part we were proud to offer free music lessons throughout the day, and in the usual Dawkes fashion we like to think we took it up a notch with some live performances from a Big Band and two local youth wind groups.
Dawkes Music – 2012 Award Winners…AGAIN!!! 'Best Classical Instrument Retailer'
23rd November 2012

The annual MIA (Music Industry Association) awards took place last night at the Emirates stadium in London. A gathering of all corners of the music industry from small independent retailers to large world renowned manufacturers meet at these annual awards to sort the 'best from the rest'.
Learn to Play Day, March 31st and Live @ Dawkes Gig #2!
5th April 2012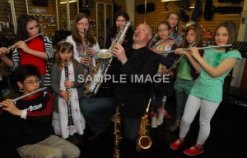 March 31st 2012 saw the first ever 'National Learn to Play Day' and Dawkes were commited to doing their part to help inspire and create new musicians in the community. Free taster lessons were available throughout the day to visitors young or old. We saw people aged 5 to 80 and gave over 60 people tuition on the day, everyone left able to play 'hot cross buns' and we even heard a few scales starting to come out. We were helped out by 3 or 4 local teachers who generously gave their free time to help people play and encourage new beginners, we'd like to thank Jon Woodhouse, Rachel Riordan and Michaela Bell for their time.