ACOUSTIC ROOM – UNIQUE FACILITY AT DAWKES MUSIC
30th October 2018
Here at Dawkes, we are always delighted to present you with the opportunity to come in and test run new (or used!) equipment. Whether that is a mouthpiece, instrument, or something from our wide range of accessories. What may be of interest to you is that our Acoustic Room is a facility where you can really hear the difference certain equipment makes to your sound.
In this room you can test out different equipment in a variety of acoustic environments. These can be changed at the push of a button, essentially simulating many 'real world' acoustic scenarios live. You can test and compare equipment and playback the results. You'll finally be able to hear what your audiences hear. More importantly, you can make sure you're happy with what YOU hear.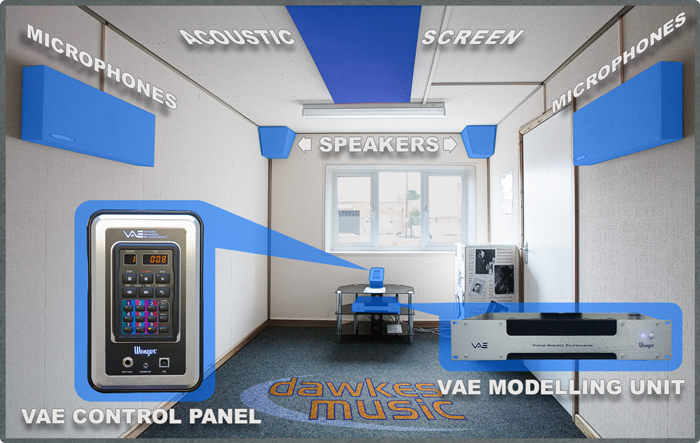 WHAT IS THE ACOUSTIC ROOM?
Our Acoustic Room is a purpose-built sound-proofed room with a VAE (Virtual Acoustic Environment) system. This offers nine different acoustic settings that vary at the touch of a button. With environments such as Ronnie Scott's, a Baroque/Audition Room, Town Hall, Cathedral, the Barbican through to Wembley Arena!  With microphones and speakers around the room it changes the acoustic setting live as you change the settings. You can record and play back your sound or just listen to the effect live. The audio is full, clear and with the facility to transfer onto a USB after you use it, you can then listen again later for further reflection.
WHY USE IT?
When you are buying a new instrument or trying other accessories, the cost can be so significant. You may be reluctant to spend such a great deal of money without being sure. With our Acoustic Room, you will get to hear the value of what you're spending, being able to test it out within the acoustic settings of the VAE.  Of course, we do offer our 14 day approval period allowing you to try the equipment at home or out on a gig as well. However, wouldn't you prefer to leave a music shop with the confidence that you are 100% happy with the purchase you've made?  When you're happy, we're happy.
HOW TO USE IT?
The VAE system has nine different acoustic settings and nine different recording channels. You can record a few different pieces with the one instrument or accessory. Or you can record the same piece of music with several instruments and accessories allowing you to hear the differences. Thus, helping you make an informed decision about your purchase.  The control panel is very easy to use, so anyone will be able to operate the system.
WHEN CAN I USE IT & HOW MUCH IS IT?
There is no cost for using it; however, we would prefer that you use the booking system we have in place to allocate the date and time required for testing. You may have used the room previously or be a first time visitor. Either way we welcome you to come and try it out.
To book this incredible facility, please contact us, and we can allocate you a time slot.  If you're thinking of upgrading some of your gear and what to compare different options this is a great tool to assist you.