Ask Dawkes – Clarinet & Sax
22nd April 2020
We've put together a top panel from our team with over 75 years of Sax & Clarinet playing, making, advising, teaching and performing experience under their belts.
You can SUBMIT YOUR QUESTION further down the page…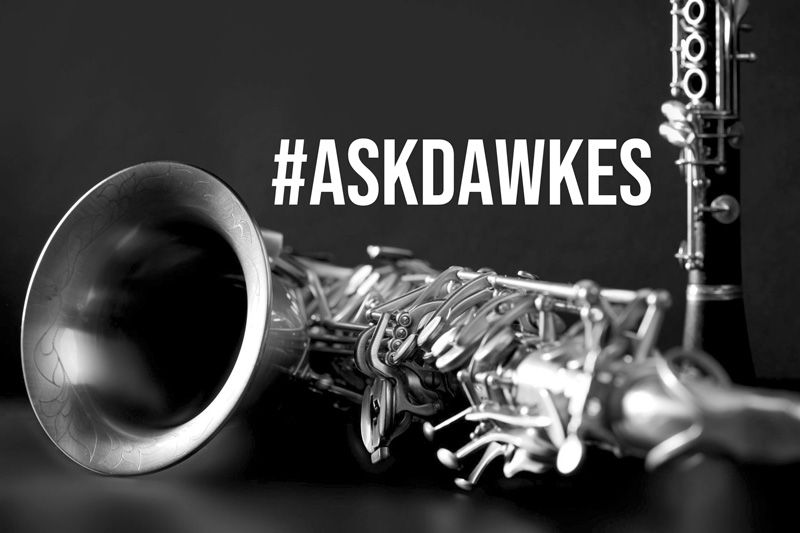 Our panel consists of players, repairers and product specialists (more info below). All of whom have many years experience with Saxophones and Clarinets. From teaching new beginners, to playing in front of paying audiences, from music college to repair college and to factories and beyond. This wealth of knowledge is yours to access for FREE.
We want to know ANY of your Clarinet & Sax related queries. Topics could include:
How Instruments are Made
How They Work
Gear Queries
Repair Info
Mouthpieces & Reed Differences
Repertoire Questions
Practice Advice
The Music Industry
ANYTHING YOU WANT!
If you're asking for yourself as an experienced player, or as a parent wanting to know more to help their child. We're here to help.
How To Submit a Question?
Use the submission box below to send us your Questions. Or, use the hashtag #AskDawkes on social media with your question.
---
Who's On The Panel?
Abi Taylor: Repair Workshop Manager
Abi came to Dawkes Music in 2008, through a trial apprenticeship under (then) manager Gary Hobdell. She gained a wide experience working and studying with a number of excellent woodwind and brass repairers in-house and with manufacturers. As her knowledge grew she gained a following of delighted customers and was promoted to Workshop Manager. Abi is a highly valued member of the Dawkes Management team and her knowledge on Wind & Brass repairs is second-to-none.
Abi has worked on Clarinets & Saxophones for many of the UK's top players. From small emergency repairs on the day of the gig, to full overhaul and customisations for players at all levels. She knows these instruments inside and out!
---
Alastair Penman: Professional Sax & Clarinet Player
We like to think of Alastair as part of the wider 'Dawkes Family' of musicians. We work with him regularly producing video & blog content helping players with tips and gear reviews. Although classically trained, Alastair enjoys exploring many musical worlds; such influences can be heard in his compositions and performances, which often transcend genre definition.
As an educator Alastair teaches saxophone at the Guildhall School of Music and Drama, and has been a guest tutor for the National Youth Wind Orchestra of Great Britain and Benslow Music. Alastair's YouTube Channel, Saxophone Resources, has received over 1.25 million views. Having gone through music centre, university, music college and on to paid professional work at the highest level, Alastair has an excellent understanding of the learning and professional worlds.
---
Jesse Harte: Professional Woodwind Player & Dawkes Specialist
You may well recognise Jesse as our in-store single reed/flute specialist and marketing content contributor!
Jesse studied music, including flute performance, at The University of Aberdeen, graduating in 2016. That September, he went on to study an intensive Master of Music performance at Trinity Laban Conservatoire of Music in London, specialising in Woodwind Doubling. It was there that he studied flute, saxophone, and clarinet with renowned industry professionals. He graduated with distinction, and has since enjoyed a number of contracts in various settings.
Jesse's experience is widely varied. From orchestral experience as principal flute in the University of Aberdeen Symphony and Chamber Orchestras, or clarinet with the Docklands Sinfonia, to various saxophones in a number of big bands, and most notably as a doubler for musical theatre productions. He has been a band member for Captivate Theatre since 2013, playing in sell-out productions of shows like Les Miserables and Oliver! at the Edinburgh Festival Fringe. Most recently, Jesse recorded flute, clarinet and tenor saxophone for the new album from Universal signed electro-swing act Dutty Moonshine, as well as touring with them.
Beginning on flute at 9 years old, Jesse fell in love with performing, and took on saxophone and clarinet at 14 and 15. Now, his instrument collection includes various members of the flute, clarinet and saxophone families, as well as other recorders, whistles, and traditional instruments!
---
Sam Gregory: Dawkes Product Specialist
Having joined Dawkes in 2000 as a Woodwind Repairer, Sam has worked in nearly all aspects of the business. Before he arrived with us, his youth had been spent learning the trade in his own Family music shop, at which point the dye was cast! From his Repair & Sax/Clarinet playing background, Sam has built a vast knowledge in Woodwind & Brass products and amongst other roles, now runs the Dawkes Internal Training Academy.
Trips to various factories around the world including Yamaha (Japan & China), Selmer & Buffet (France), Keilwerth (Germany) and more, have cemented his overall knowledge of all things instrument related. Although time for his own Sax & Clarinet performance opportunities are now limited, Sam uses his playing & instrument/gear knowledge to help customers at all levels.