Ask Dawkes – Clarinet & Sax Answers Session #1
5th May 2020
We recently offered to answer ANY of your Clarinet & Sax related questions. We had a good number of queries and have recorded our answers via the power of online meetings!
Check out all the questions and answers below. If you would like to submit a question, you can do that through the initial blog, or by using the form at the bottom of this page.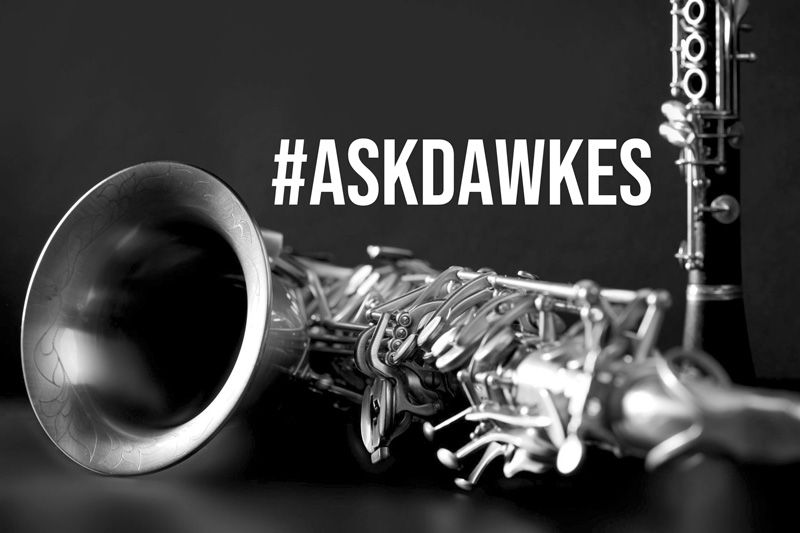 Question #1
"I am a mature student preparing for Grade 8 clarinet. The altissimo F# and G aren't as secure as I would like and are not yet totally reliable. What can I do to improve them? My set-up is: Selmer Seles Presence with BD5 mouthpiece and Vandoren 56b Rue L'Epic Reed, #3"

– Joanne (via the Dawkes Website)
---
Question #2
"I am relatively new to Saxophone (alto), and out of the blue I have a serious pain issue in my right thumb, extending down to the joint where the thumb attaches to the hand. It seems almost like an arthritis issue, it limits me to 10 mins max playing the saxophone.

Are there any alternative right hand thumb hooks / rests, that are designed to put the right thumb in a different alignment (of course, hopefully more ergonomic), that are known to work?"

– Martin (via the Dawkes Website)
---
Question #3
"How often should the bore of a clarinet be treated with bore oil?"

– Richard (via the Dawkes Website)
---
Question #4
"I currently play on a vandoren 5RV lyre and have done for 20 years. I'm considering changing my mouthpiece and am wondering which to go for? I've never really played on any other mouthpiece.

My set up consists of a rovner standard ligature on Yamaha CX custom clarinets. I use vandoren rue epic reeds strength 3 or a legere 2¾. Hope you can provide me with some thoughts. Many thanks"

– Emma (via the Dawkes Website)
---
Question #5
"What's the best method of explaining and demonstrating tounging to someone who is just starting to learn clarinet/sax? Any useful exercises?"

– Sam (via the Dawkes Website)
---
Question #6
"When's a good time to upgrade from a plastic Clarinet? I'm doing Grade 7 now but think a wooden one would sound better? If so, best options upto £1,000?"

– Laura (via the Dawkes Website)
---
Question #7
"What's a Saxophone pad made of? And how do they differ in quality of materials? Do different resonators change anything?"

– Jake (via Facebook)
---
Question 8
"How to choose a suitable reed and mouthpiece?"

– Annica (via Instagram)
---
Got a Question?