Lightweight Legends! Beginner and Student Brass Alternatives
19th February 2020
Continuing from our post on lightweight woodwinds, we also offer a range of lightweight brass instruments. Our selection of alternative brass instruments are great for the mini musician's first instrument. They're also ideal for adults – beginners to professionals – looking for fun, robust alternatives to classic models. Read on to find out more about the pBone, pTrumpet, and pBuzz!

pBone
The original lightweight, full size, revolutionary instrument! A .500″ small bore trombone, the pBone comes with a mouthpiece and lightweight gig-bag. Coming in at only 800g, this is a great instrument for the small musician who wants to make a big sound! This is also compatible with any small bore trombone mouthpiece, allowing established players to take advantage of the robust, easy to maintain pBone. The pBone is available in a wide range of appealing colours.
---

pTrumpet
Following in the footsteps of the pBone, the pTrumpet really sparked a revolution in the way the industry thinks about trumpets. Bash it, drop it … this thing won't dent like regular brass instruments, so it's great for those who might be a bit on the clumsy side! It's also easy to clean and sterilise, ideal for sharing instruments in the classroom.
The pTrumpet is also allowed to be played in the first few ABRSM grades. This lets students start their musical journey even younger. The pTrumpet is provided with two mouthpieces, but is also compatible with standard metal trumpet mouthpieces. Like the pBone, the pTrumpet is available in a range of fun colours.
---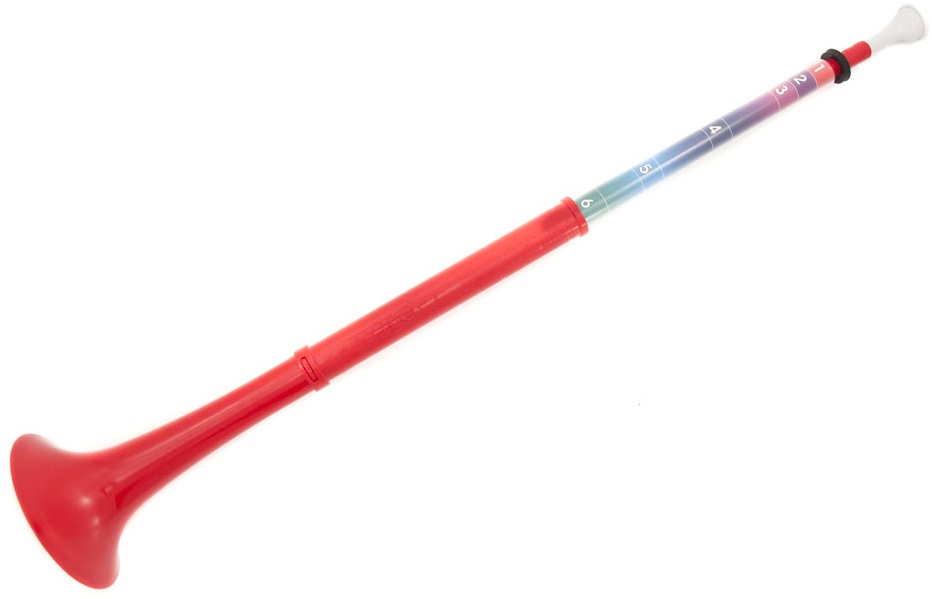 pBuzz
The final lightweight legend is the pBuzz. This is a simple instrument created with ease of access and playability in mind. The simple slide construction gives students an idea of the relationship between length and pitch, with clearly marked positions. pBuzz is a great introduction to the world of brass instruments – at such an affordable price point, it's great for class teaching. It's also great for a fun, easy to care for instrument and practice tool for already established brass players! The pBuzz is available in red.
Jesse – Sales Specialist
---
Whether you're interested in any of our lightweight legends, or any of our products and services, drop us an email or give us a call on 01628 630800 to find out more. Our staff are happy to help with any questions you may have. Book an appointment today to try any of our instruments and accessories!