'Trumpet-Fest' – Live @ Dawkes Event (Sat Nov 16th – Report)
4th December 2013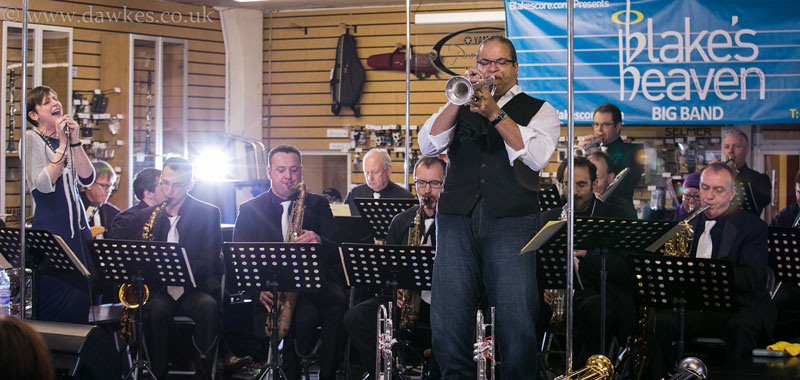 Many thanks to all who attended 'Trumpet-Fest', a fun time was had by all and plenty of Trumpet bargains got snapped up including some of the NEW Cannonball Lynx Trumpets!
The main feature of the day, aside from the bargains, was the live gig @ 2pm on the Dawkes Live Stage. Our resident big band 'Blakes Heaven' took to the stage and played some original funk charts written by their leader Nicholas Blake. The band were joined by Cannonball Trumpet artist Winston Byrd. Winston certainly hit some screamers and his character on stage was clear for all to see. Amazingly he didn't just use his own Trumpet, but he casually selected a different Cannonball for each tune and blew the house down accordingly.
The atmosphere at these live events is usually something quite special with a mix of young and mature in the audience. It was especially nice to welcome EBJO (East Berks Jazz Orchestra) onto the stage before the main event. The outfit, led by Sue Dunsdon and run by Berkshire Maestros gave a great performance and hopefully it will have given them some invaluable experience for them in front of a live audience. We strongly believe in supporting young musicians and giving them all the tools and experiences they need to create a long lasting love for instrumental playing.
Check out the video below of the band, feat Winston Byrd…and the members of the 'Blakes Heaven Big Band'.