Gonzalez Hand Selected Saxophone Reeds
Gonzalez reeds are produced in the world's largest cane plantation in Argentina. The reeds are grown and cultivated naturally using only organic fertilisers and the rich soil at the foot of the Andes. Gonzalez now generates 7 million reeds per year and has players all over the world. Gonzalez takes pride in their tradition and pay particular attention to the consistency of grade and tone in their reeds. With competitive pricing, unsurpassed consistency and fantastic response and tone Gonzalez are deserving of attention from all Sax players...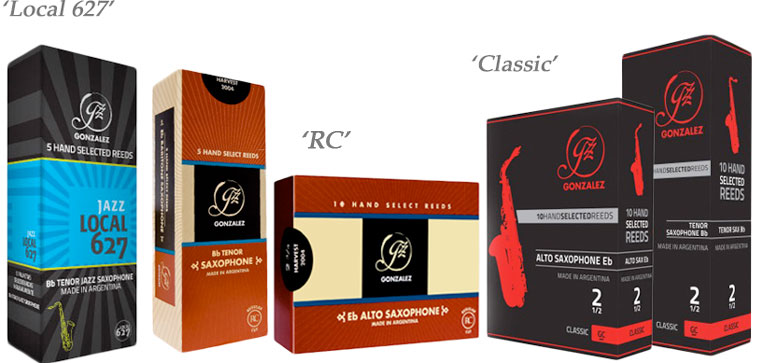 Gonzalez Jazz Local 627 Reeds
The Gonzalez Jazz Local 627 Sax reeds have really started to become a serious choice for any discerning Jazz saxophonists. With an unsurpassed level of consistency and a good balance of brightness and depth, the Jazz Local have proved to be the perfect mix of a good Select Jazz Unfiled mixed with a Vandoren V16. Due to the production methods, where the cane is aged longer and more carefully than most, the reeds have good longevity and like all Gonzalez offer usually very good consistency from a box.
The brightness from the reed is not 'buzzy' or uncontrollable and as such supports the harmonics especially. The depth and texture in the sound suits the rich bottom end of Sax nicely as well. Players currently using the following reeds may find the Gonzalez Jazz Local to be suitable: Vandoren V16, Vandoren ZZ, Vandoren Java Green, Select Jazz, Marca Jazz, Alexander NY, LaVoz, Francois Louis, Rigotti Gold Jazz
Gonzalez Jazz Local 627 Reeds
Gonzalez RC Sax Reeds
The Gonzalez RC Sax reeds have proved to be very popular for a variety of players and scenarios. Priced very sensibly and as a direct competitor to the Rico 'orange box' they have proved to be arguably more consistent and better playing than the Rico's, and at a more affordable price, ideal for educators. The RC range has also proved to be popular amongst players of many genres including Concert Band, Grade Exams, Contemporary and more. They sit in the middle of many style suitability, ie some jazz players like them, others prefer the Jazz Local 627. Some more classical or grade players also get on with the RC, whilst others prefer the Gonzalez Classic. The RC Sax reeds are flexible, consistent and long lasting.
Unlike the other Gonzalez Sax options they come up softer than you would expect. So for example if you use Vandoren Traditional #2.5 you'd probably want a Gonzalez RC #2.75 or #3. Yes! They do 1/4 strengths, but only from 2.5 to 3.5, not either side of that. Players currently using the following reeds may find Gonzalez RC to be suitable: Vandoren Traditional, Vandoren V12, Rico Orange Box, LaVoz, Alexander Superial, Mitchell Lurie, Reserve by D'Addario, Daniels etc
Gonzalez RC Reeds
Gonzalez Classic Sax Reeds
The Gonzalez Classic Sax reeds are designed for the musician to quickly adapt to it, because they have a cut that has been used by most manufacturers (similar to the Vandoren Traditional), but using the slightly longer aged cane that is present in all Gonzalez production. They have a typical filed French cut, with a thin tip, that will be suitable for those types of mouthpieces with French style rolling facing curves (Selmer C*, Vandoren AL3 etc). The cut style offers a bright and flexible response without some of the resistance and depth of the Jazz Local 626 and RC. Players currently using the following reeds may find Gonzalez Classic to be suitable: Vandoren Traditional, Vandoren V12, Rico Royal, Mitchell Lurie Premium, Marca Excel, Rigotti Gold etc.
Gonzalez Classic Reeds
Not sure what Strength?
Email us your setup (reeds, mouthpiece) and style of music played.
One of our reed consultants will contact and inform you what strength reed you need.