Product Information
As fellow clarinettists, here at Dawkes we understand how important it is to find the right reed for your mouthpiece. 
Musicians often end up purchasing box after box of reeds that not only are the wrong strength, but also of the wrong style for their mouthpiece. These unsuccessful attempts result in wasting both time and money, along with causing unnecessary frustration for the player.    
To combat these issues, we have designed a variety of reed selection packs, each pack containing six reeds specifically tailored to suit your particular mouthpiece. For a modest price, you have the opportunity to try a selected assortment of reeds…and hopefully find your optimum set-up! 
There will always be a good player who contradicts our advice, but our pairing of reeds and mouthpieces is done on a design basis, not formed on opinion but facts. The French Cut Reed Selection Packs include reeds with thin tips and thick hearts and will suit mouthpieces with a French style facing which has a rolling curve towards the tip.
Which Mouthpieces Will These Reeds Suit?
The French Cut Reed Selection Packs are suitable for the following: 
Buffet Plastic Models (as supplied with outfits)
Selmer 120 / Concept / Focus
Weinberg M1, M3 and D3 Models
Rico Reserve X10E, X15E, X25E
Vandoren 5RV, 5RV Lyre, B45, B45 Lyre, B40, B40 Lyre
What's In a Pack?
French Cut Reed Selection Packs (sold by strength) include a varied selection of 6 reeds from the following*:
SOFT: Vandoren Traditional in 2, Vandoren V12 in 2.5, Gonzalez Classic in 2 and ISHIMORI Wood Stone in 2.5. 
MEDIUM: Vandoren Traditional in 2.5, Vandoren V12 in 3, Gonzalez Classic in 2.5 and ISHIMORI Wood Stone in 3. 
HARD: Vandoren Traditional in 3, Vandoren V12 in 3.5, Gonzalez Classic in 3 and ISHIMORI Wood Stone in 3.5.
* PLEASE NOTE Contents may vary depending on stock levels, we are unable to swap reeds after delivery.
The chart below can be used as a reference as to which strength selection pack you may wish to order based on your current reed choice.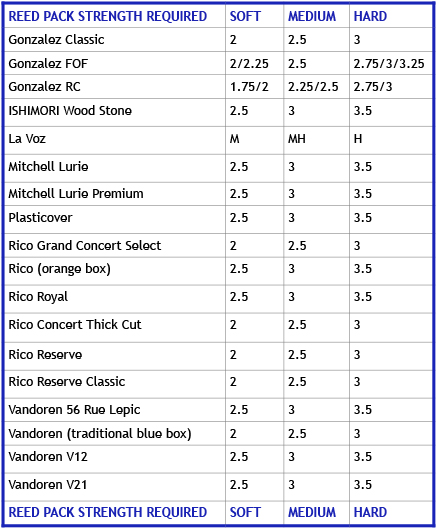 If your current mouthpiece and/or reed choice doesn't fit within these parameters, please call us on 01628 630800 so we can create a custom made pack for you.     
Our specialist trained staff are able to help you. Please contact us or call us on 01628 630800
Clarinet Reed Selection Pack - French Cut Reviews
Anonymous review via Feefo - 2021-12-30
What a great idea having a selection pack to try.
Anonymous review via Feefo - 2020-09-04
Great reeds. Pity my playing wasn't as good as the reeds!
Anonymous review via Feefo - 2017-07-30
I love the opportunity to try different reeds without having to buy a box full of each.
Anonymous review via Feefo - 2016-11-11
Excellent selection of reeds sent
After extremely helpful advice from Emily I ordered a selection pack and yes it saved me from some expensive mistakes. Not often shops put in place systems to save the buyer money. It makes one more confident and more likely to use them again.
Anonymous review via Feefo - 2016-04-21
So pleased to be offered the service of trying out a number of different rates before bulk buying. A marvellous service
Anonymous review via Feefo - 2016-03-03
A mixed selection of reeds is the best idea ever. It saves a very expensive mistake of having to buy full boxes just to find out you don't get on with them. The range of cute and strengths is great. Very pleased.
Dawkes Music & Windcraft Ltd are a globally recognised UK based Music Industry company that have expert staff who specialise in products, performance, teaching and repairing in the brass and woodwind sector.
Highly Recommended
Buy with confidence knowing that the shop you're dealing with has been awared a Feefo Gold Trusted Retailer award which recognises our hard work and consistent excellent customer service.
14 Day Approval
Try your item at home, in a lesson, in the band and make sure it's perfect for you. If you are not convinced we can refund the item in full upon return. (£3 re-stocking fee on any mouthpieces, approval not available on reeds).
Fast Delivery
All in stock items are usually dispatched within 24 hours, express delivery options are available at the checkout, including next day delivery.
Best Choice
We carefully choose and stock the best products on the market, be it the newest mouthpiece or official replacement spare parts for instruments. We keep over 8,000 lines in stock covering everything Woodwind & Brass.
Great Prices
We carefully check pricing to ensure our customers get the best deals with unrivalled pre-sale advice and after-sales care.
Top Quality After Sales Service
We have 18 members of staff in-store and on the telephone 6 days a week, and our online service is 24/7. Experience you can trust with over 40 years in the business and a third generation specialist family business.