Schreiber Instruments - History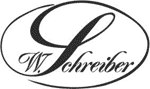 W. Schreiber has a long tradition of making woodwind instruments, such as clarinets, bassoons, oboes and flutes. Schreiber has always perfectly combined traditional craftsmanship with modern manufacturing methods. Highly trained craftsmen, the use of excellent tools and precision manufacturing machines together with a perfect feeling for sound and playing characteristics guarantee the high quality standard of Schreiber clarinets, bassoons and flutes.
A complete range of clarinets and bassoons provides both the student and professional with sensitive response, perfect intonation and a beautiful sound. When the company W. Schreiber & Söhne (Wenzel Schreiber and his two sons Hugo and Ernst) submitted their production application on October 14, 1946, Germany was still in ruins. Despite the difficult economic conditions, Wenzel Schreiber succeeded in overcoming those difficult times. The past 5 decades, Schreiber developed their own profile - from a small repair and production shop to an internationally recognised company, which today employs 315 people. Schreiber started their company as a recorder manufacturing facility. Soon after, Schreiber began manufacturing oboes, bassoons, and clarinets, with the first bassoon created in 1951 and the first clarinet in 1954.
In 1969, Schreiber merged with the American owned Tolchin Group, along with the string instrument maker Roderich Paesold, the case factory Jakob Winter, and the French instrument maker Buffet Crampon. Distribution centers were based out of Japan, USA, England, Benelux, and Australia. In 1981, the Tolchin Group companies were purchased by the Boosey & Hawkes Group. This merger allowed for all member companies to have their own world wide distribution network.
The reunification of East and West Germany made it possible for W. Schreiber & Söhne to open further production facilities in Erlbach and Markneukirchen in the Vogtland area of Eastern Germany. In 1997 Schreiber merged with the saxophone maker Julius Keilwerth. In the course of extending production capacity, a new factory for woodwind instruments and components for brass instruments was opened in Markneukirchen in the year 2001. Since, 2007, the whole production has been located in this modern factory. On an area of 8000 m2, more than 300 staff are involved in the production of flutes, clarinets, saxophones, oboes, bassoons and brass instruments. The distributed brands Julius Keilwerth, W. Schreiber, York, AW Reeds and Denis Wick are among the most reknown brands of the music industry.