Beginner Oboes – An overview…
Here our Oboe specialist Louise will walk through the main beginner oboes:
Beginner oboes come with a variety of prices and differences. Whether it is the reputation of the manufacturer, the quality of the materials or what you get with regards the key-work to help your playing improve. These oboes are designed to encourage the player and would suit complete beginners all the way up to grades 4 or 5.
The main oboes available in this area are the Yamaha YOB-241B, the Buffet 4121 and the Howarth S10 and we'll look at each in turn:
The Yamaha YOB-241B is what we recommend for our rental customers and/or those very young players; This is due to the quality, reliability of the instrument and the simple set out of the key-work to allow a beginner to become comfortable with playing.
The body of this oboe is made from an ABS Resin which concentrates the sound produced thus allowing the player to produce a good clear sound as well as providing allowances for good intonation. These factors are important when building confidence and clarity of tone especially for new players.
The keys are silver plated Nickel keys which are standard on any instrument and should be well looked after to prevent tarnishing. The oboe is simplified conservatoire (semi – automatic system) with thumbplate.
THE PLAYERS REVIEW:
This oboe is responsive to the touch and gives out an even tone and can be pushed to the limits. The Key work has a fairly simple layout but the oboe setup does allow the player to play 3 octaves when alternative fingerings are used. This isn't encouraged in younger players as they are getting used to the instrument but is useful for those attempting grades 4/5 with this instrument. The lightweight nature of this ABS body would suit a young player especially.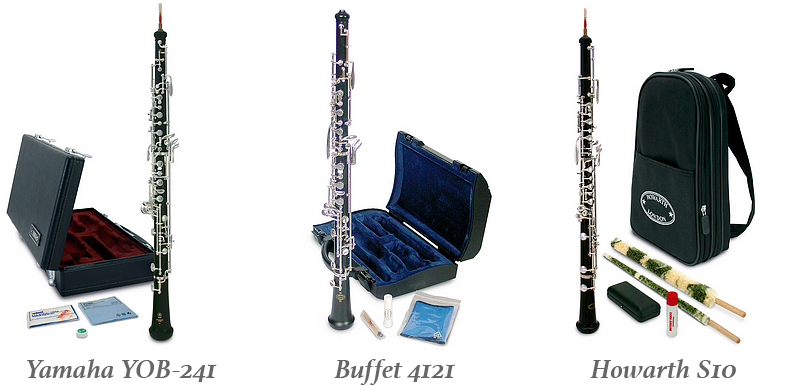 The Buffet 4121 is also available for rental or purchase. This oboe is a reliable instrument and is set out to allow the beginner to adjust to playing quickly. The oboe is designed to be resistant to cracking and has a comfortable layout of key work for younger beginners as well as being more lightweight.
The body of the oboe is made from African Blackwood however; the bore is lined with Luracast, a type of resin, to prevent the oboe from cracking. Thus allowing a natural oboe sound but protecting the wood from the stresses of playing especially when the oboe is new.
The keys are Silver plated Nickel which is standard on any instrument and should be looked after. The oboe has a simple conservatoire system (Semi – automatic) with the added thumbplate. It also benefits from a High D trill key, double Eb and it extends to low Bb.
THE PLAYERS REVIEW:
This oboe has very responsive key-work and is easy to play. The wood of the oboe gives this oboe a great lower full sounding tone. The oboe can easily reach 2 ½ octaves with the 3rd octave requiring higher level skill to reach using alternative fingerings. This instrument would be great for a beginner up to grade 4/5.
This Howarth S10 is a long established student model of oboe and is recommended by leading authorities and teachers in the UK. The instrument has close spacing of keys for younger players and has a lightweight design for ease of handling.
The body of the oboe is made from African Blackwood and is a lightweight model, although it is marginally heavier than the aforementioned Yamaha YOB-241 ABS body.
The instrument is particularly suitable for students because the design specification includes close finger spacing for the smaller hand.
The keys are Silver plated on Nickel Silver and all tone holes are covered. It has a forked F vent allowing a more balanced tone, single action octaves and a useful low B to C link, all standard features for a good beginner oboe. As the wood isn't coated with anything a strong and even tone can be enjoyed. This instrument would easily suit up to Grade 5 level, with an upgrade only being relevant with a view to gaining extra key work and a stronger tone.
THE PLAYERS REVIEW:
This oboe has light key work with good spacing for the fingers to get used to playing which fits nicely under the fingers. The simple layout allows learning to play easy and has an advantage with the Low B to C link which isn't common on other model oboes.
Summary
These oboes are great all around for beginner oboists and are a lot of fun to play. The quality of the instruments means that they can allow a beginner to enjoy a good tone and practice good intonation right from the start of learning to play. Importantly with an Oboe we make sure each instrument is perfectly set-up and ready to play before purchase, they have a very complex mechanism that requires a professional set-up to ensure the instrument is working easily and reliably.
We do rent out the Yamaha 241B and the Buffet 4121 in our rental scheme so if you wanted to try these models you can! We also offer interest free finance on purchase of any of the above models as well. If you would like to try out any of the models above please contact us and we can arrange this in store.
Any questions feel free to contact us!
Author: Louise – Woodwind Specialist (Oboe)
Beginner Oboes – An overview…
Are you a TooT-er or a DooD-er?! Teachers, we need your opinion…
In recent years there has been a variety of plastic student instrument options for very young players. From the Fife, to the Clarineo (the newer version of the Lyons C) and more. In theory these are all designed to meet a brief for young children to get access to instrumental playing from an early age. However it's been something of a 'hot potato' for various reasons…
In our experience there are split camps on these types of instruments, thankfully as the Retailer we have to keep a middle ground and let Teachers decide for themselves but we've seen people who praise them and people who curse them! SO, what we want to ask now is for your help, to assess and review a new range of plastic instrumental options. Rather than take our word (good or bad) we thought it much better to engage and involve our Teacher database to come to a balanced and fair conclusion. We are looking for a number of instrumental Teachers to volunteer for a review panel for the following instruments:
We're looking for a few Teachers on each instrument to really get into the nitty gritty of these instruments, play test them with kids and experience them in the 'real' world to see how they hold up, their strengths and weaknesses. If you're keen to get involved we'd love your input, after all you all are on the front line day in day out, and really are the experts on the Teaching.
Please CONTACT US for more details and we will be in touch with info and options for participation.
Nuvo TooTs
Nuvo DooDs
pTrumpets
pBones
Are you a TooT-er or a DooD-er?! Teachers, we need your opinion…
Recent Posts
Music Education Expo (2016)
'Reed' all about it: Part 3 of 3. Synthetic Clarinet Reed Options & 'Best of the Rest'
'Reed' all about it: Part 3 of 3. Synthetic Clarinet Reed Options & 'Best of the Rest'
UK Jazz History…