5% OFF – Top 10 Clarinets Offer
6th March 2018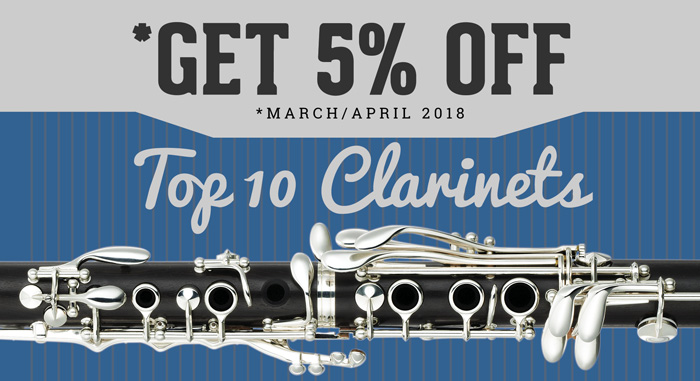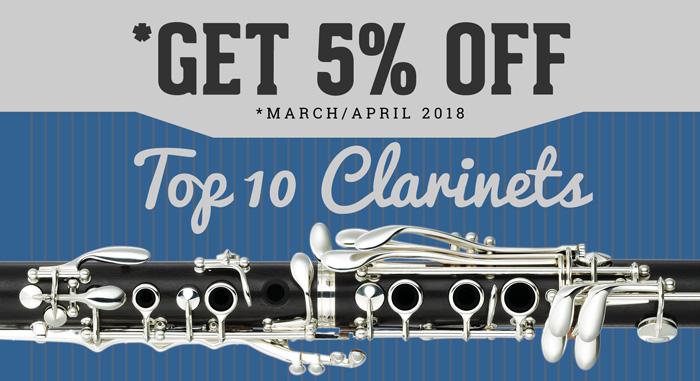 We're delighted to be offering an extra 5% discount off our Top 10 Clarinet models until April 30th, 2018. There is limited stock available so don't miss this chance to grab a bargain for either a beginner, upgrader or pro player – we've got something for everyone.
Each instrument comes with the following:
Professional Set-up and Pre-Sale check in our Woodwind Workshop
Minimum 1 Year Warranty (others more)
14 Day Approval
Case and Mouthpiece Supplied (unless stated otherwise)
Simply Use Code

TOP10

At Checkout Or In-Store To Claim Your 5% Discount.

Windcraft WCL-100: The fantastic Windcraft beginners Clarinet is a great value entry level instrument for any new player. The instrument is carefully checked and set-up in our workshop prior to sale and comes with a 5 year warranty. Designed to be easy to play and realible to own the WCL-100 is a great first clarinet.

Usual Discount Price: £199 – Now £189.05 with code TOP10 (shop now)

Yamaha YCL-255: Arguably the greatest beginner model ever produced. The Yamaha 255 is very easy to play, has a beautiful tone and is extremely well made. The choice of many Teachers and Players across the world, the Yamaha is light to hold but handles like an upgrade instrument.

Usual Discount Price: £465 – Now £441.75 with code TOP10 (shop now)


Uebel Etude: With a rich tradition in clarinet manufacturing the Uebel clarinets offer a warm and full tone. This Etude model is a great value option for anybody making the first upgrade from a cheap beginners model, or indeed someone starting out but wanting to jump straight to a better instrument. The clarinet body and bell are made of ABS but the barrels (two supplied: 65mm and 66mm) are wooden which adds some depth and quality to the tone.
Usual Discount Price: £565 – Now £536.75 with code TOP10 (shop now)
Buffet E12FL: This new model Buffet was recently added to the range as a next step up from an E11 but at a level just below the E13. The Buffet E12FL model features the extra Eb lever key, made clear by the extra L in the model code. This provides an alternative fingering that is only usual found on more expensive models.This is an ideal first wooden clarinet for any advancing player.
Usual Discount Price: £1078 – Now £1024.10 with code TOP10 (shop now)
Yamaha YCL-650: The YCL-650S is excellent value for money, providing the player with a professional quality clarinet at a much lower price. It contains many of the features and playing characteristics of the custom series clarinets including undercut toneholes, resonance chamber in the bell and many of the benefits only seen on handcrafted instruments.
Usual Discount Price: £1095 – Now £1040.25 with code TOP10 (shop now)
Backun Protege Cocobolo: An affordable professional instrument, the Protege Bb Clarinet is the next logical step between beginner and Artist models. With its uncompromising tone, impeccable intonation and a unique acoustical design, the Protege redefines what an aspiring player needs in a clarinet. This model is made of Cocobolo wood which adds a certain sweetness and depth to the tone, the keys are finished in bright silver plate.
Usual Discount Price: £1695 – Now £1610.25 with code TOP10 (shop now)
Buffet R13: Developed in 1955 under the guidance of Robert Carree, the R13 clarinet quickly became the legendary choice of professional musicians. The R13 impresses with its rich and focused sound, its power in all registers and its flexibility. The R13 is suitable for all types of musician, symphony or chamber music, soloists, teachers, those in marching bands, students and amateurs.
Surely the most popular clarinet in the world Buffet R13s can fulfil any musical requirement in any environment. The measuring point for all others to be compared against.
Usual Discount Price: £2436 – Now £2314.20 with code TOP10 (shop now)
Yamaha YCLCSGIII & YCLCSGIIIL: Assisted by top UK professional Michael Collins and other European Yamaha artists this new model oozes quality and is meticulously produced to the highest standards.
Both the bell and barrel have been redesigned from the original CSG clarinet, these changes add more warmth and resonance to the instrument. The CSGIII also benefits from new sleeker key modelling, redesigned tonehole positions and design, and correct use of leather and cork pads at various points of the instrument. All these improvements add to the projection and feel of pro quality.
CSGIII Usual Discount Price: £2565 – Now £2436.75 with code TOP10 (shop now)
CSGIIIL* Usual Discount Price: £2605 – Now £2474.75 with code TOP10 (shop now)
*L model has Low E/F Pitch Correction Key Included


Buffet RC Prestige: Numerous improvements have been made to the famous RC Prestige, now its already remarkable tone is even better: the shape of the bell plays a major role in adding warmth and focus. Carefully chosen quality materials, the talents of the best craftsmen, cutting-edge technology and unparalleled skills come together in the RC Prestige.
The body is produced from the finest selected, dried and tested wood. It has a high precision bore and the undercutting of tone holes is carried out according to BUFFET CRAMPON strict specifications. The keywork is nickel silver, pre-plated in copper, then silver plated on top. This is an extremely impressive instrument suitable for the most demanding professional requirements.
Usual Discount Price: £3412 – Now £3241.40 with code TOP10 (shop now)
Buffet Tradition: The new Tradition has been inspired by a 1960s design while taking into account the needs of modern musical repertoire and performance practice, this brand new cylindrical bore compliments the R13 and RC bore families, adding a new acoustic dimension to the Buffet offerings.
Featuring a cylindrical bore design, the new clarinet harkens back to the purity of sound produced by the BC20, with a tone hole placement inspired by the Tosca design. The result is an instrument that presents a clear, focused, rich sound suitable for any acoustic environment and an even scale for consistent intonation throughout all registers.
Usual Discount Price: £3412 – Now £3241.40 with code TOP10 (shop now)