Bass Flute – Have a sit down!
1st May 2010
Well, we waited eagerly (at least the flute players here did!) for the arrival of our Jupiter Bass Flute – 1125ES…seen for the first time last year 'stood up' at a trade show.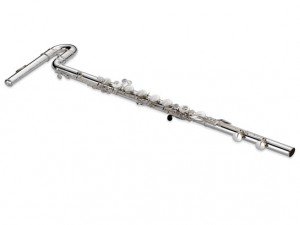 It arrived safe and sound and we set about the often perplexing assembly of harmony instruments, happily this was a breeze and within seconds the instrument was assembled with due care and off we went. First impressions: this adjustable floor peg is really useful…Having had a fair amount of Bass Clarinet playing experience I felt quite at home with the peg, although the sax playing part of my mind spotted the sling hook as a good back up. Perhaps more useful for any pieces where mobility is required! For an average flute player like myself I was actually amazed with the sound I could produce on this notoriously 'chop reliant' instrument. However, once I was puffed out and had explored the limits of my 3 octave range I passed the instrument to one of our real flute players…
Vicky had a good toot up and down the instrument as we explored more accurately (than I could muster) its tonal qualities and range. The sound of any good Bass Flute can be described as hauntingly beautiful without fear of overdoing it, but these large instruments really demand quality padding and all the regulation to be pretty perfect. Try playing any Bari Sax, Bass Clarinet, Bass Flute etc that's in poor mechanical condition and it soon becomes a battle. Although this instrument would get put through our specialist workshop pre-sale we were very impressed with the factory set-up, the mechanics, spring and pad covering were all good and this bodes well for the future use of the instrument. Often these instruments either end up with Music Centres, where they can be slightly man-handled, or with Adult players who don't use it as regularly as a C flute so need it to stay in regulation and be ready to blow every time they pick it up.
There's no escaping the fact these instruments are expensive but if we were recommending it as an investment we'd be happy to put our bet on the Jupiter. As explained earlier if you want a harmony instrument of this nature it would pay long term dividends to have a good quality instrument, after all it would be far more enjoyable to play, have better tuning. and spend a lot less time needing expensive repair attention.
This vertical instrument is easy to use and transport and incurs no difference in sound quality to a straight model, so for a young group or adult ensemble this would make a great buy. In our opinion it blows as well as other specialist flute brands at a similar or even higher price point. For Bass Flute price details click here
Sam & Vicky – 1/5/10