Besson and York Brass Special Offers…
21st October 2010
Besson Sovereign Offer:
Buying a Besson instrument just got a lot easier…

We are currently running a special offer on all new Besson Sovereign and Prestige instruments, giving you between £100 to £250 off the listed price!
This offer applies to all professional Besson instruments and is available both in-store and by mail order. Contact Sam or Matt on our sales team with any enquiries.
York Brass:
Earlier this year we were saddened to hear that the only company to rival Besson in terms of sound quality – York – went out of business. The instruments produced did not only sound stunning but were excellently built and striking to look at.
We still have a few York instruments in stock…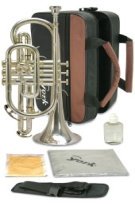 Namely; 5 x York Preference Cornets at £299 inc.vat, 2 x York Prescience Euphoniums at £1250 inc.vat, and 1 x York Prescience Tenor horn at £599 inc.vat. Excellent build quality and a true British Brass Band sound make these instruments a great first step for young players. All have beautiful silver plating and are provided in a cloth-covered wood shell case with backpack straps (or wheels for the euphonium!).
We also have a small selection of PRO MODELS still available:
1 x York Preference Cornet 3028
Priced at £1299 inc.vat this was York's flagship professional cornet. Features like the large bore design and the rose brass bell give it the wide, full sound York have become famed for, whilst still giving both the ability to blend with the section or project above the whole group!
1 x York Preference Tenor Horn 3049
York's Tenor Horn, the Preference, priced at £1850, has a specially redesigned leadpipe to give it a strong, wide sound, powerful beyond what its size might suggest. The horn is ideal for section playing as its mellow sound is perfect for the harmonies often written for horn parts and when the conductor turns it up a notch, it can give the power and sound needed.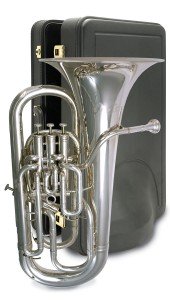 1 x York Preference Euphonium 3067
The first instrument in recent years to mark itself as a true rival to Besson's Sovereign, this Euphonium is priced at £3350. Its beautiful sound and elegant looks round off the great value package. A large bore, large bell and "floating" leadpipe gives the preference a balanced, rounded sound with plenty of core to the note. The sound can soar over the top of the band or blend into the bass or horn sections perfectly. Coupled with the quick and quiet valve action even the most technical of test pieces becomes easier!
Matt – Brass Dept 21/10/10 (All pricing and stock correct at time of publishing)