Brass for Africa
16th September 2021
Brass for Africa is an award-winning charity that delivers music education with integrated life-skills training to over 1,000 disadvantaged children and young people in Uganda, Liberia and Rwanda.
Dawkes Music have been proud to support the fantastic work of Brass for Africa over a period of years. The relationship has been built around the common goals of promoting the value of music, and empowering young people by developing their skills.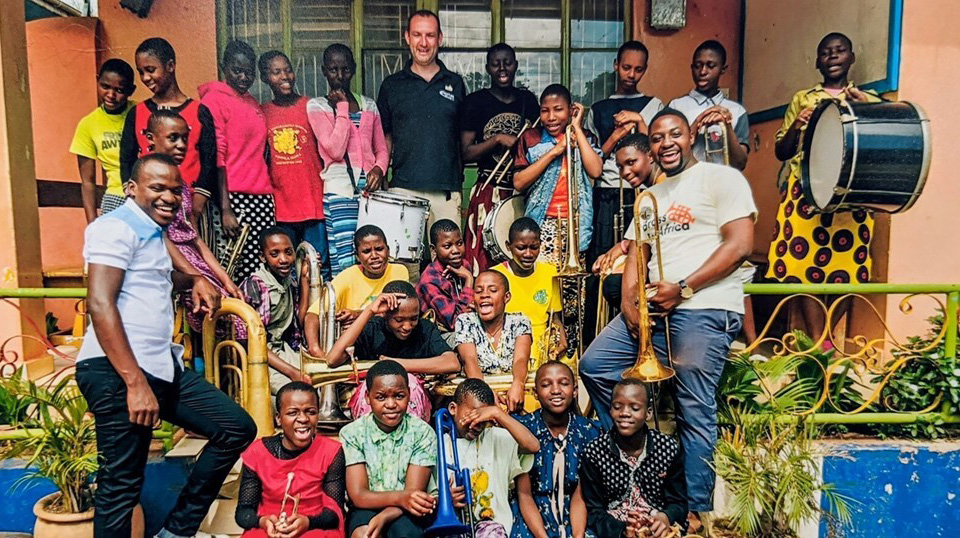 Creating Brighter Futures
The BFA team focus on four strategic key pillars to equip children and young people with the skills to fulfil their potential and thrive: Gender Equality, Disability Inclusion, Community Empowerment and Workforce Readiness.
Working in partnership with over 20 community-based organisations, their team of teachers are all local and alumni of previous BFA initiatives. Here at Dawkes we have supported by sending our staff to help train Repair Technicians in Kamapala, Uganda and we continue to assist their efforts with instrument prep, accessory supply and repair support and advice.
The musicians and teachers from BFA have been invited to perform at international festivals and events to highlight their success. Most recently four of their young musicians achieved placements in the British Corps of Army Music, an amazing achievement!
"The service and support Brass for Africa enjoys from the whole team at Dawkes is incredible. Dawkes have been with us right from the start, not only raising funds and collecting donated instruments but also giving precious time and advice, both in the UK and in Africa, ensuring that we can continue to create opportunity and brighter futures through music for very many disadvantaged children and young people." 

Jim Trott MBE, Founder and Executive Director Brass for Africa
How You Can Help
Do you have a no-longer-used or unwanted Brass instrument? It should be playable, but condition unimportant. You can send it to us and we'll check it over, before forwarding it on your behalf. Call us for a chat on 01628 630 800.
Cash donations and offers of help are always welcomed too, via www.brassforafrica.org