Buffet B12 Clarinet – Celebrating Its Heritage
24th April 2010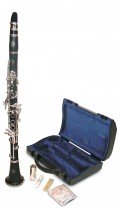 The Buffet B12 has, for as many years as I can remember, been THE student clarinet that we all refer to as the industry standard. The recent passing through our hands of one of the limited edition clear perspex models got us thinking that it may be time to pay tribute to this great instrument and its heritage.
Throughout its life the Buffet B12 has been through some changes. Some of you will remember the first models produced with a shiny black plastic finish. These instruments were born from the original Evette & Schaeffer model clarinets and whilst being good student models they do look a little dated now when you see them. The fact is though, you do still see them in use! So, they must have been doing something right, German engineering usually guarantees that. Yes folks, German engineering, of course the French company Buffet are the B12 'owners' but the manufacturing has always been done away from the Buffet Paris factory where they concentrate on the wooden models. As the B12 matured the introduction of a different manufacturing process and advanced finishing techniques made the instrument look and play more like a wooden instrument. But why has it been the top selling instrument for so many years? Well,you have to admit it is very easy for beginners to play, the bore design, key layout and mouthpieceall combine to make a free blowing instrument with decent tuning. Also the keywork seems to stand up to child useage. Sure, there has been some technical points they've had to improve over the years but most teachers would agree the Buffet B12 is a safe place to start.
However, everything changes and this time is an important one for Buffet and their B12…The market is changing and with the emergence of cheaper student instruments can the Buffet hold its own and continue to provide a step-above in quality of build and sound? The vast swathes of kids starting on the B12 must have helped with Buffets intermediate and pro[youtube]https://www.youtube.com/watch?v=N8mOAwEy5Cw[/youtube]sales as people find them the most natural step-up. Should Buffet lose any student ground would this be affected as well? Not significantly in our minds, after all the Buffet Intermediate and Professional series clarinets take some beating.
So, as this very special clear model passes through our hands we salute you B12, years of service to the industry and most importantly, years of good beginnings for student clarinettists.
– The Buffet B12 in the video clip is a clear model made some years ago as a demonstration/limited edition to show the inside workings of a clarinet etc.