Free Interactive Sheet Music
1st September 2023
Yamaha are currently offering 3 months FREE premium subscription to 'Tomplay' – an online music resource featuring over 40,000 scores that you can play-a-long to. Simply purchase any new Yamaha brass or woodwind instrument and register online here to receive access.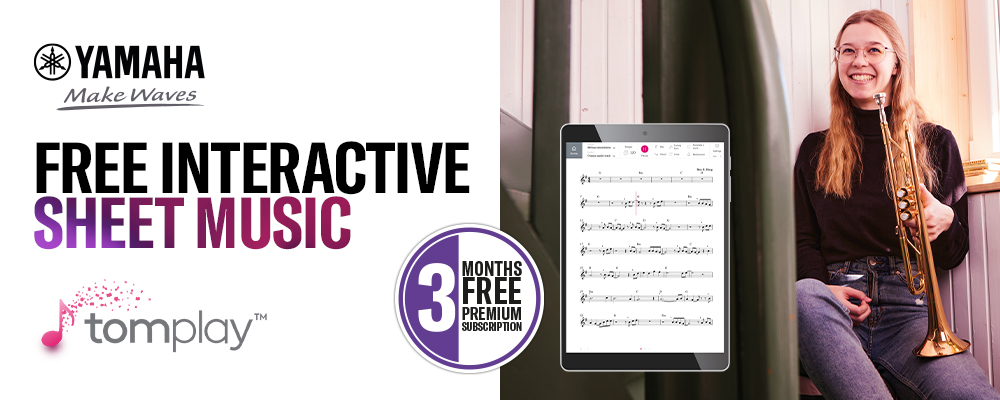 What Is Tomplay?
Choose your instrument and explore a huge library of interactive sheet music with Tomplay. It offers scores complete with backing tracks to play along to. You can filter by musical style, composer, difficulty rating and accompaniment type. Tomplay interactive sheet music scrolls automatically on your screen in time with the music. Choose the audio track you need and press play to start the interactive score with the music.
Gone are the days of poor-quality MIDI sound! All of the Tomplay audio tracks are recorded by professional musiciains. You can choose the tempo and record yourself and listen to your performances. It's a great way to get inspired and accelerate your learning.
You can also annotate and print your scores, and create loops of particular passages for detailed study and practice. A metronome is integrated into the app to allow you to work on your rhythm and timing. For strings and wind instruments, you will even find a tuning fork for tuning your instrument.
Who Is Eligible?
Anyone who has recently purchased (Sep 2023 onwards) a new Yamaha brass or woodwind instrument and registers within 6 month of purchase. You need to create an account on the Yamaha site and register your serial no. with them accordingly.