Pearl 665 Flute – Special Editions
8th October 2019
The Pearl 665 flutes remain a staple step-up flute with the added interest of a solid silver headjoint. Exploring their own tagline, Tradition of Innovation, Pearl have produced two interesting additions to the existing 665 range, all around the popular £1,000 upgrade price point…

Pearl Flute 665 – Standard Version
An excellent first upgrade, the Pearl 665 has a silver plated body and mechanism with the bonus of a solid silver headjoint, riser, and lip plate. The inclusion of precious metals opens up a world of tonal and dynamic interest, as well as helping steady intonation.
Pearl offer two headjoint cuts with this flute – Largo and Forza.
The Largo provides a full, mellow tone with traditional response, perfect for any student.
The Forza brings a brighter, livelier tone, with quick and easy response. A more sophisticated headjoint with excellent projection, ideal for the advanced student and soloist.
Available with either closed or open holes, the Pearl 665 is a truly flexible flute with a number of options. Have a go with us in store to see which fit is best for you!
50th Anniversary Model
Celebrating the companies 50th anniversary in 2018, Pearl have produced 665 flutes with a Zircote wood lip plate.

With all the other features of the 665, the 50th anniversary model introduces a different sound world to the advancing student. As the first point of contact for airflow, the cut and material of the lip plate have the most significant effect on the instrument's sound. A wooden lip plate produces a haunting, mellow tone in the low register, whilst providing a sweetness to the upper notes. Cut like the Largo headjoints but with a touch more resistance, the 50th Anniversary Model is rewarding to play once you're used to the different response of the wood.
The 50th Anniversary Model with open holes is on sale at the moment, at only £819! Snap it up while this great offer lasts.
665 Limited Model
This new limited model edition of the 665 includes a satin finish on the crown lip plate, and mechanism, but it does more than just look good!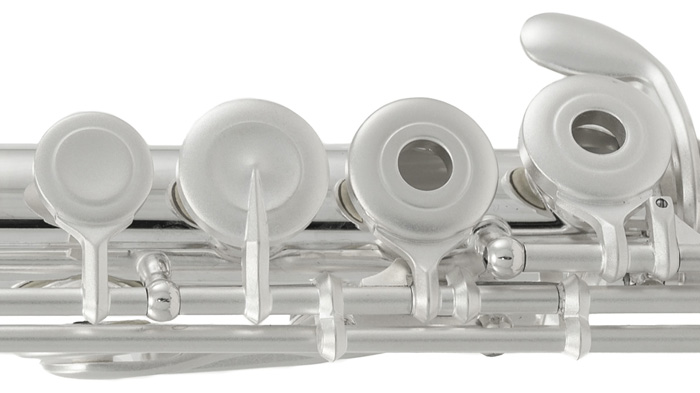 Practically, the satin finish on the limited edition model creates a non-slip surface. A lot of players find fingers slipping off keys or the flute falling from the lip to be an issue during performance. This new finish ensures a solid grip to help towards secure technique. We also think it's a unique look sure to make you stand out!
The headjoint is made in Pearl's new Brezza cut. When we trialed this headjoint, we found it to be the 'best of both worlds', as it took the sweetness of tone from the Largo and coupled it with the response and projection of the Forza.
The crown of this headjoint is heavily weighted, more so than that of the standard 665 headjoint. We find this improves overall projection of the instrument, as well as improving response and broadening the tone.
Visit us today!
Whether any of these flutes strike your fancy, or indeed anything from our stock, get in touch and we can reserve instruments for you to try. Call us on 01628 630 800 for further information or drop us a line through our contact form.