Repair Materials Spotlight: Mini Woodwind Repair Kit
15th March 2022
If you play Flute, Clarinet or Oboe this is a perfect small repair kit for minor fixes and diagnosis of your instrument. This combination of a small screwdriver, our smallest spring hook and Yamaha cleaning papers (useful as a feeler gauge) is small enough to fit in most instrument cases or outer bags.
Perfect for taking to band practice when your playing colleagues ask you to "just have a look" or you have a sudden playing fault on your own instrument – the ideal kit for the gigging repairer.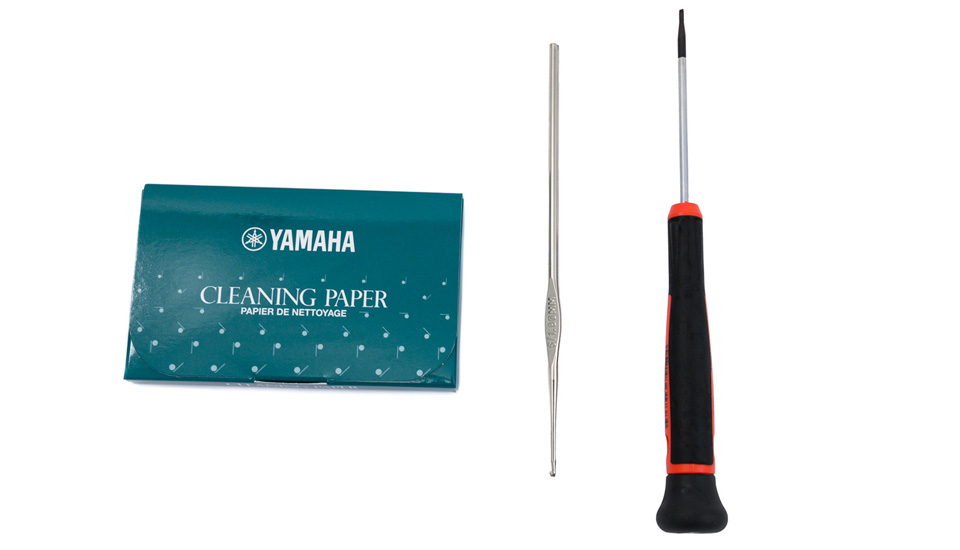 What's in the kit?
The Music Medic Size F Screwdriver features a 1.5mm x 0.23mm flat head and is 60mm long. It has a hollow ground tip for secure fit and fit most Sax key rollers, Conn Sax grub screws, flat spring screws, and old Buffet Clarinet screws. It can also be used on Clarinet rods, Flute & Clarinet regulation screws, Flute pad screws and most rod screws on any woodwind.
Ferree's small spring hook allows you to easily reach and manipulate springs on your keys. Whether it's a spring that has popped off its hitch or one that needs strengthening.
Yamaha Pad Cleaning Papers are our favourite feeler gauges in the workshop.They're slightly fibrous but non abrasive and have a thin consistent surface, made to be used with pads. By cutting each sheet into four or eight triangles (repairer's choice) you get a large supply of feeler gauges for accurately diagnosing pad leaks.
Using cleaning papers as a feeler gauge
To use, simply place the very tip of the triangle on to the edge of the tonehole and close the key with light finger pressure. Then, while holding the key down with the light pressure, pull the paper out from under the pad and note the resistance felt. Now repeat the process on the opposite side of the tonehole.
By working your way around the edge of the hole tonehole millimetre by millimetre using the same light pressure, you can build up a mental image of that all important first point of contact between the pad and tonehole edge – the pad seat.
To test for regulation, trap a larger part of the paper under one pad then other to note if they close at the same time with even pressure.
Yamaha cleaning paper can also be used for its intended purpose of cleaning pads and comes in a handy and slim cardboard wallet that self dispenses its 100 sheets.
This mini repair kit is available to buy via our online shop and is delivered in 1-2 days.
Looking for something more substantial?
We also offer the much larger and more comprehensive Music Medic range of Woodwind Repair Kits. These are available for Clarinet, Saxophone and Flute and feature a wide range of small tools and repair materials.
Please Note: These Music Medic kits are advised for more advanced repair technicians or those who have undertaken relevant training.