From the Workshop: Sax Pearl Replacements
14th September 2021
This lovely Andy Sheppard Autograph Series Tenor Saxophone recently came in for a full service and the owner enquired about options for key pearls. He loves his Sax, but the original finger button pearls on this model are totally flat. They also feel a bit 'slippy' under the fingertips. Looking for extra comfort, he was interested in concave pearls that his fingers could sink nicely in to.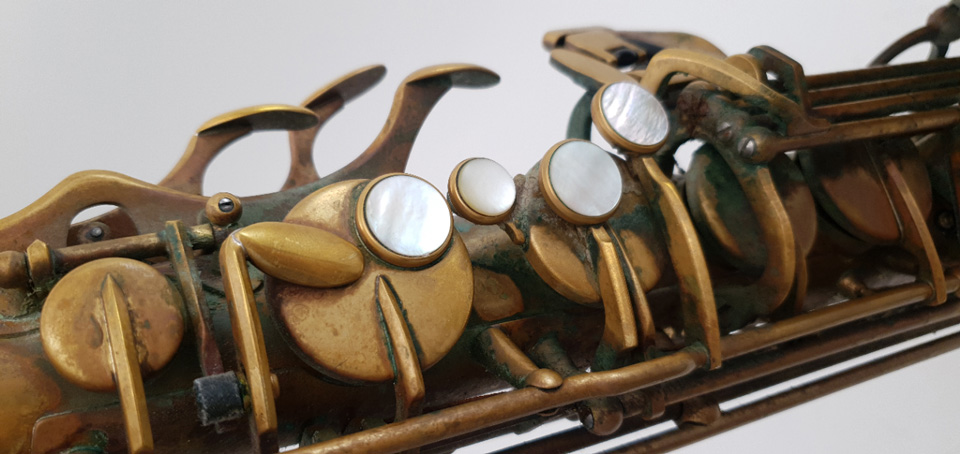 We stock many different types of key pearls in different shapes and in either plastic or mother of pearl. Sax key pearls can simply fall out and need replacing with normal wear and tear. In order to find the right choice, our Repair Tech Ivan first measured the recesses that hold the pearls on this instrument. He found the best complete matching set to be the Music Medic Abalone Pearls.
Our repair team were all enthused by this opportunity to now offer not only an ergonomic improvement, but an aesthetic customisation that we felt was very sophisticated and in-keeping with the 'earthy' tones of this unlacquered horn. We were delighted that the customer trusted our judgement and gave us the thumbs up.
The natural verdigris and dirt that had built up on the Sax was removed during servicing, brightening up the brass body. The old pearls came out without too much fuss and the new ones were fixed in with simple contact adhesive (Buy Here: GGA001) This will hold them firmly in place while they endure years of demanding playing. Post-service, the horn is now mechanically quiet, cosmetically clean and most importantly, air-tight top to bottom with fantastic response.
The new pearls are just the cherry on the cake, refreshing the look and feel of the instrument for the owner. This kind of custom work can be done on request and does not necessarily have to be carried out during a service. We're looking forward to seeing how the body continues to patina over time – green/blue colours developing on the brass will compliment the new pearls and give the horn even more character. What do you think of this transformation?
These gorgeous naturally green key pearls are available in a variety of different sizes from 9mm to 17mm, they're also available in either convex or 'Keilwerth' style (with a deeper profile curve and ring cut-out on the underside) on request. Check out the range of MusicMedic Abalaone Saxophone Key Pearls below…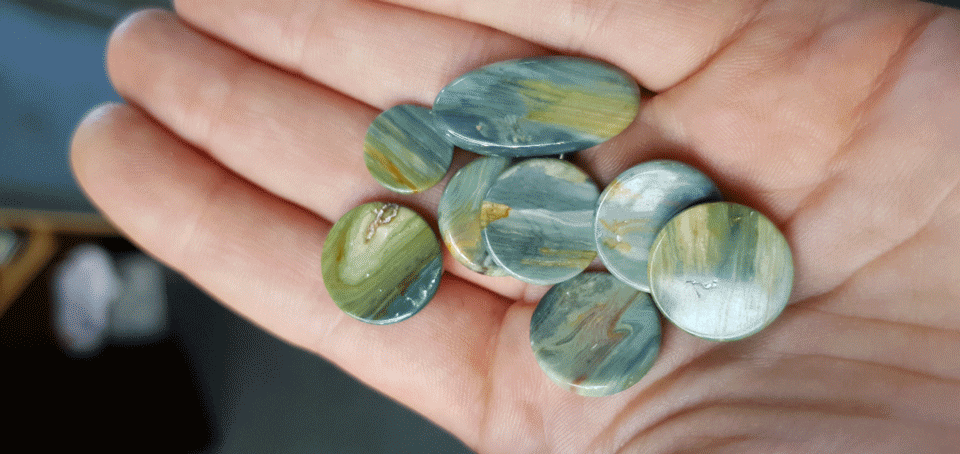 Concave 9mm Sax Key Pearls – Buy Here
Concave 10.69mm Sax Key Pearls – Buy Here
Concave 13.34mm Sax Key Pearls – Buy Here
Concave 15.50mm Sax Key Pearls – Buy Here
Concave 17mm Sax Key Pearls – Buy Here