Selmer Mark 6 Saxophone Service
26th March 2013
The Selmer Mark 6 Tenor Saxophone was bought into the Workshop the other week. It had some really serious damage when it was put into the hold of an aircraft. The main stack was really badly bent and the Saxophone did not play. We were looking at one very sick Saxophone… The impact had upset the alignment of the pillars, and the pads were not seating on the tone-holes. Take a look at the before and after pictures below.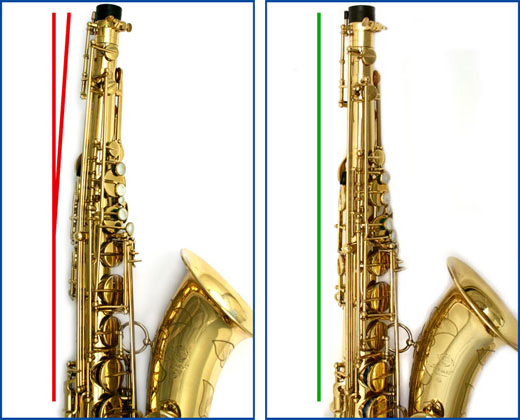 Repairing it was quite a challenge! Firstly, we straightened the body and removed the dents. Next, we removed all the keywork and set the pillars back in the correct place. Then we straightened the keys so that the rod screws passed through them without them binding and changed some of the upper pads.
The Selmer Mark 6 Tenor Sax is owned by a professional Saxophonist. When he got it back, he was amazed with what we had achieved. Here's what he said about us:
"I'm so very grateful for the amazing job you and the team did with my VI. I was almost afraid it was too serious to repair (!!), so to see it back in perfect working order is just fantastic – thank you ever so much!!" Richard Shepherd – Jazz Saxophonist – Ronnie Scott's Jazz Orchestra, Richard Shepherd Boptet, Frank Griffith Big Band
This Selmer Mark 6 Alto Sax was in the Workshop last week for a full Overhaul.
The pads were really worn and were not sealing at all making it difficult to play. The picture below shows the condition of the old pads, compared to some new ones.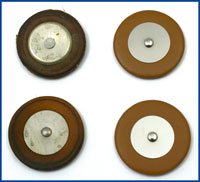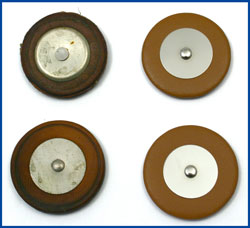 The pictures below show the Mark 6 stripped down (left), and fully Overhauled (right).
We don't normally see vintage Saxophones in such good condition. This one was really mint and had its original lacquer, 'crocodile skin' imitation case and no dents.