Selmer Paris – My French Love Affair…
14th February 2011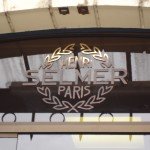 Selmer – Saxophones and Clarinets
So, Valentines Day 2011 comes around and arriving on our doorstep is a new delivery of Selmer Paris Saxophones and Clarinets. I've been selling Selmer personally for the last 13 years and it's fair to say it's been a bumpy time with various ups and downs…
My first experience with the Selmer brand was as an up and coming (I'm too old to be still be 'up and coming' maybe 'come and gone'…) clarinet player, aged 11, grade 6 in the bag and needing a Wooden instrument to see me through to the later grades and the inevitable fame and fortune…ahem. I remember having the choice of a Buffet, Selmer and Yamaha. Sure the Buffet and Yamaha were fine and played well, nice and easy, but I remember the tone of the Selmer just hitting a chord with my idea of what a clarinet should sound like; rich, dark and woody yet sweet with no rattling brightness.
The instrument was a Selmer Prologue which at the time was quite new and came with revolutionary rubber O rings on the tenon joints, as opposed to the traditional cork that was prone to drying up and needing replacing etc. It was a remarkably forward thinking effort by the normally traditionalist French manufacturers and in true Gallic style it didn't really work! A few problems later and my Selmer came back with real cork on the tenons and off I went with a more traditional but working clarinet.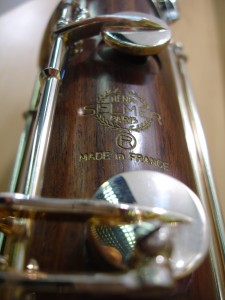 It served me well enough through the grades and school orchestra, before I was thrown onto Bass Clarinet in Concert Band and occasionally Orchestra – I presume this was purely because the director of music no longer wanted me in their eye line on the normal clarinet seat! Anyway, the school Bass was American made ABS and probably would have been ok had it been serviced since either of the World Wars…however my weekly battle with this beast certainly put me off Bass, UNTIL I got my hands on a Wooden Low C Selmer…WOW! That was an eye opener, I'd found out the Bass Clarinet could (a) sound good and (b) work!
Step forward a few years and I'd joined Dawkes Music as a trainee repairer, still a bit dumbstruck with the amount of stock we keep of professional instruments I seek the opinion of my senior repair colleagues on what brands are best etc etc. There is resounding discontent with all things Selmer in the workshop; it was at a time when the French were really struggling with quality control. There were no problems with the manufacturing, crooks, bodies etc were all fine but the final finishing: padding, regulation, springing, corking etc was not great and the repairers here at Dawkes were having to spend hours sometimes getting these instruments into 'Dawkes Condition'.
It amazed me that these instruments were being sold elsewhere straight from the box, people out there were buying blind, usually based on price and must have been really struggling to use the instruments. My mind was challenged though, how could this Prestigious brand breed such discontent with professional repairmen? Various changes were happening in the French labour market at the time and the working week had recently been restricted to 35hrs, this left Selmer with problems…they needed to make a certain amount of instruments per year to fulfil orders yet their work force had just reduced its capacity by around 30% due to the new labour laws. During this period of unease there had also been a factory strike (if my memory serves me right) and it became difficult to obtain any product.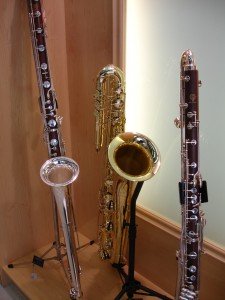 In true Music Industry fashion this immediately upped the appeal to the end user as anything that is so hard to get must be worth getting! (It's the same law that makes the only mouthpiece you can't try that day be the only one that could possibly overcome all your problems!) Over time though that was the start of my falling out of love with Selmer, until recently (but we'll come to that later!).
It was a retailers nightmare, the prices were ultra competitive at the time and so with very little margins you also had to account for 2-3 hrs in the workshop getting the instruments working to the correct level. Many retailers suffered with this and all of these factors helped to fuel the rise of other brands such as Yanagisawa, Keilwerth, Yamaha and more recently the slickly marketed Taiwanese models like Mauriat. In our sales over a 10 year period we saw Selmer slip from number 1 in our Pro Sax sales to number 4!
Various factors also contributed to this, and bear in mind these are our figures, but I think most major Woodwind retailers would share similar trends. The fact that Yanagisawa's needed very little set-up to be able to work acceptably helped both the shops who had repairers and those that didn't; if you put an instrument that feels balanced and blows easily from low Bb all the way up against another instrument (however good) that is badly set-up and has really heavy springing and comes in a polystyrene box (as Selmer did at the time unless you bought them with the pricey Selmer cases) then 9 times out of 10 the first Sax wins. Add to this Yamahas relentless consistency in making quality instruments and also learning how to market them to Professionals properly and you can see how a previous 'power brand' such as Selmer were starting to face problems. We also mustn't forget the currency problems that all imported European brands have come up against. Looking at 5 years of £ vs Euro history you can see that in 2006 the rate topped out at around 1.50 Euros to the Pound, at its worst in recent times (2009) it went as low as 1.02 Euros to the Pound, a shift of 47%. This had pretty drastic effects on the shop prices of Selmer (and Vandoren reeds!), which have nearly doubled in 5years.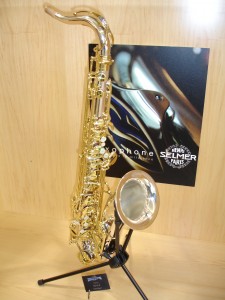 So, from 2002-2010 the picture is as above, in this time teachers and pro's may well have bought other brands and consequently recommend them to their pupils and peers, this exacerbates the issue for Selmer. However, talk to the 'top line' pro players and most of them still use Selmer Saxes, whatever the glossy adverts for some other brands might say! From the legendary MKVI 1960's instruments to MKVII's and some SA80-II models, these were still the trusted instruments of those relying on them to make a living. It was hard work to tear these die-hards from the brand they knew and trusted, despite its foibles. Some dabbled with other brands but most ended up back on the trusty old 'horn' they knew and loved. Why? What makes them mythical? Well to answer that question on Vintage Saxes would tear me even further off topic and it's a big topic already. My 1948 Balanced Action Alto has a wonderful sound but it's like an Italian sports car of old, temperamental and full of issues, my D over the break is way too sharp for comfort and the high C needs careful manipulation to speak properly. Fully working though (for that brief 30 mins, it's got a unique sound, not always suitable for a modern player but still unique) All I know is that there was something special…I'm also convinced there STILL IS something special with new Selmer instruments.
In late 2010 I bought myself a second-hand B901 Yanagisawa Baritone Sax, I'd been waiting for one to turn up for some time and set about getting my Bari chops in shape. Soon after a Selmer Series II Low A second-hand rocked up on our stock and I thought with my new found Tower of Power Bari chops I'd give it a try…The best description I can give is this; my B901 was (and is) lovely, easy to play, feels like a Tenor to blow and has a bright sound but still with some low end punch, I'd liken it to the Laser Guns used in Moonraker (bear with me, big 007 fan here). The Selmer was the musical equivalent of an Atomic Bomb in comparison, it nearly knocked the wall down in the testing room, and suddenly my Low A's sounded like the thud of the T-Rex in Jurassic Park…the water even moved! This sparked a renewed interest in the Selmer instruments that had previously moved to a quiet place in my heart. I got out a NEW Series III 125th anniversary model Alto and Tenor, played them both and smiled inwardly as they both felt, looked and sounded like they should do. I even got my clarinet mouthpiece out and went back through the brands we sell, and yes I would probably only buy a Selmer for myself now (I appreciate I'm in a minority here as Buffet clarinets still outsell all others by some way).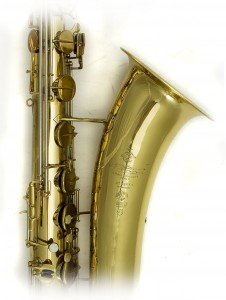 So what's changed? The quality seems to be back up to a highly professional standard, both in manufacturing and playing terms. Also, the price rises have caught up with some of the opposition due to movements in the £ against other currencies and raw material costs. Yes, Selmer are still the most costly but if I can borrow a well know slogan they are 'reassuringly expensive'. I think it's also reassuring knowing WHY they cost more than their counterparts; there is a tangible quality difference in materials and know-how that the marketing of some other brands can only cover up so long. It's much harder to explain why some of the other fringe names are now costing more than £2000.
So, everything is solved and forgiven? The Golden Boys of the Sax World? It's not so easy of course, Selmer face more competition than ever. They re-assure us that everything is 100% French made and they are a manufacturer, not an assembly plant reliant on variable supply from third parties. Still, the period of 2010-2020 in my mind could be 'make or break'. They need to focus on why they were/are the best, remember those reasons and run with them. Yes they need to try and keep prices competitive but quality cannot suffer in a search for money saving. They've recently employed one of the top men from just down the road at Buffet. Not only does he bring with him lots of experience and obvious clarinet making pedigree, but also he brings a new approach and willingness to listen.
Of course these are ramblings from little old me and just give a snapshot of the situation in the UK. Does it mean all other main brands aren't worth looking at? Of course not, we all have different tastes.
For all involved I'd love to see Selmer back in the hearts of all Sax and Clarinet players, don't take my word for it, come and try some!
Some Selmer Facts:
Selmer make around 14,000 Saxophones and 2,000 clarinets per year. The Selmer family is now in its 4th generation, employing around 500 staff the production is based just outside Paris. I was lucky enough to visit a few years back and it was quite amazing to see the combination of technology and human expertise working in harmony. 2008 saw the Selmer brand as still being the top selling Pro Sax worldwide according to their figures, it's difficult to get enough worldwide figures to confirm or dispute that. What we do know is 80% of what they sell is in foreign markets, making France, at 20% of sales, their third biggest market behind Japan and the USA. Making up the top 5 countries for sales is Spain at number four and Germany at number 5.
*Most pics are from my visit to the factory and showroom in Paris.
Sam – Sales Manager