Selmer Paris release new reeds!
15th July 2015
We are excited to hear that Selmer Paris will be launching their own reed range for soprano, alto and tenor saxophone!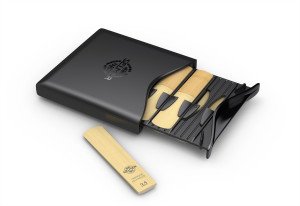 In celebration of their 30th anniversary of the company's founding, Henri Selmer Paris is creating a buzz and returning to its initial activity: the design and manufacturing of Saxophone reeds.
The new reeds promise ease of vibration, flexibility, richness of sound, and a unique balance across all registers. Three years of work, in collaboration with the most demanding musicians, were necessary for the Selmer Paris Research and Development team to perfect the profile of a reed adapted to the needs of artists across all musical spectrums, including classical, jazz, and popular music. So it should be good!
The reeds are sold in a pack of 6, in a gorgeous Selmer designed reed case made of recyclable plastic – an incredibly useful case for today's musician!
Check out their promotional video:
Coming Soon to Dawkes Music!