Simon Willescroft plays Cannonball Bari Sax at T in the Park with Paloma Faith
21st July 2015
It was great to see our friend, and Cannonball Musical Instruments artist, Simon Willescroft rocking it with Paloma Faith at T in the park this weekend on his B5-B Cannonball Bari Sax!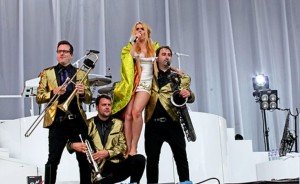 Simon Willescroft has recently toured with Joss Stone in South America and has played with Duran Duran, Michael Buble, Seal, Mark Ronson and more! Take a look at his website here
Simon's instrument of choice is the Cannonball saxophone, and he also plays a Cannonball GA5-B for  his alto with a Lakey Ebonite Mouthpiece and for tenor a Cannonball GT5-B  with a Guardala Studio Mouthpiece.
Also playing is Dan Carpenter, a Cannonball Trumpet Artist.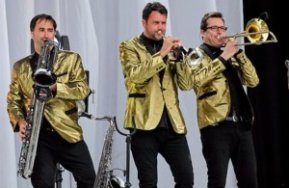 Dawkes Music is an exclusive retailer for Cannonball Instruments, who do not sell their instruments online as they believe that customers are most happy when they purchase Cannonball Instruments from a dealer.
Come visit the store to try out one of these beautiful and powerful instruments – you won't be disappointed!