Trevor James SR Saxophones – Special Offer
4th February 2012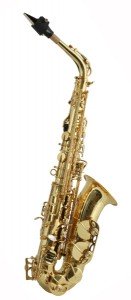 Launched last year the Trevor James (or TJ) range of SR saxes offer the intermediate or upgrading Sax player a really fruity sound and slick action for a great price. With the Alto model costing just £1299 inc.vat and the Tenor model costing just £1679  inc.vat the SR models come in a few hundred pounds less than the well known Yamaha 62 and Yanagisawa 901 models.
The Trevor James company is based in the UK and pride themselves on their technical know-how and expertise. With a fully fitted UK workshop and finishing facility they hand finish each Sax. The SR Saxes are available in a traditional gold lacquer which helps give a warm rich sound and they're also available in unlacquered finish which tends to give a more immediate bright response…and look very cool in a few months as it tarnishes, giving that vintage appeal.
The larger body bore gives these SR saxes punching power above their price point, so if you're in a jazz band section or just wanting to maximise your tone they are well worth a look. We've found the action to be very slick and positive, none of the heavy sludgy action associated with poorly made or cheaper Saxes.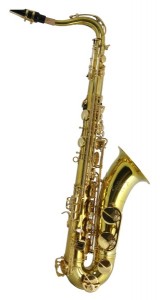 We're currently offering these TJ SR Saxes with a £150 credit* towards a mouthpiece of your choice from our wide selection. This includes Link, Meyer, Aizen, Selmer, Vandoren and many more in both ebonite and metal. It's really important when you upgrade your sax to get a high quality mouthpiece that will match the quality of the instrument. This special offer helps you achieve the perfect set-up without having to spend more on a costly mouthpiece. Our in-store players and advisors can help you chose just the right mouthpiece for your standard and style!
So, take the opportunity to upgrade your sound, New Sax and New Mouthpiece!
*OFFER VALID UNTIL end of APRIL 2012.
Here's a video of Pro Sax Player Tony 'Rico' Richardson [youtube]https://www.youtube.com/watch?v=gyv1omS5VgM&feature=player_embedded[/youtube](Seal, Pixie Lott, Amy Winehouse, Dawn Penn, The Ordinary Boys) giving an SR Alto a little toot…